Bottom Line: Unlike other metro cities on fast growth trajectory, major cities of Gujarat are not growing with satellite cities absorbing burden of urbanisation.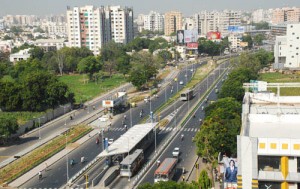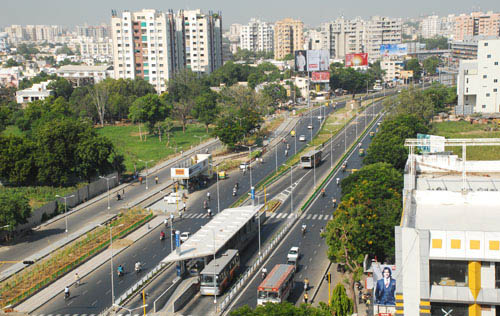 What makes the cities of Gujarat different from other major urban centres of India? In one plain assessment, it is the inherent growth potential where unlike other cities reaching a saturation point, Ahmedabad and Vadodara hold tremendous potential to grow further.
At a time when the urban planners are grappling with the challenges posed by urban sprawling, with the answer of providing satellite cities, often with poor infrastructure, this absence of satellite sprawling is what makes Gujarat property market quite unique.
No one is talking about the need for developing satellite cities, at least as of now. This is not because there is any lack of vision with regards to ever increasing urbanisation, but so much virgin territories are there to be developed that the priority is to develop those pockets first. The load on land has also not reached to an alarming level were the infrastructure crumbles, as witnessed in other major cities across the country.
For an outside view, cities like Ahmedabad and Vadodara may be faces of urban development, a close look suggests that so much growth corridors are in the making that a few years down the line these cities may appear to adore a different look altogether.
While satellite townships and other integrated townships are throwing challenges of infrastructure everywhere, in Gujarat the leading cities like Ahmedabad and Vadodara have been emerging as case studies in terms of economic growth for several years and have attracted a lot of fresh investments. Due to its focused growth initiatives, these cities have leaped ahead and retained its edge. 
Dhaval Ajmera, Director, Ajmera Realty & Infra believes Ahmedabad has been declared one of the mega cities of India. The infrastructure has developed remarkably in the city. Commercial and residential properties are witness to massive demand simultaneously. Unlike other metro cities like Mumbai, cities like Ahmedabad and Vadodara have abundant vacant land. This allows real estate developers to plan projects on a grand scale and thereby think of satellite township projects at a later stage. Residential projects in Ahmedabad and Vadodara are largely gaining momentum and, of course, localities like Jodhpur, Vastrapur, Vejalpur, Bodakdeo, which are termed as hot property also withhold a potential capacity to develop satellite towns in these areas.
"Prestigious property developers are making it big with huge investment in luxurious projects in Ahmedabad. Introduction of new townships are styled in new-age luxury with modern amenities and the focus is more inclined towards building a self-sufficient housing facility with its own multiplex, post office, petrol pump, and shopping mall. Introduction of digital security and solar passive architecture has led to immense transformation and has enabled hi-tech Wi-Fi security smart homes. The city of Ahmedabad is also hosting its first ever facility in India to follow an earthquake-resistant scheme to protect its structures," says Ajmera.
Some of the analysts though maintain that every city is unique on its own with integral significance attached to it. For example, Gurgoan, once being termed as sluggish market, has now become important 'satellite' to Delhi as they rapidly expanded as industrial centres. The place witnessed ample satellite township which sprouted with appropriate infrastructure and layouts.
The satellite model of township has been the predominant form of expansion. Likewise the city of Ahmedabad also holds immense potential to adapt satellite townships which has now influenced the mindset of landowners to become willing partners in town-planning knowing the land prices would shoot up as a result of increasing urban settlement. 
They believe self-sustainable townships will eventually gear prominence with the concept of satellite city that facilitates urban planning, which refers essentially to the independent larger metropolitan areas. A local property analystsays thanksto the recent increase of Ahmedabad city limits a lot of area is yet to be developed. So as of now, Ahmedabad does not need more satellite towns. The same stands true for Vadodara as well.
"The infrastructure is catching up so fast that in future the satellite towns will be as good as Ahmedabad city. Thanks to BRTS corridor and the Ring Roads there is excellent transportation planning. MEGA is going to link Ahmedabad and Gandhinagar which will provide high speed cheap transportation. Moreover, study of growing cities has shown that satellite towns offer better quality of life. Hence, people find Bopal a more inviting place vis-à-vis the price they pay," says this analyst.
Moreover, there is a huge requirement of luxury living in Ahmedabad after all the prime localities in Ahmedabad have become congested. This will only be possible when government plans infrastructure before the residents come. So, may not now but sooner than later places like Bopal, Narol, Ranip, Gandhinagar and Sanand have a huge potential to grow as satellite towns of Ahmedabad.
Does it sound like in future the key property markets of Gujarat, most prominently Ahmedabad and Vadodara will be no different from other urban cities of India. Not really, believe the analysts tracking the property market in this part of the world. They maintain the fundamentals of Gujarat property market are very different from rest of the cities, so is the investment pattern in these pockets of affluence.  
So, the infrastructure is much better over here and as of now there may not be any compelling need to shift the focus to the satellite zones. Moreover, in future the market dynamics carry the potential to change for all the right reasons. This will be one horizontal growth that will not hurt anybody.
So, while Gujarat may not be having very many satellite townships in the pipeline, the property market in this region indicates to be on a growth curve where it is facing the problem of plenty in terms of infrastructure development.
In future, as and when the load on land in the main CBDs forces the developers to shift focus on the periphery markets, there will be much better infrastructure ready zones with quality township options. And that is what not many cities in India can boast of. Gujarat property nevertheless has the liberty of choice to pick its own growth corridors.