Diary of a real estate journalist
Bottom Line: Ever since Article 370 has been abolished in Jammu & Kashmir (J&K) the developers are celebrating as if the Special Status to the State was robing them with property revival. Ravi Sinha questions whether any of them have any understanding of State before making loose comments on property opportunities.
Dear builders!
Congratulations! Not sure whether I am congratulating you for getting another loose talk opportunity on property availability in J&K or for a potential land grab spree to create another ghost town in the turbulent State. Whatever it may be, the built environment of the Indian real estate did not waste time to self-congratulate itself for having a new market with potential unlimited.
Frankly speaking, my fundamental objection to your half-baked perspective and ignorant rant is not for eyeing a new property market that has a scenic appeal for the tourists from across the globe, HNIs and NRIs. I am rather amused with your celebrations that are more symptomatic of your frustrations with the Kashmir citizens than any legitimate business vision.
I have received a number of phone calls and quotes in my mail box from your PR reps in the last 48 hours and almost all of these are more of outbursts than the statements of business visionaries. Anyway, the developers have never been known to be business visionaries, notwithstanding the property market slump and massive inventory across the cities with ever increasing migrants and business opportunities.  
All that the developers exhibit without even understanding or accepting their own myopia is a tendency to beg, borrow or steal the media space. It is hence no wonder that today most of the reactions with Article 370 is nothing but funny.
Read this reaction by a publicity hungry industry voice: "Abolition of 35A would certainly open the flood gates for investment into real estate in J&K. It has its own attraction quotient and will drive people who are looking at second homes. We have already seen heavy demand for second homes in scenic places. The real estate prices in J&K is one of the lowest in the country. However, investors will hold their breath for the dust to settle and watch course before putting in money. It is a highly sensitive region and it will take some time to clear up the sentiments."
Are you serious Mr builder? When you say you have been witness to heavy demand for second homes in scenic places, I have two queries for you:

Q. If there is heavy demand for second homes in scenic places why are the developers struggling with unsold inventory in most of these places?

Q. Are these scenic places with heavy demand as politically sensitive and militancy prone as the State of J&K?
Never mind! The builders have never been known to speak when they have something to say. They rather speak because they have to say something. When you earn more money than what you deserve the inherent ego is always taller than even Burj Khalifa.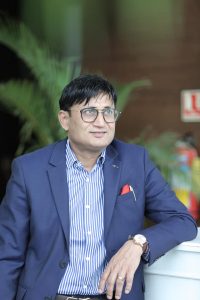 I am today seriously wondering whether all the celebrating and self-congratulating developers have indeed got "Exclusive" draft of the policy of land acquisition in Kashmir? Does it include construction facing Dal Lake of Srinagar that is Green Belt? Have they done their business calculations and cost & benefit analysis over there? There are more questions than what the builders could answer at this point of time. But what could be vouchsafed is the fact that all these euphoric overtones are premature. None of the industry voices from the matured sectors with more potential to pull off in the State have displayed this kind of immaturity.
The fact is that you guys are just publicity hungry lot, ever eager to drop pearls of wisdom on anything and everything. Kashmir just happens to be media opportunity than business opportunity for you. Sorry Gentlemen! There is a limit of doing speculative stories and no journalist would be silly enough to do speculative stories on Kashmir to lend you media space.
There, of course, are your kind of intellect in the media space too and hence you will get away with some so-called media coverage on the same. But any credible journalist would not like to take your pearls of wisdom before actually analysing the potential and probability of real estate investments over there.  
As things stand today, there are three aspects to look into as far as the real estate business by the property sharks in the State are concerned. One is the Legality, other is the Normalcy and then there is the Business Potential for you to assess. Unfortunately, you have jumped the gun too early sir.
Talking of Legality, the Parliament giving nod to government action on J&K is expected to be challenged before the Supreme Court as many constitutional experts have questioned the legality of the government action. Unfortunately, you guys are carried by the mass hysteria. More than you love the Kashmir property, you hate the privileges enjoyed by the Kashmiris in the State.
Even if the Supreme Court rejects challenging the Parliament's decision, there is a much larger question of Normalcy in the State. Which investor or home buyer will buy a scenic property if there is question marks over the safety & security in the region. Will you invest into a housing project if there continues to be threat of militancy gentleman? I don't think real estate continues to be that adventurous business anymore.
Finally, even if the Normalcy is restored and every question mark over the State's new status is removed, you need a seller to become a buyer and then eventually sell it further to new set of buyers. Getting even a two acre of plots in Kashmir would be a real challenge sir. Do you have liquidity left to bet for long-term speculative land banking? And then whom would you sell the housing projects? Just relying on the hype around NRI-HNI investment or having a business plan before your premature celebrations?
Today, there are far more better places at competitive rates than a region like Kashmir for the high end buyers. And please! Don't tell me that you will cater to affordable housing to the local population. You seem to be totally ignorant of the ground realities, mindset and purchasing power of the State gentlemen. Since there are no industries in the state, I don't even find expat professionals to be your project drivers in the valley.
Never mind! You have anyway entertained the journalists a lot with your pre-mature celebrations and pestering for its media coverage. But you know what! Even a celebrity Page 3 party carries more newsworthiness to us than your media misadventure with property boom in Kashmir. And I genuinely thank you for this entertainment on an otherwise boring beat of brick & mortar.
Thank you…
The Most Hated Journalist 
Track2Realty is an independent media group managed by a consortium of journalists. Starting as the first e-newspaper in the Indian real estate sector in 2011, the group has today evolved as a think-tank on the sector with specialized research reports and rating & ranking. We are editorially independent and free from commercial bias and/or influenced by investors or shareholders. Our editorial team has no clash of interest in practicing high quality journalism that is free, frank & fearless.  

Now you can subscribe our YouTube Channel @ https://bit.ly/2tDugGl