Bottom Line: Though many of the leading developers have improved their Consumer Confidence Score this fiscal year, Track2Realty BrandXReport 2017-18 finds that Sobha Limited continues to strengthen its public perception to emerge as undisputed leader in public perception.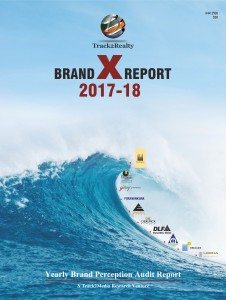 In this sixth year of gauging the public perception for Track2Realty BrandXReport 2017-18, what comes out as no surprise is the fact that Bangalore-based Sobha Limited continues to be undisputed market leader as far as commanding public perception is concerned.
In a business like real estate which tops the consumer grievances list in the country, it is no mean feat that the developer has continued to satisfy its large share of buyers. As a matter of fact, it is further strengthening its lead in the space.
What has helped Sobha command this high consumer confidence is their unique and quality-conscious business model of backward integration. This is in contrast to the on-ground market realities of the business in this part of the world. 
In order to understand why public perception is against the builders at large, one has to understand the complex nature of the business. An average buyer evaluates the future promise of any given developer with his past delivered projects.
In many cases the specifications and standardization that one has seen with the past projects of the same developer is not the same with the new project and hence poor opinion and consumer backlash against the developer and his promises.
Most of the developers today are just land aggregators and liaison point of getting approvals, while construction is outsourced to third parties. Whereas with Sobha it is not just the construction that is in-house but the brand is also backed by its backward integration model.
This standardization of a seamless construction cycle is the cutting edge of Sobha where backward integration provides same quality of standardized concrete construction materials, metal glazing & glass, and interiors division offering even the same kind of door frames and windows.
Needless to add, in a cut throat business like real estate, where many of the developers who otherwise may be competing with Sobha are now buying products from Sobha's backward integration channel. Sobha has thus managed to win the consumer confidence to the extent that the competitive Indian real estate in general is accepting it as the ground reality.
Other than Sobha, Prestige Group could be said to be the brand performer of the year as far as Consumer Confidence Index is concerned. The developer has jumped from its 4thposition last fiscal year to be next to Sobha and has in the process improved its Consumer Confidence Score as well.
The performance of Godrej Properties that seemed to be inching closer to the brand Leader Sobha till only recently seems to be losing out on the public perception. It has now slipped one spot to be at Number 3. Its Consumer Confidence Score nevertheless has improved.
In a challenging year where these developers had to adapt to the emerging regulatory realities, most of these leading developers have performed better than their past track record. It clearly suggests that their willingness to turn consumer-centric is being appreciated by the buyers.
Puravankara is therefore also poised at the same interesting juncture as Godrej Properties where the developer has improved its Consumer Confidence Score and yet is pushed down one spot to be voted 4thon Consumer Confidence Index.
Same is the story with Mumbai-based Oberoi Realty that has slipped from 5thposition to 6thposition this fiscal year, despite of improvement in its overall Consumer Confidence Score.
Ashiana Housing also goes down from 9thConsumer Preferred Brand to now rest at 10th spot. This lower ranking is due to relative study where though the developer has improved its Consumer Confidence Score, other developers in the fray have done even better.
Another Bangalore-based developer Embassy Group is definitely a brand performer on both the given index. The developer has improved its Consumer Confidence Score and has also jumped in its ranking from 6thspot to now at 5thspot. 
Brigade Group at Number 7 and DLF at Number 8 have maintained their respective performances at the same level, but both these developers have slightly improved Consumer Confidence Score this year.
Only developer to be voted out of the Top 10 Consumer Preferred Brands is Tata Housing which has been rejected by the buyers, in the wake of increasing grievances and controversies.
Mumbai-based K Raheja Corp is back among the Consumer Preferred Brands and the developer enters the elite list after a gap of two years. The overall Consumer Confidence Score positions the brand as the 9thBest Brand in the public perception.
Here is the list of Top 10 real estate companies in the public perception for their brand equity:

1.   Sobha Limited— Consumer Confidence Score 85/100 

2.  Prestige Group—Consumer Confidence Score 84/100

3.  Godrej Properties—Consumer Confidence Score 83.2/100 

4.  Puravankara Limited—Consumer Confidence Score 80.8/100

5.  Embassy Group—Consumer Confidence Score 80.7/100

6.  Oberoi Realty—Consumer Confidence Score 80.4/100

7.  Brigade Group—Consumer Confidence Score 76.8/100

8.  DLF Limited—Consumer Confidence Score 76.2/100

9.  K Raheja Corp—Consumer Confidence Score 75.0/100

10. Ashiana Housing—Consumer Confidence Score 74.8/100