Bottom Line: What it takes to emerge as a business leader for a second generation when the father has built a legacy of trustworthy brand? Not living in the shadow of father and at the same time not sitting on the laurels of past achievements is really challenging for the scion. Ravi Sinha meets Ravi Menon, Chairman of Sobha Ltd who has today created his own identity.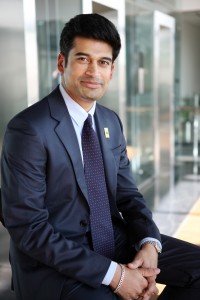 It is 8PM and the corporate office of Sobha Ltd at Sarjapur-Marthahalli Outer Ring Road, Bangalore wears a deserted look as most of the employees have left for home. A casually dressed young man is still working with a graphic designer on the open floor space.
On first look it seems the not-so-performing employee has been given a dressing down by the management and compelled to work till late. But wait! On a closer look the employee turns out to be the young scion of India's most admired real estate company.
Meet Ravi Menon, Chairman of Sobha Ltd and son of PNC Menon whose legacy gives the son liberty to rest in his cabin and enjoy the laurels that the company has earned. But it seems there is something professional in the DNA of this family. Hence, the colleagues respect Ravi as first co-worker in the office whose personal involvement and eye for detailing is what has helped brand Sobha to get to the next level of brand reputation.
In a business like real estate where the shelf life of employees is pretty short and the parting ways is often painful and unpleasant, Sobha employees respect the team leader for his dedication and personal involvement. It is the dynamism of the second generation entrepreneur that today Sobha has a very cosmopolitan culture and the company has attracted right talent from diverse backgrounds from all parts of the country.
"In his mid 30s he has completely sacrificed social life as his only dedication is to work; making sure the processes are improved. I have not seen any other second generation in the business working like this," says JC Sharma, VC and MD of Sobha.
Top 5 business mantra 

Focus on product is the key

To deliver it at the right price point is market differentiator

Timely delivery is key to gain respect

Ability to sell in a focused manner is critical 

Building a brand is a long term plan and right path will help build a long-term sustainable brand 
Stepping stones
For Ravi it was a conscious decision to carry forward the legacy of family business and immediately after completing his Civil Engineering Degree from Purdue University, US, he joinedthe then nine year oldentity, which had already established a strong brand in Bangalore, and was known in the market for high quality development work.
"It wasthe interest in architectural design,and buildingstructures that led me to study and work in this field, and fortunately for me I got a fabulous platform to begin my work experience with Sobha and my father. Sobha was a company that always had a culture to bring the best technologies and practices from across the globe and incorporate them in the local context," says Ravi.
Under his leadership, Sobha has been working on some of the most unique projects in India.For a young business leader the work is engaging and provides challenges and this environment is full of excitement and stimulation.
Before joining, did he ever thought work culture & demands of this business would compromise his personal life/freedom?"I consider myself fortunate to be working in a business that I enjoy. This naturally leads one to get passionately involved in every aspect, to learn more and at the same time bring gradual improvements and further strengthen the business. When I am not at work, the rest of my time is completely spent with family," he says.
As a matter of fact, after graduating from university,and then moving to India,he had the realisation that his knowledge about the business and the country was not up to the mark. He nevertheless took it as a challenge to learn it on the job. Fortunately, he hadthe opportunity to interact and learn from his father, PNC Menon whose professional acumen is globally acknowledged.
Sobha's Initial Public Offering (IPO) was at the end of 2006 and this was the opportunity for him to understand deeper about the business. He could learn as to how dynamic the business is and it is important to understand the cycles, trends, changes in policies that affect the business. His work ethics nevertheless makes him learn new things everyday.
In the context of the Indian real estate, many second generation entrepreneurs had to struggle to change the brand philosophy after taking over the mantle. Majority of them even struggled to cope with the petty shop mindset within the organization. Ravi Menon, however, has been fortunate to share the same brand philosophy of his father.
"My father is manwho is extremely passionate about his work; has the highest values systems; and delivers products only at the highest levels ofquality standards. He attracts and employs the besttalent towork with him. The brand Sobha was built only because of the firm focus ondelivering international quality products on time," he shares.
There has been no clash of generation in this case because th framework of brand Sobha was well defined in terms of the product, financial structure, land strategy, and sales & marketing. Ravi maintains that while the company may continuously look at the relevance and effectiveness of this business framework at any point of time and slight changes and fine tuning are made, even now the broader framework which was defined is still very much relevant and gives them competitive edge.
It's my choice

Your role model in life & real estate: My father 

Your favourite architecture globally: Burj Khalifa and Emirates Towers in Dubai

Your favorite real estate market: India

One thing you dislike about real estate: Sector not given industry status to harness true potential
Turning point
Every professional has his turning point. What has been the defining moment for Ravi Menon? He thinks Sobha's first integrated township project, Sobha City in Thrissur, Kerala, is the kind of landmark project that makes him proud. It is a 55 acre campus and built around a 6.5 acre man-made lake that is one of the largest rainwater harvesting facilities in the country and caters to Sobha City's total potable water requirements. The Sobha City Mall, their first commercial retail venture which opened in 2015, is a landmark development that makes him feel like a personal milestone.
Ravi's brand philosophy is pretty simple to be focused on improving the quality of products consistently. He believes that brand perception is shaped by the quality of products and hence he has been conscious of the quality of products and its timely delivery. Today, a large number of Sobha buyers are repeat customers and they are growing by word of mouth.
"Our brand philosophy hinges on 'passion at work' which signifies our attention to minutest details, carried out passionately. Our company's overall brand personality is that of obsessive perfectionist. We deliver what our customers need. Moving forward to the next level is a part of the journey that we are undertaking daily," he says.
Open letter to stakeholders 

"I believe that Government has already taken few steps and is likely to take few more positive steps to bring real estate sector in the mainstream. With RERA coming into play, there will be more transparency and accountability in the system. Push for Smart Cities, Housing for All and other similar such programs will usher change. We all must work towards building TRUST amongst our customers and stakeholders" 
Innovation quotient
In terms of brand positioning he asserts that Sobha brand has always stood for international quality products delivered on time at a reasonable price with transparency. According to him, these are hallmarks which keep the brand differentiated in the market and he will continue with this position.
"One of the major steps that we have taken recently is introduction of precast technology to make more than 6000 homes on an 81 acre plot within the city of Bangalore. Two years back we stepped into an altogether new segment which is called Dream Seriesfor the first time. We have erected our precast factory within the Dream Acresproject site using some of the best machinery and know-how from Germany," Ravi shares.
A humble professional in him believes his contribution to the Indian real estate is as much as the performance of the brand. Today, he is heading a team where the processes are chained with a solid backward integration model focused at creating best quality products and highest delivery excellence. He nevertheless is open to admit that there is much more to be done in terms of improving processes, technology, skilling of manpower and living responsibly as a good corporate citizen.
What the world does not know about Ravi Menon? 

"When I was growing up, I used to watch lot of movies in Malayalam. Mohanlal was one of my favorite heroes. I have watched almost all his films in the 1990s" 
Business lessons learnt 
He has been hands on with the operations as the first co-worker. Each and every day has been a new day for him when he gets engrossed with work. He is so passionate about construction, design, architecture, marketing and strengthening the processes that he personally gets down to the minutest of details.
The young business leader thinks out of the box and comes out with ideas that could lead to market disruption. He recently conceptualised Sobha ConnectProgramme where team Sobha meets thousands of existing customers at especially designed carnival programs at their properties. This unique approach was carried for more than six months in 2016.
Sobha got connected with about 3000 of the existing customers, covered more than 4300 units in about 36 properties. Not many developers would dare to do this anticipating buyers' backlash if the product does not meet the expectations.
Similarly, Sobha Privilegeoffered the customers promotional offers and privilege points for referrals. Then there was Sobha Alliancethat was an exclusive partnership program with an opportunity to earn by promoting Sobha homes. Similarly, for the Sobha employees he offered Sobha Advantage programme that is a sales referral opportunity.
"We also introduced the Sobha Hackathonprogram centered on the notion of innovation. Objective was to encourage our people to come up with innovative spark of an idea into a working prototype. They could choose a field they were comfortable with ranging from sales and marketing to construction and engineering. All regional teams participated and showcased their innovative ideas which are now in various stages of implementation," says Ravi.
Future calling
Ravi is not satisfied and there are more market disruptions in the pipeline. Focus is hence shifting on more mixed-use developments in future. He believes that apart from good quality homes, people are desirous of having an aspirational life style – whether it is harmony with nature or having a sports and fitness laden set of amenities or integrated with commercial (shopping, food, business and entertainment) facilities where they can live, work and play.
Are these market differentiation borne out of challenges during the slowdown? The son in him gives credit to the foresight of father, "Sobha has been self-reliant to a large extent from the very beginning. In 1995-96, when the company faced difficulty in procuring quality wooden doors, aluminum window frames and concrete blocks we decided to set up our own factories of woodwork, glazed metal frames and concrete blocks. This was the beginning of the backward integration model."
"Today, I can say it was my father's foresight and vision that is working so beautifully for us. Our unique business model is our true differentiator which enables us to hold our head high and never compromise on quality," he adds.
The second generation is really serious to take the legacy of father to the next level of expansion. The company under his leadership is working towards increasing its footprint and volume of business in the country. Amidst a growing debate that the entry of corporate conglomerates have changed the brand dynamics of business, Ravi feels both the corporates as well as core developers have a place in the market.
"Both types have unique strengths of their own. While the large corporate groups have an added advantage of their legacy, trust and financial muscle, the niche developer can go deeper and cash upon proven potential of delivery and having created excellence in their chosen field of expertise. The key lies in professionalizing the processes. Location, cost, design and architecture, quality, timely delivery and transparency will always play an important part in helping developers to command premium today and tomorrow," he feels.
Sobha is currently working on 39 real estate projects in nine cities measuring 42.94 mn sqft and 33 contractual projects in nine cities measuring 8.96 mn sqft of developable area. In total, there are 72 ongoing projects measuring 51.90 mn sqft of developable area.
"My immediate priority is to first get these ongoing projects executed well and as per our standards and within time frame. We also plan to launch new projects in Bangalore and Chennai regions in the next 3-4 quarters measuring a total area of about 5.15 mn sqft," he says.
Brand Sobha of PNC Menon is definitely into the safe hands of Ravi Menon. After all, he is not behaving like a boss, scion, rich or powerful but the first co-worker of the brand.