Bottom Line: New Rajarhat Town in Kolkata is a case study in how the change of government policies & resultant industry exits could kill the potential of even the most affordable housing markets.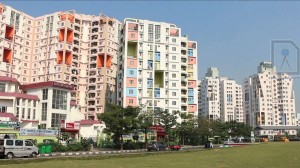 The first movers in any property location across the country move into the market due to affordable price point, be it Greater Noida West in Delhi NCR or beyond Thane in Mumbai Metropolitan Region. More often than not they are rewarded with sizeable capital appreciation.
And for those who could not afford in other costlier property markets of the city, it is the best bet to settle down where the overall livability index goes up in due course of time.
This is the story of most of the newly developed locations, more so with the planned developments. However, New Rajarhat Town is a case study in contrast. Here the first movers are repenting their stuck up investment as the livability index has not improved, the appreciation is a far cry and the place even after years of development still bears the look of a ghost city.
"I bought an apartment in New Rajarhat Town in 2012 and I suppose six years is a pretty long time for any new location to settle down. But even today the basic civic issues have not been settled and today I repent my decision to buy an apartment over here. I can't move out in the night as the area completely gives the impression of a locality that is periphery & deserted location, says Sunanda Ghosh, a housewife.
New Rajarhat Town Fact File 

Created to accommodate housing demand of workforce when the corporates were invited by Left Front Government 

Investors' money from mining industries in neighbouring states fuelled supply 

With land acquisition issues and no incentive for businesses there are no takers for this market

Capital values are around INR 4000-6000 per sq feet

Futuristic areas of township as low as INR 2500 per sq feet

Most affordable market but not for appreciation, early exit or quality living
The property analysts active in Kolkata don't refute the outburst of this homebuyer. According to Bikash Paul, a local property agent, what has hurt the sentiments of the first movers in this market is not just poor pace of developments but also the fact that the market has not picked up in terms of appreciation.
"The demand is slow in this region and then there is over-supply which has further made it a future destination. And since the entry point has been low, most of the initial buyers are investors looking for long term appreciation. Amidst this scenario, any end user buyer who has bought in this location and has shifted is feeling like living in a ghost city," says Paul.
The market that has been at the base capital values between INR 4000 per sq feet and INR 6000 per sq feet today has not even appreciated INR 1000 per sq feet for those who have invested three to four years back.
What has dented the sentiments even further is the fact that the prices have corrected around 10-15% in recent times. Rakesh Gupta, Director of Squarewood Projects agrees that there is a crisis in this market. According to him, most of the projects in this part of the world were launched with investors' money. Now the investors are also stuck up because there is no buyer around.
"Investors are not getting exit because there is no resale activity in this market. There are three pockets of New Rajarhat Town and major part of the locality is futuristic with prices even as low as INR 2500 per sq feet. Of course, certain pockets where the prices have peaked to a level of INR 6000 per sq feet and are closer to Infosys Campus and IBM building will pick up sooner than other pockets," says Gupta.
There is another reason why this new township could not pick up as expected. Kolkata as a city is no more being seen as credible employment generating place by the corporates. It is noteworthy that when the companies like WIPRO, Cognizant and Tata Consultancy Services were expanding their presence in the city, this township was created to accommodate the projected demand for quality residential complexes.
Today, the consumption of office space per household in Kolkata is lowest among the Tier I cities. Earlier, a report by Jones Lang LaSalle had also said that Kolkata scored the worst among cities in the sale of office spaces and Rajarhat performed "lower than expected" among nine townships across India.
The fundamental question today is what is the future of New Rajarhat Town in Kolkata. Analysts believe that since the market has disappointed the first movers, both in terms of capital appreciation and livability index, fresh investments in the market is a bit challenging. Also, with property prices softening across the city of Kolkata, this township does not have the price point advantage to the extent that affordability could be an investment magnet.
Carved out of agricultural land to make it a future location, New Rajarhat Town Kolkata continues to be just that – a future location. Unless there is some incentive for the corporates to set up their bases over there and migrant workforce is attracted, this township will continue to be a case study for all the wrong reasons in urbanization.
By: Ravi Sinha