View Point: It is much easier to blame the lack of honest journalism in the space of Indian real estate, but honest journalist is a liability for the vast universe of the developers. Ravi Sinha finds that the cribbing of developers against media dishonesty apart, builders are the perpetrators of quid pro quo with self-glory defined as honest journalism.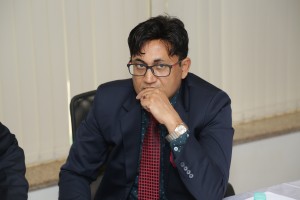 "Why should I take media seriously when the entire world knows that you can get anything published at a price?" questions a builder in the course of an informal discussion. Well, he was more or less echoing my sentiments only. I have always raised the issue of paid news and blatant violation of all journalistic ethics in the space of Indian real estate.
But wait! I had my own reasons to counter him and question his contribution to create an honest eco system. After all, I was also conscious of the fact that quest for media honesty has been mere overtones of a developer who wanted to take moral high ground in front of a journalist like me. My reputation always travels fast to make the other side conscious of the reality that he is meeting someone whom he would not be able to influence, forget buying out.
I am often told that I am playing with fire. Being so critical and upfront could be detrimental for my career and the media company that I represent. I am well aware of the fact that cribbing of the developers in their collective consciousness is not against dishonesty in media, but not being able to influence the journalists without a quid pro quo. In order to define and often dictate what should be the news point the real estate companies have to shell out money, and that is what is pinching them. 
It is hence no surprise that the so-called real estate magazines (I wonder if these are not marketing brochures) are full of developer's glory, often as blatantly as glorifying one's personal life or social life and elevating them as the God's gift to the world of Indian business.
And why to blame these petty shops of real estate publications when the track record of mainline media is no better? Call it overt barter or covert quid pro quo but the fact of the matter is that every positive review and every coverage is earned with a price tag.
Even the builders' version being quoted in industry specific stories are mostly plug ins. It doesn't need a media expert to spot it out but even the common homebuyer can today assess what is a paid news. Some of these developers, especially in Delhi-NCR, are giving their pearls of wisdom to the real estate supplements of mainline dailies, repeatedly the same voices week after week, and carry home a feel good factor in peer groups.
I am still not sure to what extent it actually adds to sales velocity, forget any meaningful contribution to their respective brands. One of the English dailies recently ranked a relatively lesser known developer higher than other leading brands in the same Delhi-NCR market. The developer had apparently complained to the marketing team for not getting any tangible ROI or news coverage with this newspaper. It is a different matter that the said developer privately admitted to me that even he is not convinced with his higher ranking. It nevertheless proved to be good marketing tool for him to showcase it across the office premises.
And it is here that I was upfront in showing mirror to this developer who expected the honest journalism to be a one-sided journey. Howsoever I may hate this culture of give & take for a piece of news, it is not the fault of the journalists alone. After all, most of these poor scribes are freelancers, who are so meagerly paid that the exploitative mindset of large media houses goads them to survive on the MEA (Media Entertainment Allowance) of these publicity hungry builders. 
It definitely suits both the sides – builders as well as these journalists. Who cares for honest journalism? Why would they even bother to invest through legitimate means to a media that is balance enough to have critical overtones and points out what is not well within the sector.
Most of the awards in the sector are hence rigged and come with a price tag. When I see a real estate company with the tagline of 'India's most awarded real estate company' I hang my head with shame rather than feeling confident about that developer. But the quid pro quo has definitely gone to the next level in Indian real estate today. I rather wonder isn't it embarrassing when the industry body NAREDCO nowadays awards to those media groups and journalists who in return award the officiating developers in exchange.
I often question how will honest journalism survive in this eco system. It is not that I don't face the challenges and resistance of not being a party to this cartel of corruption. Forget the builders, even a large section of builders' 'paid & pet' journalists have issues with me. I am, after all, a game spoiler for them who is spreading the negativity with brutal honest and ruthless journalism.
I was once told by this Ghaziabad-based builder who was upset with reports of NGT violations in his micro market by one of the leading English dailies, "Why should I advertise with this newspaper which pins down our market?" "Excuse me!" Even though an informal chat, I took it as on offence. "You are not doing any charity gentleman. You are advertising with this newspaper because you are getting the ROI of sales enquiries with phone calls. Will you advertise with a newspaper (more credible but much lesser in circulation) for supporting high quality journalism?" The developer was now silent and deep within I knew I had earned one more frenemy.   
I believe in any given profession if you conduct with ethics and refuse to be a party to larger universe of corrupt coterie you will earn more enemies than friends. It is hence no wonder that whispers and rumours galore about me. The recent one that I heard is to be helping PR agencies and builders in exchange of my cut. I found it so funny that could not resist instantly sharing it with the world at large.
Through my social media post I also had a message for my critics: "Next time when you give me cut either give it by cheque or in case of cash grab it in your CCTV to expose me."My not so dear critics! Grow up and get more creative. Such juvenile jibes only expose your insecurity against an honest journalist.
ROI (read sales enquiry) or WIIFM (What's In It For Me) is what drives the developers in this part of the world. I can understand that it is business. But then don't take a moral high ground that you are victim of dishonest journalists around you. You are rather perpetrators of dishonest media. You have never supported honest journalism in your business.
It is not that honest journalism and its objective assessment of your projects won't give you ROI. I have a few case studies in Indian real estate where some of the cleaner players dealing only with objective and honest journalists have healthier balance sheets, consumer confidence and overall brand goodwill. But to translate those case studies as an industry reality, most of these developers have to raise their professional standards and think differently. The mindset, however, is: why to take so much of pain when the quid pro quo is the tried, tested & trusted short cut methodology?
In this eco system survival as an honest media company and ethical journalist has its own challenges. Being into the objective brand rating of Indian real estate, I am now used to face ignorant rant, cuss words and half-baked perspective of the developers who fail to get higher ranked with our reports. After all, every developer is somehow 'Number One' for having delivered (in many cases promising to deliver) iconic superstructures.
However, what I am not used to, and something that makes me pretty uncomfortable, is the Triple C (Convince, Confuse or Corrupt) mindset of the developers to get higher ranked. And what better way to force it down my neck than through marketing channels. The marketing team is often reminded by these developers that they don't advertise with us because they are not being offered ROI. In this case ROI is nothing but rating of their choice that they could display.
Meeting with an honest and open mind to understand SWOT analysis of their brand's market standing and ways & means to improve their perception is something that only a handful of developers have tried with me.
Then there is another challenge for honest journalism which even the builders are mostly unaware of – a cut for advertising to the corporate communication.  Right from the creative agency to printer and each and every vendor is expected to share the part of inflated bills to the communication, marketing or sales team that facilitates the work. In some of the cases it is worse than the government offices. 
For example, a Noida-based real estate company has hired a Mumbai-based creative agency at a monthly retainership of INR 3.5 lakh. The said agency is not worth more than INR 1 lakh even in its home turf, forget about the pathetic cut & paste in the name of creativity. Most of these corporate communications professionals wish to maintain a safe distance with an honest but problematic media company like us.
What is most appalling is the fact that even in cases where the developer is aware about what is going on at his office, it is business as usual. I remember I once pointed out to one Noida-based developer as to what kind of bad (read corrupt) reputation his corporate communications have in the market. But to my utter shock the developer tells me, "I know it! But what to do? I can only control it to some extent. From where do I get clean professionals. In this sector this petty pocketing is in the DNA of most of the professionals."
Needless to add, the developer himself has given enough leeway to his corrupt team. Flexible amount is earmarked for MEA to somehow manage the negative media coverage of his delays & denials to the buyers and investors.
Honest journalism has always been a liability for the Indian real estate. Forget investing into the right kind of media, the sector has rather tried best to crush the voices of dissent. Industry body CREDAI went on to the extent of asking members to not advertise with a few newspapers which were also reporting negative news (as per their definition) about the sector.  
It is a different matter that this arm-twisting to control the media with self-defined version of negative news failed. After all, those who had to launch projects were not ready to take mandate by a voluntary group which serves the purpose of no one, other than select few lobbying more for self than sector. The prevailing mindset nevertheless is that if you don't fit into our convenience you have no right to live in this space.
The space that I love – honest & high quality journalism in Indian real estate – is quite costly. After having spent now a decade as a real estate journalist, it would be an under-statement to say that I still feel uncomfortable with the ground realities of this sector. Yes! I have made a handful of good friends too, who understand and value honest and high quality journalism. That is where I have survived and made honest journalism sustainable despite of dishonest eco system around me.
Bouquets and brickbats are part of any challenging job but a recent mail by a Singapore-based investor made my day. He writes, "I don't think across the world anyone does this kind of brand rating like Track2Realty BrandXReport. It is not easy and definitely won't earn you friends among the larger universe of stakeholders. Everyone has better opinion of self than actual market perception. Isn't it? It is not just good brain that can produce such high quality journalism but one has to be ruthless and single point focus….." Yes sir! It is indeed my ruthlessness and single point focus that gives me strength and conviction in a market where I have less friends and more enemies, and even more in number are Frenemies.
Despite some encouragements, more often than not this eco system continues to disappoint me.  At times I wonder for how long will I manage to maintain my integrity and be seen as someone who is a challenger to swim against the tide. At personal level as a journalist, I feel there is so much to do in this sector; there is so much to explore; help all stakeholders with honest, objective ad informed choices. But I am also conscious of the fact that the large universe of players is not ready to support honest journalism, despite of otherwise cribbing against media dishonesty.
The day I quit real estate journalism it will definitely be a loss to me. But what about the sector? Well, the show of quid pro quo will go on and façade is always cleaner than mirror for the large share of vested interests. My quest for honest journalism is nevertheless stronger than the builders' resistance to define what is honest & positive news.
Honest journalism & demands of quid pro quo 

Asking for an honest media is easy, supporting that honesty is not

Indian real estate wants to define honest journalism as per their convenience

Paying to undue demands of dishonest journalists pinches but an honest journalist is a far greater threat

Corrupt practices to buy out journalists are encouraged when the developer has so much to conceal