Bottom Line: There are very few smart developers to understand the benefits of CSR as a means to leverage the band reputation. For most of them it is a mandatory compliance and hence budget is exhausted towards what pleases the self, finds Ravi Sinha.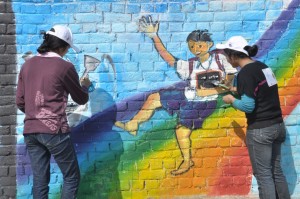 A real estate company organizes painting competition and media is bombarded with press release as if this earth shattering news would change the world 
Another realty company takes a moral high ground with clean the city kind of sweeping drive for a day; media is invited to showcase the mega event of giving back to the society
More money is spent on the photo shoot and event management than the blood donation camp in the name of CSR
School for the children of construction workers is organized due to the compelling need to make the labours stick to it, and media is made to believe the realty company is a benchmark of socially conscious corporate entity 
Food is distributed to the construction workers and media is forced to believe that this massive selfie session is best CSR on the earth   
Welcome to the world of Corporate Social Responsibility (CSR) in the Indian real estate. The ground reality is that the real estate companies today get into CSR for fulfilling mandatory provisions and/or tax adjustments than any real concern for the society.
CSR definitely means different things to different realty companies and hence Indian realty fails to link CSR strategy with their overall brand image.
The corporate social responsibility in the Indian corporate sector has thus far failed to made inroads as a strategy. The leading brands have thus far failed to shift their focus to broader and deeper issues surrounding sustainability, accountability and governance concerns.
A number of developers argue that with real estate being a localized business, realty brands can afford to have a selective and partial approach in the formulation of CSR strategy. This is in contrast to the matured industries where a global brand strategy is defined from a multi-dimensional and multi-stakeholder perspective.
This brand strategy, however, fails in the Indian real estate that is predominantly a local business but is increasingly striving to be seen in global markets. The realty companies have yet failed to formulate CSR strategy that enhances brand image either from a local perspective or glocal (global & local) objective.
What probably deters the realty companies from CSR, even though they agree that 'doing good' is good for business, is that the exact return on investment (ROI) for CSR programmes remains hard to measure. 
The prevailing mindset of the business is such that everything is calculated in terms of ROI and ROI alone. This is the reason why the sector is so sales centric and nit brand centric in terms of its communication and outreach to the society.
However, experience from other industries suggest that companies that make CSR a core pillar of their operations directly enhance their employee morale, agent tenure, the health of the communities where they work, and importantly, their bottom line.
Another deterrent is that the nature of the business of real estate is very individualistic, whereas one of the first things to do when considering a CSR program is to think about your CSR partners. Working with local organizations can lend credibility to your efforts while increasing local exposure and overall community goodwill.
"It is generally believed in the sector that CSR can not be a brand driver the way other branding efforts are being evaluated in terms of ROI. However, this is one business where the investment of buyers is highest and hence word of mouth publicity plays a critical role. If CSR is adopted and practiced in the right spirit, it could give a facelift to the overall brand reputation of the brand," says Vijay Menon, a CSR professional.
CSR brings a company to limelight as a socially responsible company. It also goes to say that a company understands the need of the day towards the entire society, may it be towards green revolution or towards special ability children or even patients with terminal illness who cannot afford treatment.
This forms a very different kind of branding for a company and has a rub off effect on the company rather than direct branding impact. CSR is, therefore, seen more as a responsibility towards the society rather than a business promotion activity.
"The broader understanding of the CSR clearly indicate that it must be linked to brand positioning in the overall scheme of things. To say that brands must operate responsibly in the communities they serve. is particularly true of real estate brands, as the category has historically been mired with perception issues," says Vibha Uniyal, an advertising professional.   
CSR activities are a credible brand building tool and must be leveraged. While there have been very few case studies in effective CSR strategy by the Indian real estate, some of the much-hyped endeavours seem to have not moved ahead of project level.
On the contrary, certain low key but meaningful CSR programmes are increasingly being noticed and also giving a much-needed corporate outlook to the companies in a sector where developers strive to be seen as corporate.
While the value of a comprehensive CSR program can not be understated, the Indian real estate has by and large been slow to adopt. It seems the developers are unaware of the implications and costs of such a program, and its critical linkage to ROI and brand enhancement.
Some more matured property markets globally have successfully defined the CSR programmes for the right reasons. Their Indian counterparts are scaling up gradually but in order to remain authentic, it is critical that all levels of management are committed to a comprehensive CSR program for the right reasons — and not simply for financial gains, selfie sessions and some media visibility.