View Point: In a business that by and large lacks consumer confidence, Jitu Virwani, CMD of Embassy Group maintains that the challenges to meet consumer expectations leads to better quality and enhanced value. In an exclusive interview with Ravi Sinha, Virwani nevertheless disagrees about sector's overall reputation and points out that consumer confidence is segment specific and geography specific.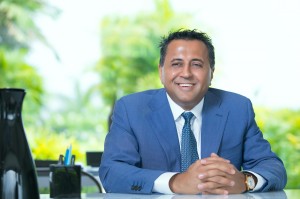 Ravi Sinha: What has been the bigger challenge for the sector – market dynamics or the poor consumer confidence?
Jitu Virwani: The Indian real estate market is not a single homogenous entity. There are seven major metro markets, each behaving differently, with different supply and demand dynamics. There are many different verticals within real estate – residential, commercial, retail, hospitality – and within those there are segments focused on different customer bases. With so many permutations, there is no 'one size fits all' answer. The urban southern markets in commercial office sector, has seen consecutive years of positive sentiment, take up and consequently rental growth.
Ravi Sinha: This sounds more like an aberration. Why the developers are not seen as professional in the collective consciousness?
Jitu Virwani: The Indian real estate market has gone through a significant change over the last decade. Some of the largest developers have corporatized their business, strengthened corporate governance, identified lower cost of capital financing, increased customer focus and applied higher levels of transparency.
Continued focus on international best practices, technical advances particularly in the field of environmental and energy efficient design, improvements in construction management practices and people management are some of the changes which have had a positive impact on consumer confidence.
Ravi Sinha: What about the consumer confidence index?
Jitu Virwani: Well informed consumers and modern homebuyers continue to trust Grade A developers across cities. Today consumer's confidence rests mainly on credibility of developers established over a period of time, often over decades. At Embassy, for the last thirty years, we have consistently focused on providing world class projects around the aspirations of both our corporate clientele from over 175 international corporations, as well as our residential homebuyers. Timely delivery, exceptional quality and locational advantages are some of the key USP's of our products, making it a unique choice for our clientele.
Ravi Sinha: But isn't the poor consumer confidence index affecting the market transactions today?

Jitu Virwani: Just as sentiment is linked to the industry vertical, and we have very positive sentiments in the commercial office markets; sentiment is also specific to geographies. The extent of oversupply in the residential market in the NCR region is not mirrored in the major South Indian cities in which Embassy operates, and hence sales volumes have quickly recovered to pre-demonetarization levels by mid-2017.
With the regulations and corporate governance that is being followed by most Grade A Developers in South India, it is clear that the old practices of small scale real estate developers are receding, as the top Tier players have been professionalized over the years. Focus on quality, timely delivery and transparency are among the best practices that are gaining ground in the sector.
Ravi Sinha: How do you cope with the changes in market dynamics?
Jitu Virwani: Change management, implementation of compliance and governance frameworks, attracting and retaining appropriate talent are all critical aspects of building a top class professional real estate organization. It is very encouraging that many developers have progressively started implementing these initiatives, and this also gets fast tracked with the participation of globally significant equity partners, who bring learning and best practice as well as more efficient capital frameworks.
Ravi Sinha: Do you feel recent policy changes like GST & RERA (despite of grey zones) would instill the confidence back into the minds of consumers?
Jitu Virwani: The Real Estate (Regulation and Development) Bill is an initiative to protect the interest of consumers, to promote fair play in real estate transactions and to encourage timely execution of projects. The proper implementation of the Bill will ensure accountability of all stakeholders, projects would be time bound, reduce delays in completion of projects and boost customer satisfaction. RERA will also establish a mechanism for speedy redressal of disputes and is expected to see renewed interest from buyers.
This will certainly reduce the number of developers who are in the market, properly funded and organized developers will deliver to the requirements of the regulations. This will surely enhance quality and support pricing as supply will reduce. Property pricing will firm up, quality will increase, and institutional funds will gravitate towards the well-established, trusted and proven developers such as Embassy.
With the implementation of GST, we have been able to further rationalize the tax structure for our customers, leading to an increase in consumer confidence. Overall, the unified tax regime is a positive sentiment booster for the industry, as it will revive both buyer and investor interest by bringing in more transparency.
Ravi Sinha: Will the new financial instrument like REIT help revive the consumer sentiment, despite of expected moderate ROI?
Jitu Virwani: The likely advent of Real Estate Investment Trusts (REITs) will be a watershed for all forms of real estate in urban India. A publicly listed REIT is an entity which distributes 90% of its income in the form of regular dividends to investors, it has strict limitations on any development in that 80% of its value must be in completed and income producing assets such as leased offices. The units in the trust are freely tradable, in a similar manner to units in mutual funds and so the investment is liquid for the investor, and provides liquidity for the original property developer/owner.
REITs have been in existence across the world for many decades and are a proven investment medium well known to international investors, both institutional and retail. This, in combination with international perceptions of India's strong macro-economic status, makes future REIT listings attractive to international investment capital, and we are also seeing strong domestic interest in future listings. The potential for new REITs in India runs into billions of dollars, and this liquidity into the real estate market has the potential to kick start stalled projects, generate new growth and jobs while also continuing to encourage the trend towards a transparent, compliant framework for the industry.
Ravi Sinha: Has demonetization completely shattered the consumer confidence in the sector or has it just been affecting the cash investors?
Jitu Virwani: Bangalore, Embassy's HQ, has one of the highest proportion of income tax payers of any urban center and demonetization would have had a limited impact. In addition, we are now close to a year down the road from the demonetization move and its effects have now been absorbed and the market has moved on. Sales are back to pre-demonetization levels since April 2017, and Bangalore being an end user market has been an added advantage.
Established players in the real estate industry were already moving towards increased transparency and governance, with demonetization being another step in the same direction. Several steps taken by the government combined with this announcement, will further improve transparency and increase investor confidence in the real estate market in the long run.
Ravi Sinha: What has been the learning of the last 5 years of market uncertainties?
Jitu Virwani: The learning is that the Indian market is resilient, it recovers quickly and the consistent upward trajectory is the trend for the next few years.
Ravi Sinha: Have the developers learnt the most important lesson of relationship management with the consumers?
Jitu Virwani: No business will thrive without an appropriate balance in the relationship between buyer and seller across all parameters – price, product, timeliness, quality and so on. The top Tier of the Indian real estate market players have known this for many years, and work to make long term customer relationships at the heart of their overall execution strategy.
Ravi Sinha: What is your market differentiator?
Jitu Virwani: Embassy Office Parks also runs the "Energize" programme which is a park user outreach programme, aimed to engage the 205,000+ park users throughout the year. The range of events include – Sports, Cultural, CSR and Lifestyle. The initiatives driven under the Energize Programme helps in engaging the workforce and providing a fun work environment, leading to better productivity, lower levels of attrition and a strengthened sense of community within the business parks.
Ravi Sinha: To what extent the confidence of PEs and other organized segment of investors has shaken with Indian real estate? 
Jitu Virwani: The various reforms and sector-strengthening measures adopted have been welcomed by international PE funds and the PE investments have been steadily increasing. The Institutional private equity capital committed to Indian Real Estate in 2016 is close to USD 7.2 bn depicting strong confidence from global players.
FDI inflows in the construction development sector are expected to increase in the medium term with the government's easing of FDI policy, increasing focus on affordable housing, implementation of the RERA, smart cities plan, and the introduction of Real Estate Investment Trusts (REITs).
Ravi Sinha: Which are the segments of real estate where you feel meeting the consumer expectations is most challenging?
Jitu Virwani: If there is no challenge, we are not pushing ourselves hard enough for our customers. We work to deliver quality premises to our residential, commercial, industrial and hospitality occupiers across all our spheres of operation. We will continue to challenge ourselves to produce better quality and enhance value in a safe and productive manner, in our endeavor to delight all our stakeholders.