News Point: Report highlights the potential of Tier II, III & IV cities of India, stresses need for new Urban Centers. Shortlists 45 cities including Nagpur, Lucknow, Jaipur, Kochi & Bhopal, which can potentially become the next mega cities.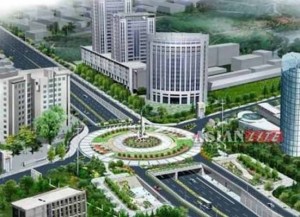 JLL India on Thursday, Nov 9, released the report 'The Dawn of India's Future Cities' in association with The Confederation of Real Estate Developers Association of India (CREDAI) at the New India Summit, Nagpur today.
The report highlights the need for new urban centers in the country, and shortlists 45 potential mega-cities such as Nagpur, Lucknow, Jaipur, Kochi and Bhopal, among others.
The study bases its findings on key parameters such as Socio-Economic Momentum, Enhanced Connectivity Infrastructure and High Value Indicators. With a sharp-focus on real estate, it identifies areas of opportunities for developers while reiterating the impact of regulatory changes on the sector.
'The Dawn of India's Future Cities' emphasizes that India needs new cities to augment its growth and leverage its promising demographics. Initiatives such as '100 Smart Cities' and the Urban Rejuvenation Scheme – AMRUT will provide emerging cities with a blueprint for becoming the next flag bearers of development in India.
India's urban population currently accounts for 33.5% of the total population and contributes over 60% of India's GDP which is projected to increase to 75% by 2030. This rapid pace of urbanization underscores the need for discovering alternate channels to leverage India's workforce and increase efficiency, thereby improving the standard of living of its citizens.
'The Dawn of India's Future Cities' makes a strong case for cities like Nagpur, Lucknow, Jaipur, Kochi, Ahmedabad, Varanasi, Bhopal and others. Driven by investments in infrastructure and skilled workforces, these cities can potentially see accelerated growth in the Manufacturing/ Industrial, Tourism and Warehousing sectors, and emerge as India's new mega cities.
Ramesh Nair, CEO & Country Head – JLL India says, "The real estate and infrastructure sector will become a key agent of change by rendering the next wave of Indian megacities future ready. This sector is strengthening the country's infrastructure backbone and helping in providing more physical space for its citizens to become happier and simultaneously more efficient economic agents. The report released at the New India Summit 2017 – aptly being held in Nagpur, one of the identified future megacities – provides a detailed roadmap for the Dawn of a New India."
CREDAI President Jaxay Shah says, "India's demographic capabilities and potential bring with them a huge opportunity to match the world's largest economic superpowers. This opportunity also brings with it challenges such as developing new urban centers to lead India's economic charge, and creating appropriate employment opportunities. There is undoubted potential in India's Tier II, III & IV cities, and it is imperative that we leverage this opportunity to the maximum extent. Through its New India Summit, CREDAI aims to contribute to building a New India during an inarguably challenging growth period in the history of the country."
CREDAI Chairman Getamber Anand says "The New India Summit forum allows us to effectively gauge the capabilities and potential of India's Tier II, III & IV cities. The Tier I cities are already overcrowded and their resources are being exploited to a great. There is a clear need for new cities to be harnessed to the growth engines of the country. We fully support the Government's initiatives such as the 100 Smart Cities program and AMRUT, which are steps in the right direction. We will continue to align our initiatives with those of the Government to further our country's progress."