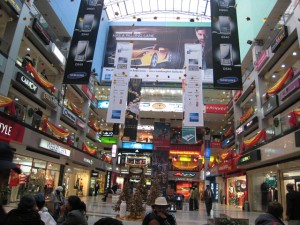 Track2Realty Exclusive: Perhaps no other segment of Indian real estate would have taken as much beating as the retail one. With consumerism down due to overall slowdown in the economy, e-commerce emerging big to challenge the malls and the high streets back with innovations, it seems the mall developers had abosiltely no idea as to how to deal with the emerging market realities. Track2Realty Focus 2015 takes a look at how the promising retail in India could not benefit retail realty in its performance.
With global retailers bullish on the Indian market and some of them expanding in the country of late, if statistics alone are taken into account the demand for retail real estate should have far exceeded supply. However, the fact remains that howsoever promising Indian retail may be otherwise; the inherent potential could not be translated into performance from real estate standpoint. The reasons for the lost opportunities could be traced in key constraints of real estate rentals to real estate quality and slowing consumerism to MRP constraints and also policy issues.
Facts speak for themselves. With bleak prospects in sight the developers slowed down their mall construction to the extent that the supply of retail space fell by 80 per cent during the first half of the year to 0.3 million sq feet in seven major cities, as per a CBRE report.
The projected growth of retail business in India, however, seems to be juxtaposed to the harsh reality that the retail real estate is facing. India's retail market is likely to touch a whopping Rs. 47 lakh crore by 2016-17, expanding at a compounded annual growth rate of 15 per cent, as per a Yes Bank-ASSOCHAM study. According to the study, organised retail, which comprised a meagre seven per cent of overall retail market in 2011-12 is estimated to grow at a CAGR of 24 per cent and attain 10.2 per cent share of total retail by 2016-17. Another study suggests the Indian retail sector is likely to grow at a compounded annual growth rate (CAGR) of 13 per cent to reach US$ 950 billion by 2018.
However, despite of the fact that favourable demographics, increasing urbanisation, nuclearisation of families, rising affluence amid consumers' growing preference for branded products and higher aspirations are expected to collectively drive retail consumption in India, the demand for retail spaces has not picked up significantly. On the contrary, the demand fell to 80 per cent in the key Indian cities like Delhi-NCR, Mumbai, Chennai, Kolkata, Bangalore, Hyderabad and Pune.
The subdued retail real estate demand nevertheless seems to have improved a bit across the country in the second half of 2014. The latest CBRE report finds that the retailer demand in the country improved in Q3 2014, and the period saw steady leasing activity. Consumer sentiment continued to progressively strengthen on the back of a stable Central Government, and gradually improving economic indicators. The shortage of space in high quality shopping centers remained a key barrier, however, especially for tier II locations.
Among the leading cities of the country, New Delhi recorded steady transaction activity from overseas F&B retails; while high streets continued to see limited activity since brands preferred mall locations. Mumbai also saw greater activity from both domestic and global brands in the F&B segment; as did large southern cities of Tamil Nadu and Kerala, which attracted demand from fashion apparel and hypermarkets as well. Northern Tier II and III towns saw steady demand from retailers for new store outlets during the period too. Rising demand for retail real estate, along with the lack of quality space in Mumbai is likely to result in rental value growth, going forward.
Vivek Kaul, Head – Retail Services with CBRE maintains that despite the structural challenges and bureaucratic bottlenecks that the Indian retail market suffers from, global retailers have been queuing up to enter and establish their footprint in the Indian market, as they are aware of its potential growth opportunities. According to him, growth has almost plateaued in most developed markets, providing little room for retailers to drive their business expansion amid growing competition across segments.
"The Indian market being largely under-penetrated offers significant opportunity for growth — especially in segments such as F&B, fashion apparel, and luxury goods — due to factors such as an expanding middle class, rising disposable incomes, and a growing appetite for international quality goods and services among Indian consumers. The Indian market, however, continues to face significant challenges to growth in the form of inadequate quality retail real estate space, restrictive legislation policies, and infrastructure bottlenecks. These challenges tend to impede India's retail story, and restrict the market from attaining its true potential," says Kaul.
DLF spokesperson Sanjey Roy says that there is twin answer to India's retail growth prospects and the two can collectively change the face of Indian retail story. These are Real Estate Investment Trust (REIT) and entry of multi-brand retail. According to him, ever since the REIT has become a reality the discussion has shifted from vacancy level to shortage of quality spaces. The entry of international supermarket retailers can similarly help bring down soaring prices, make the retail sector more competitive and help modernize infrastructure, besides adding to the Indian GDP.
"I feel in retail real estate we are not asking the right questions and hence the right kind of solutions is not emerging. The real issue is not high vacancy levels in the Indian retail sector but the prohibitive policies which are not helping the retail sector reach to its true potential. FDI in multi-brand retail will encompass big ticket investments which will encourage individual as well as institutional investors to make commitments towards the retail sector in India. This will lead to vacancy levels dropped as hypermarket chains are likely to occupy large spaces," says Roy.
Dhiraj Jain, Director, Mahagun makes an interesting observation when he says that the very concept of retail real estate has redefined itself with the advent of integrated townships. The market of commercial real estate is flourishing across India and it is a profitable sector to invest in because with residential projects coming up and habitant density increasing; it is generating an unstated need for retail spaces, entertainment zones and commercial space for corporate giants.
"Even from a customer's point of view, these facilities in the vicinity boost the growth of the location. Hence, growth of the residential projects is the driving force or we can say both go hand in hand together for the development of each other. The areas which are developing and witnessing a huge influx of people for residential purpose are the places where commercial realty is growing. The places which are yet to develop are the markets where commercial properties have failed even to start operation," says Jain.
Amit Modi, Wholetime Director of ABA Corp categorically says that India's retail growth story is turning out to be a tale of empty shopping complexes and stalled projects, with developers giving up midway instead of trying to make these projects profitable. According to him, at present major Tier I & Tier II cities have such high vacancy rate that the prices  of commercial real estate have tanked by almost 35-40 per cent year on year in most of the leading cities of India.
"The biggest challenge facing retail realty is the disproportionate rise in land prices, and corresponding rentals. Experts note that land prices in cities like Mumbai have gone up 50 times in the last decade and rentals by 10 times, but consumption has grown only three times, making malls unfeasible for developers as well as retailer due to high rentals in retail realty. E-commerce boom has also had an impact, and retailers are shifting online due to depleting foot fall, rising rentals and other variable costs associated with retail and commercial realty," says Modi.
It is indeed ironical that despite the fact that India continues to be perceived as an attractive and preferred emerging marketplace by international retailers, the retail spaces are not the driver of real estate business.  There is a wide gap between the potential and performance and the developers in this segment of real estate are up against many questions that need to be answered.