View Point: On his first India visit, Francis VanEeckhout, CEO of Deceuninck, in an exclusive interview with Ravi Sinha shares how the brand is seeking growth to establish itself as one of the leading players.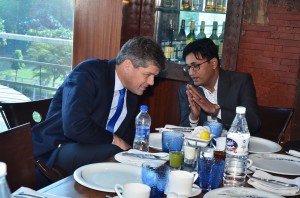 Francis VanEeckhout is CEO of Deceuninck, an 80-year-old Belgium-based brand dealing in UPVC door & window system. The company is one of the world's leading UPVC profile company, having customers all over India and is ranked 3rd in the global market. With its 1st experiential store in Saket opened in November, Deceuninck is betting on the Indian market's huge growth potential and the demand in housing sector increasing every year.
Deceuninck products are used worldwide in varied climatic conditions, like tropical climates of Chile & Brazil or hot climates in the Middle East or the high UV areas in parts of Australia. As for India, at a time when New Delhi and other parts of India are struggling to keep its noise and air pollution under permissible limits and extreme temperatures at bay, Deceuninck's UPVC doors and windows promises to help in reducing the noise and pollution levels considerably and save individuals from extreme hot weathers.
Ravi Sinha: What is your outlook on the Indian market? 
Francis VanEeckhout: India is not a country; it is a continent. It is huge; it has different climate within the country. From a business standpoint, I think it has just started to pick. We are a global company and among the top two or three in the world. It is our ambition to be present in a country like India that is the size of continent.
Ravi Sinha Sheer size of the Indian market attracts you. So, you must be having some idea about the size of the business? 
Francis VanEeckhout: In India the door business market is roughly around INR 1o,000 crore market. Out of this, PVC market is roughly commanding around 10-15% share. So, even if there is INR 1500 crore market that is growing at about 10% per annum, it is a huge market.
Ravi Sinha: What is your India entry strategy? 
Francis VanEeckhout: For the last couple of years we have a warehouse in India in Chennai and now we are evaluating to get into production. This is my first visit to India and I am looking for the right timing. We have nice product range and the kind of specialized products that we provide worldwide I am sure Indians would love to have that.
Ravi Sinha: Real estate would be your major business. But the sector is not doing well at the moment. 
Francis VanEeckhout: Even if the market is not doing well, the size of the market is large enough for quality products. We have to penetrate into this market where the market has to eventually go up and people have the tendency to look for the higher quality of products. This is a developing country flooded with the Chinese windows and people are looking for quality products. The shift has started in quality and the same shift will happen with volume as well.
Ravi Sinha: But India is a very cost conscious market. Why do you think they will pay for costlier products?
Francis VanEeckhout: People have already seen what happens with the cheaper Chinese products where you have no guarantee. They won't mind paying a little bit extra for quality products. We already have worked in many countries and have the experience of how to build up your brand over there. We are anyway not a luxury product that is unaffordable but premium product.
Ravi Sinha: What is your priority market – affordable, mid segment or the luxury housing? 
Francis VanEeckhout: We have certain level of quality to match the European standards and our aspiration is to cater to the middle and higher segment of housing.
Ravi Sinha: What kind of business volume are you targeting in India? 
Francis VanEeckhout: Honestly, I don't have any turnover in my mind. I would prefer not to fix any target because if the market triples in the next few years then I would look like a fool. On the downside also, tomorrow there can be some financial crisis in the country or some political crisis. But yes, looking at the size of the market my dream would be to see India as our largest market in the world. We are already in the top three in the major markets of the world. I hope we would be the market leaders in India in the next few years.
Ravi Sinha: Which are the cities that you think would be your major market? 
Francis VanEeckhout: We are initially targeting the major metro cities and would gradually expand into the other markets in the suburbs.
Ravi Sinha: How would you compete with the locally imported cheaper products from China? 
Francis VanEeckhout: I don't want to deliberate on the competition in terms of the pricing. Our strength would be quality products with our innovation. My ambition is not to be highest selling in this market but to be best selling product in this market. I don't care about what others are doing, so long I am giving quality products because I am here for the long run. In a classical sense, our competitors are the European brands and I think our products are slightly better than the competitors.