News Point: Robust supply pipeline of 5.7 million sq ft is scheduled to inflate North's stock by over 140% by 2021: Colliers Research.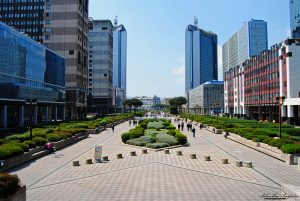 North Bengaluru started gaining attention from occupiers in 2014, with major transactions from the technology sector. Alongside commercial developments, social infrastructure has been improving and residential developments have started.
Currently, there is 4.0 million sq ft of operational Grade A office stock and an additional 5.7 million sq ft of new supply scheduled through 2021. As per Colliers Research, occupiers are considering North Bengaluru for expansion and consolidation as infrastructure improves in the area and supply becomes available.
Arpit Mehrotra, Senior Director, Office Services (Bengaluru & Hyderabad) at Colliers International India added, "we expect Grade A buildings in the area around Hebbal Junction to continue to be in demand due to their proximity to the CBD and ORR while the area around Yelahanka and further north will likely need better social infrastructure and residential density to attract sustained occupier demand".
Over the past three years, North Bengaluru has captured the attention of various sectors. For example, in 2018 the technology sector accounted for 54.0% of total leasing in the North. Banking, financial services and insurance (BFSI) companies represented 11.0% of leasing volume, engineering companies leased 8.0% of space and flexible workspace operators accounted for 7.5% of gross leasing.
As per Colliers Research, occupiers with large requirements of above 1.0 million sq ft are considering North Bengaluru for their future expansion plans, and Grade A office developments with large floor plates and opportunities for contiguous expansion are likely to drive their office space planning in the future.
Over the last four years (2014-2018), Bengaluru has witnessed average annual gross office leasing of 13.9 million sq ft, with the ORR micromarket accounting for 45.0% of total leasing volume. The SBD and CBD micromarkets follow with 13.0% and 9.0%, respectively.
Colliers forecasts demand for Grade A office space to increase by 1.0% compounded annually over 2019-2021 to 14.5 million sq ft. However, limited vacancy in the preferred micromarkets in the next three to five years may necessitate occupiers considering North Bengaluru.
Even though North Bengaluru constituted only 7.0% of Bengaluru's gross office leasing volume in 2018 and holds about 4.0 million sq ft of Grade A operational office stock, we expect it to be increasingly appealing to occupiers with the addition of 5.7 million sq ft of space by 2021, together with ongoing improvements in infrastructure.
Colliers forecasts increased leasing transactions in the ORR micro market over 2019-2021, however, demand momentum may not be sustained by supply.
With ORR's Grade A vacancy at 3.6% and forecast of average annual supply of 5.4 million sq ft over 2019-2021, ORR may mostly fall short in accommodating our estimate of 6.0 million sq ft of average annual demand. As Whitefield, Hebbal Junction and Yelahanka are the only micromarkets with significant supply compared to their demand, we expect unmet demand to spill over to these areas.
Colliers anticipate Whitefield and North Bengaluru to gain traction. Over the next three years, we expect Whitefield to witness a robust supply pipeline of around 10 million sq ft, the equivalent of 26.0% of citywide Grade A supply.
The much anticipated completion of the metro rail connecting Whitefield by 2021 will further boost the demand in this micromarket.Moreover, with an upcoming supply of 5.7 million sq ft and 25.0% lower rents than in the ORR, we expect occupiers to consider North Bengaluru for their future expansions.
Track2Realty is an independent media group managed by a consortium of journalists. Starting as the first e-newspaper in the Indian real estate sector in 2011, the group has today evolved as a think-tank on the sector with specialized research reports and rating & ranking. We are editorially independent and free from commercial bias and/or influenced by investors or shareholders. Our editorial team has no clash of interest in practicing high quality journalism that is free, frank & fearless.  

Now you can subscribe our YouTube Channel @  https://bit.ly/2tDugGl