News Point: India is way short of green buildings and the incentive of extra FAR fails to attract the builders.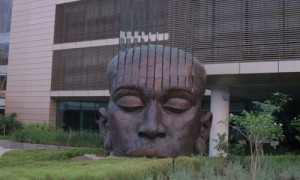 "If extra FAR (Floor Area Ratio) can be a good incentive to attract the developers for 'Green Development' then Noida should have very many green buildings. It is just not attractive incentive to persuade the developers and the buyers for green and sustainable developments. FAR benefits have to be supplemented with tax incentives," suggested a panelist at a seminar on sustainable developments in Delhi.
The fact is that it is not only Noida but the incentive across the country has been less than desired to encourage the green, sustainable and eco-friendly developments. The Ministry of Environment and Forests (MoEF), Government of India issued a memorandum to facilitate fast track environmental clearance for GRIHA pre certified projects. GRIHA stands for Green Rating for Integrated Habitat Assessment.
Facts speak for themselves: 
NOIDA and Greater NOIDA have incentivized GRIHA projects (on a plot of more than 5000 sq m and above) with free of cost 5% additional FAR for projects for complying with 4 or 5 Star GRIHA Rating
The Pimpri-Chinchwad Municipal Corporation in Maharashtra offers a rebate of up to 15 per cent on property tax for green buildings, and up to 50 per cent on premium for builders who get their projects GRIHA-certified
In West Bengal 10% additional FAR for green building as per provision under rule 69A of the said rules, notified by Kolkata Municipal Corporation affairs department vide notification no. 54/MA/O/C-4/3R-3/2014 dated 05.02.2015
Jaipur Development Authority, a body constituted under Jaipur Development Authority Act 1982 (Act. 25) under the Department of Urban Development and Housing, Government of Rajasthan has notified that the buildings constructed on plot area more than 5,000 m will be eligible for an additional 5% FAR free of charge if they get 4 or 5 star rating from GRIHA
Yet, all these cities are way short of green developments. This raises a fundamental question as to whether the extra FAR to builders are not reasonable incentive for green building to invest.
Green floor space accounts for only 3-5 per cent of all construction in India so far. In developed markets like the UK, where green building began almost two decades ago, around 40 per cent of all buildings would fall in that category. In the US, it would be around 30 per cent.
Vineet Relia, Managing Director of SARE Homes maintains that one of the main reasons why growth of green projects has slowed down is the absence of incentives due to which buyers are not willing to pay premium amount. The additional Floor Area Ratio (FAR) for green projects will lead to more space utilization and more saleable area for builders which will work to be an incentive for builders as well as buyers.
"FAR alone will not translate into increased investments. Other incentives like reducing development charges for green projects also need to be considered. Green buildings are designed to minimize energy, water consumption and allow recycling of waste and recharging of the groundwater. The concept of green building is a progressive step towards sustainability. One of the biggest barriers in green building is cost," says Relia.
Raj Gala Shah, Partner, Zara Habitats feels extra FAR to builders will definitely be reason enough to invest in green buildings only if the builders can recover the additional cost incurred for building it, plus earn some profit for the effort put into it.
"The ideal incentive for the both the developer and the buyer would be in terms of money and time. It also needs faster approvals for green buildings, as that would result in reduction of interest cost for the developer and in turn faster possession for the buyer as well. Thus, giving rise to monetary benefits to both," says Shah.
Green Realities
India had only around 1,850 sq metres of certified commercial green floor space in 2001
The first residential green rating standard was launched in May 2008. Seven years later, India has around 325 million sq metres of registered green floor space, both pre-certified and certified, across all categories
CSE warns suggests governments should not give fiscal sops or extra built up area to developers without stringent monitoring of actual energy savings and environmental performance of green-rated buildings
While green buildings does cost slightly more than conventional ones, but it is important to realise that the payback period would be in 3-4 years with a reduction in operational costs. Alongside it protects the environment, has economic and social benefits and finally protects the needs of future generations.
More awareness about benefits and usage of green products will lead to growth in investment. Also, this will happen only when developers and buyers together and in unison realize the positives from green buildings. The government, on its part, is gradually increasing incentives for green home concept such as increasing the FAR, reduction in development charges etc.
Though the developers in principle agree that extra FAR is an incentive, yet the practicalities of the business indicate that higher FAR has to be supplemented with lower taxes. Higher FAR would then entice the developer to opt for green buildings since one would be promised of higher profits in a shorter time span. 
Lowering the taxes for such buildings would result in lower monthly outgoings for the buyers and this would also encourage buyers to opt for green buildings automatically.
By: Ravi Sinha