By: Ravi Sinha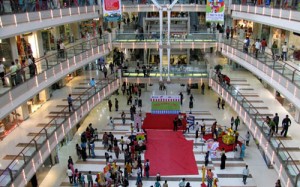 Unsold, vacant, no takers…these words aptly sum up the story for real estate developers into malls in India. Even though retailers are spreading their wings once again after the slowdown, the absorption of malls remains sluggish, leading to high vacancies.
Real estate consultant Jones Lang LaSalle (JLL) India pegs the vacancy levels across Indian malls (in top seven cities of Mumbai, NCR, Bangalore, Kolkata, Chennai, Hyderabad and Pune) at about 17-18%. And just like unsold residential inventory is piling up the most in NCR and Mumbai, the two regions also top the list of vacant malls.
As per Knight Frank India, the total vacancy rate of malls is as high as 30% in NCR, while in Mumbai it is 10-12%. In southern markets, though the vacancy rate is pegged at 15-18%, the supply pipeline is not very high, making it a better market. Further, the real estate consultancy projects that of the 90 malls expected to be developed in the country this year, only half would be absorbed. The balance 50% are likely to struggle for occupants.
These findings are in sync with a pan India Survey by Track2Realty among 2000 serious shopaholics that also suggests that all is not well with the malls in India. As many as seven out of 10 Indians with disposal income, a whopping 72 per cent, go to shopping malls at least twice a month but don't buy the monthly food & grocery, apparels or consumer durables over there. Nearly half, 47 per cent, of those who avoid shopping at malls point poor quality of goods as number one reason, while 38 per cent blame poor customer & after sale response of the retailer in case the product is defective and 15 per cent can't stand to the long and unnecessary queue. Among the mall shoppers, 75 per cent only buy the grocery, apparel comes next at 48 per cent and only 22 per cent of mall shoppers buy consumer durables over there.
Sunil Dahiya, Managing Director of Vigneshwara Developers agree there is a problem with the positioning of the malls in India.  "The shift is taking across segments and the need is clear 'science' to attract them in their environment. An HNI family is going to buy from Marks & Spencer and will not adopt Big Bazaar. Therefore, malls that are doing cross breeding of segments will see repulsion of footfalls. Successful examples are Select Citywalk (Delhi) and Sahara Mall (Gurgaon). Select Citywalk is full upto the brim and so is Sahara as they have a clear positioning set for HNI and MIG respectively," he says.
Atul Modak, Head of Kohinoor City agrees there is a need to refocus on the mall positioning and business strategy. He says opening of Palladium in Lower Parel with high end brands and availability of valet parking, has positioned the Mall for creamy layer of the population with a happy shopping experience.
"I think retail failure in India is a combined failure of both the retail as well as real estate. Any Project for Retail before being launched by the Developer, a proper study of the location, population in the vicinity, demographics, infrastructure, parking needs and mall design needs to be carried out. The mall architecture, its design, its space and movement study of top standards should be done. The successful running and sustainability of the mall will primarily depend upon its management, business promotion, space allocation and zoning of various retail sectors, etc, he adds."
Majority of those who don't shop in the malls have tried shopping over there at least twice and then switched back to the local kirana and other traditional brand stores. No one is ready to believe, 94 per cent say, that shopping malls in the city are destination shopping for them. Eight out of ten, 82 per cent don't have healthy shopping experience with the malls.
The vacancy levels remain alarming even though the transaction volumes have increased. Total transactions in malls across the top seven cities in India were about 3.8 million sq ft in 2009, whereas 2010 clocked around 4.5 million sq ft of transactions in malls, a 20% increase over the previous year.
The dynamics have changed too, with a shift towards revenue-sharing model between the developer and retailer. Brands, including Pantaloons and Shoppers Stop, are increasingly opting for a revenue sharing model as against fixed rentals, as it helps them lower the risk.
For retailers, it's a tough choice. They agree there is enough supply in the market chasing them, but feel that finding a well located mall with a suitable rental model is difficult.