By: Ravi Sinha
Track2Realty Exclusive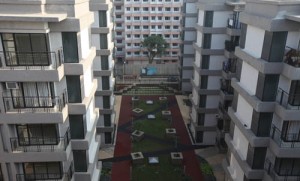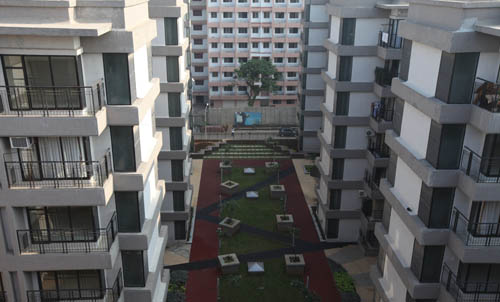 An integrated township at the heart of a city like Mumbai? You must be joking. Right?
Well, I also had the same reaction when I was first told about Kohinoor City, a city within the city in the urban metropolis of Central Mumbai. After all, the concept of integrated township itself has been a result of rapid urbanisation leading to the peripheries where the Government has not taken the infrastructure for a holistic living. But here somebody was talking about an integrated township in Mumbai at Kurla-Vidyavihar.
At a time when urban living in Mumbai is fast shrinking, who would like to believe the tall claims of a real estate developer? An invitation to visit Kohinoor City was accepted by me not just out of sheer curiosity but more out of suspicion. I was more eager to see how a realty project is being packaged with a moral high ground of providing quality living with a decent budget. Who would believe that Mumbaikars can live with plenty of greenery and pleasing landscapes?
But here a pleasant surprise was awaiting me when I entered Kohinnor City. At a first look Kohinoor City is no different than any other township on periphery, far away from urban jungle of any metropolis. But what makes its positioning unique is the fact that it is located at the heart of the city like Mumbai, added to its infrastructure that is aimed at quality living with all the necessary amenities. And it is here that one needs to introspect as to how various other integrated townships have failed to evolve as a flagship project of the concerned developer.
May be the roots of this realty company into education is what actually has made the difference. A positive intent is, no doubt, writ large over the City. After all, an integrated township demands huge investment and hence high rise & high density is the prevailing norm. But what I find in Kohinoor City is that the conventional community living has not been compromised with. It is actually a low rise & low density project.
Kohinoor City is a strategically located, well-connected township having residential and commercial spaces, educational complex, Asia's first and world's second LEED Platinum rated hospital, a LEED Gold rated mall and a hotel. A Lifestyle clubhouse is already operational. A state-of-the-art 550-seater auditorium is also coming up in the educational complex.
Kohinoor City is situated very close to the commercial hub of Mumbai that is Bandra Kurla Complex. There is close proximity to public transport with well connected road, rail systems and upcoming metro. It has close proximity to both domestic & international airports. And as Atul Modak, City Head of Kohinor Group says, "In a nutshell, it is well connected to south Mumbai, all suburbs and Navi Mumbai." (See the interview section).
This 1.5 million square feet integrated township has all the amenities one can crave in a contemporary township. Atul Modak, Head, Kohinoor City Project, says, "Kohinoor City has a great locational advantage. The old mindset of people about 'Kurla' has been a challenge to our project but it is fast changing due to other developments in the vicinity. But the response from our customers shows there is a paradigm shift and people are proud to be Kohinoor Cityzens. In fact, Kohinoor City being the first major developmental project started in this area in 2005, has set off a trend for rapid development of the Kurla-Vidyavihar belt."
What makes Kohinoor City unique is the fact that it is not just designed with the conventional theme of "live, work, play" of any other integrated township. Rather the vision that Mumbai being the financial capital of India and hence the need for business destination has also been kept in mind. While the hospitality sector in general has failed to replicate the successful model of hotel lounges in India, Kohinoor City has taken the first movers advantage with Kohinoor Elite.
After all, when the City was planned in 2005, the Group had the vision to foresee its future positioning with business destination as well. Atul Modak says, "The connectivity of Kohinoor City to Mumbai city, central and western suburbs and Navi Mumbai because of its strategic location is one of its strong USPs. The connectivity will get even better once the double decker Santa Cruz-Chembur Link Road and the Versova-Andheri-Ghatkopar metro are ready."
At a time when the real estate companies with integrated townships even on the peripheral locations are cribbing for the astronomically high input costs, Kohinoor City is a case study in understanding as to how a decent township can be set-up even at the heart of the city. The fact that there is overload on all the possible infrastructure of Mumbai, there is an urgent need for more of such self sustainable integrated townships.