Bottom Line: Track2Realty releasing White Paper on Indian real estate titled, 'India Investment Report 20:20 for global investors and other stakeholders of real estate.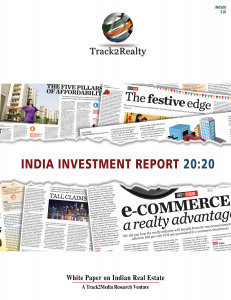 No other market across the world is today as much attractive as India. Be it the growth potential, size of the market, demographic dividend, Return on Investments (ROI), or business in democracy, Indian market has a distinctive edge. The global interest is hence focused at India for investments and real estate is a top pick in this part of the world. Institutional investors, including private equity funds, sovereign wealth and pension funds are bullish on India.
The Indian real estate sector has always been perceived by investors across the world as attractive proposition in terms of quality assets across segments. The recent policy changes and reforms have further shaped the perception of global investors on India as these reforms are seen as India's endeavour to given an image makeover to the real estate business.
Better regulatory environment, accountability & transparency and ease of doing business has positioned India as the most promising global destination for foreign investors. Global investors such as GIC Pte Ltd, Canada Pension Plan Investment Board (CPPIB) and The Xander Group have hence invested heavily in the Indian property market in the recent times.
Many entities from Singapore and Canada are pretty aggressive to pick up marquee assets in India. As a matter of fact, some of these global players such as Blackstone, Brookfield, Xander, etc. are aggressively building their India real estate portfolio. These are long-term investments and betting big on the future of Indian real estate. There is fierce competition on the cards ahead, especially in the office space segment. 
Facts speak for themselves. The Indian real estate attracted cumulative fund flow of $29 billion from 2011 to 2017. Around two-third of this was invested between 2015 and 2017. The trend continues in the first half of 2018 also with around $4.9 billion being invested in the first six months of the year.
The average investment per deal increased by about 2.5 times from $40 million per deal in 2011 to $102 million per deal in 2017, and this has continued to rise in the first half of 2018.
The listing of Real Estate Investment Trusts (REITs) in the market is also expected to open the flood gates of money into the market. REITs would give developers an option to exit or convert their holdings into tradable stocks, through income generating assets.
As per estimates of leading analysts, private equity investment in Indian real estate sector is expected to reach $100 billion investment by 2026. Many economists maintain that India is currently where China was at the turn of the millennium, and the sheer number of people who will need quality homes is staggering.
The demography and pace of urbanisation indicates that 300 million people would be moving to Indian cities by 2050. And, mind you, India as a democracy is always viewed with more optimism by the global investors.
Many global property developers, most notably from China and Japan, and private equity investors are today looking at entering Indian real estate. Chinese and Japanese developers are keen to explore strategic partnerships and enter into joint ventures with Indian builders. The global brands like Philippe Starck and Trump Real Estate have already entered in Indian real estate market by launching luxury residential projects.
In a lot of ways, Indian property market is one of the greatest wealth creation opportunities, as in the next two decades the country is expected to transform into one of the world's major economic powers, having the potential to supersede China. 
And the investors world over have taken cognisance of this opportunity. A testimony of the fact is that even in the wake of slowdown in the property market in the last few years, foreign developers and funds are still bullish on investing in Indian property market.
It is in this backdrop that Track2Ralty has come out with India Investment Report 20:20. The fact of the matter is that all the global investors and potential global investors are today on the lookout for reliable data and, more importantly, perception analysis of the Indian market and its key stakeholders.
It is much easier to collate the transaction and investment data in any given property market, but to gauge the reputation, market perception, credit reliability and credibility is a different ball game altogether.
In the absence of many high quality research & reports that could give the investors an insight into the actual market perception, there is an urgent need to have a high quality journalistic endeavour that could be relied upon globally as the most objective, authentic and comprehensive study of perception management.
Track2Realty India Investment Report 20:20 positions itself into this space. With our brand rating Track2Realty BrandXReport getting its due acknowledgement in the global market, we have decided to release this Whitepaper that could give an insight into Top 20 Cities with respective liveability index, Top 20 real estate brands that are most trustworthy in the Indian market, and Top 20 projects that are worth investment in today's market.  
The report intends to help the global investors and real estate developers in their India entry strategy and make an informed choice in committing the funds and/or collaborating with the best of developers in this part of the world.
I would look forward to hear your responses and feedbacks so that we could develop a platform for dialogue with all the global investors and stakeholders. You can reach to me at ravisinha@track2media.com