Bottom Line: The real estate and construction sector employs 50 million workforce, of which only 2 million are professionally qualified. Ravi Sinha finds that the developers are not getting the qualified professionals, and even when the fat pay cheque attracts a few qualified professionals, the sector fail to retain them.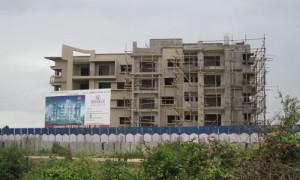 Irony is that even though the sector has succedded to some extent in attracting the young talent by poaching on professionals from established and matured sectors like IT/ITeS, banking, finance and telecom etc, the retention of these professionals have been quite challenging.
The fair attraction for a rewarding job has not translated into job satisfaction and career growth for the professionals with major share of this young and qualified work force getting back to the core sectors, even at the expense of salary cut.
A Study by RICS finds by 2020 the Indian realty will have shortage of over 85  per cent skilled manpower across various professional categories. About 44 million shortfall of core qualified professionals to affect the execution capabilities of Indian real estate.
By 2020, the sector will require five million civil engineers, architects and planners as against the expected supply of less than a million of these professionals.  
Needless to add, this shortage would lead to higher costs for the professionals along with delays in deliveries of the projects, thus denting the profitability as well.
RICS study estmates that approximately 123 million of additional urban population by 2020 will require professional assistance for construction of houses, with a whopping 95 billion sq ft of potential demand for real estate space across residential, retail, commercial, industrial and civil amenities over 2010-20. This translates to an average demand of 8.7 billion sq ft which would be required to be built every year.
Analysts lament that the lack of quality talent within the built environment has affected the image of the sector to a fairly large extent. The beginning of an image makeover for the sector lies in increased professionalism.
"There is a pressing need to adapt and learn new ways to do business, which in turn will aid all practitioners involved throughout the real estate development process to stay abreast of the knowledge curve and strengthen their ability to survive the paradigm shift taking place in global realty markets," says a RICS top official.
Aging sector?
A study by Track2Realty finds that the median age of professionals in the Indian real estate is 45 years. It is in contrast to the 25 years of median age in IT/ITeS or 30 years in Banking, Financial & Insurance (BFSI). It is 'median' and not between 'average' age, which means about half of all realty professionals are older than 45, and half are younger.  
In statistics and probability theory, the median is the numerical value separating the higher half of a data sample, a population or a probability distribution, from the lower half.
"Of course, this is a problem area but this problem is not new. There are inherent perception issues as far as real estate as a career choice is concerned. A real estate professional right out of high school or college is not all that common in India. People often come on board after having seen many other sectors. Unfortunately, it is the money and money alone that brings them to the real estate job. The kind of energy, commitment and time it takes to build a real estate career, today's young lot are non-committal for that," says Nikhil Hawelia, Managing Director of Hawelia Group.
However, the fact lies that for the developers the primary concern is to sell the inventory and considering the fact that there are always more real estate brokers than they really need, they are least bothered to inculcate a work culture that encourages influx of young people. Real estate professionals are getting older because this is not a job that attracts young people, and it never has been.
Manpower shortage affecting execution

Rise in input cost & labour shortage reasons of execution delays

Lack of qualified professionals hurting the execution capabilities 

Competitive over-promise to reduce delivery timelines is self-inflicted injury 
Critics often argue that the bar to entry in real estate is too low. That may be true, but it may be easy to join the sector but it takes a lot to stay in real estate. Youngsters are just not excited with the prospects of a real estate career, unless being forced to in absence of other viable options. And the lack of skilled and qualified professionals has started hitting the real estate developers now.
Next: Time for quality third party audit in real estate?