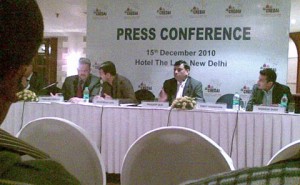 The 10th National Convention (NATCON) of Confederation of Real Estate Developers' Association of India (CREDAI) is being held in New Delhi, Dec 16-17, and the focus this year is on the affordable housing. The convention will be attended by more than 600 leading real estate developers, heads of financial institutions, fund managers, bankers, state & central government representatives, realty professionals and international experts. The convention will highlight the areas of concern in providing affordable housing to meet the growing need of creating inclusive development in the sector.
The NATCON will be addressed by the Union Minister of Finance, Pranab Mukherjee, Union Minster for Urban Development, Jaipal Reddy and Union Minister for Housing & Poverty Alleviation, Kumari Selja.  The two day convention will deliberate on how the realty developers and the government can work together in Public-Private Partnership to deliver more and more affordable housing.
Addressing a press conference today the CREDAI representatives said when the land cost is increasingly skyrocketing and the developers are made liable to more than 35 per cent as taxes, added to the delay in projects because of archaic laws coming in the way of getting speedy clearance, they should not be held guilty for not providing affordable housing.
Pradeep Jain, President CREDAI NCR said, "When the sanction cost of luxury project and affordable project is same in the NCR region falling under Haryana and UP, the developer who launches an affordable housing is made to suffer. There is absolutely no incentive in taxation and sanctioning process to encourage the developers to launch more affordable projects."
India today faces a phenomenal demand for housing up to 25 million dwellings in the urban areas. The developers hope the NATCON interaction with the policy makers will come out with some solution by granting them incentive to activate more affordable projects, something which attracts more buyers and is the need of the hour for the cash strapped realty companies.