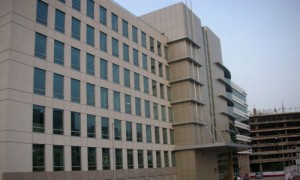 Ackruti City is in talks with a couple of private equity (PE) lenders to raise around Rs.150 crore by selling around 25% in its proposed redevelopment project in Chembur, north eastern suburb of Mumbai, sources close to the development said.
Private equity firm Red Fort Capital is believed to be the frontrunner for the structured deal that is expected to be signed soon. Both Ackruti City and Red Fort Capital declined to comment on the development.
In this public-private partnership project, Ackruti is to redevelop the existing Government housing colony and handover the same to the Government authority in lieu of free sale component. Of the total around 15-acre redevelopment project, Ackruti is estimated get around nine acres to develop over 1 million sq ft of free sale component.
The project is expected to generate revenues worth around Rs.2,000 crore, said industry observers. The developer is expected to start construction of redevelopment and free sale component of the project in the next two-three months. The free sale component will be used for developing high end and luxury apartments with configuration of three or more bedrooms.
Currently, property rates in Chembur are ranging between Rs.12,000 and Rs.13,000 per sq ft and over 1 million sq ft development of this project is expected to be offered in phase-wise manner at the ongoing market rates.
"Although negotiations for the deal are on for couple of months, it could not be concluded given the lack of clarity on recent policy guidelines on foreign direct investment," maintain the sources.
According to one of the clauses in the policy, only equity shares, compulsorily convertible debentures and preference shares, with no in-built options of any type, would qualify as eligible instruments for FDI.
However, the Government has now withdrawn this clause from the FDI policy that would have treated any instrument with an in-built option as debt and regulated under the external commercial borrowing rules.
Following this, the transaction is expected to be concluded soon, he said. Red Fort Capital is an international private equity real estate firm focused on India and its institutional investors include sovereign wealth funds, global investment managers, insurance companies and pension plans.