Bottom Line: SEZs represent about 25% of the total multi-tenanted Grade A office stock in India, says Colliers Research.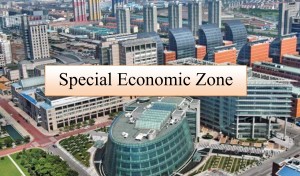 The uncertainty regarding the continuity of fiscal incentives is an area of growing concern among various stakeholders of Special Economic Zones (SEZs). Although, more than 40.0 million sq ft of new supply is scheduled for completion by 2020, which is currently mandatory to qualify for the companies to get income tax benefits in SEZs, it seems unlikely for all the projects to complete construction by then.
"Over the past few years, SEZ developments in India have gained popularity especially among the technology sector occupiers besides traditional sectors such as electronics, gems and jewellery. Bengaluru, the technology capital, accounts for a maximum share of multi-tenanted SEZ space (39%) followed by Hyderabad and National Capital Region (NCR) 14% each, Chennai (13%), Pune (12%), Mumbai (5%) and Kolkata (3%). Besides, a couple of Tier II cities such as Coimbatore, Jaipur, Kochi, Chandigarh and Visakhapatnam also have a few operational SEZs. Most of the multi-tenanted SEZs have a low vacancy level ranging from 4% to 10%, which indicates the popularity of these SEZs among occupiers", said Ritesh Sachdev, Senior Executive Director, Occupier Services at Colliers International India.
Surabhi Arora, Senior Associate Director, Research at Colliers International India added, "regardless of optimism among the stakeholders about a further extension of income tax benefits, until this is certain, developers should schedule the completion of construction three to six months in advance. We advise first-time entrants looking for direct tax benefits should only pre-commit spaces in projects that are in advanced stages of construction, to avoid last-minute delays in starting operations which may lead to disqualification for direct tax benefits. Existing occupiers looking for expansion should let developers know in advance to ease them in planning the further developments".
As per Colliers Research, more than 40 million sq ft of SEZ space is under various stages of construction currently. Most of the new supply is concentrated in NCR and southern cities such as Bengaluru, Chennai and Hyderabad. 
Bengaluru:
The Silicon Valley of India shares the maximum of about 39% of the total IT SEZ supply in India. Most of the SEZs are strategically located in preferred IT destinations such as Outer Ring Road (ORR) and Whitefield accounting 71% and 16% share respectively of the total SEZ stock in Bengaluru, while a few can also be spotted at North Bengaluru and Mysore Road.
Although, SEZs share about 38% of the total office space absorption in Bengaluru in last three years, we saw a minimal inflow of new entrants in SEZs in 2017. The demand was primarily driven by the occupiers looking to relocate or expand their existing operations in SEZs. In our opinion, the lack of SEZ supply and low vacancy levels (5.3%) were the primary reason for the drop of new entrants.
As per Colliers Research, the city is likely to add about 9.7 million sq ft of SEZ space by 2020. Besides this, approximately 9.0 million sq ft is in the planning stage. Most of the new supply is concentrated in existing SEZs in ORR, Whitefield and North Bengaluru. Most of the new supply will be taken up by the existing occupiers looking for expansion as 3.6 million sq ft is already pre-committed.
NCR:
SEZs are only located in satellite cities namely Gurugram and NOIDA. Currently, a consolidated operational stock of about 20.1 million sq ft is distributed across 12 SEZs in both these cities, keeping a lion's share, Gurugram dominates the market with 72% of National Capital's SEZ stock. NCR witnessed a stable demand for SEZ office spaces in past 3 years with 1.4 million sq ft of annual absorption.
The city has approximately 9.0 million sq ft of new supply pipeline planned to be developed over next five years. More than 70% of the upcoming supply is concentrated in Gurugram, in micro makets such as Golf Course Extension Road and Sohna Road. NOIDA shares only 30% upcoming supply primarily concentrated at NOIDA Expressway. As per Colliers Research, 6.0 million sq ft is likely to see completion by 2020.
Hyderabad:
Hyderabad has operational multi-tenanted SEZ stock of about 20.0 million sq ft primarily located at Secondary Business District (SBD) with a small presence of SEZs in Peripheral Business District (PBD) micro markets as well. The overall leasing market in Hyderabad has seen remarkable growth in the past three years.
The factors working in favour of Hyderabad are its cheaper rents, occupier-friendly state government policies and robust supply pipeline. While in 2016, SEZs contributed about 49% share in the overall office leasing in the city, the percentage dropped to about 22% of total leasing in 2017. This was primarily due to vacancy level being as low as 3% in SBD micro market.
Nevertheless, about 9.0 million sq ft of SEZ is in various stages of construction in Hyderabad. SBD shares about 96% of the overall new supply. Considering the robust upcoming supply at strategic locations in the next three years, we expect SEZ absorption to increase in the coming years.
Pune:
Pune is predominantly a technology occupier-driven office market. The city houses about seven multi-tenanted SEZ developments and over twenty private SEZ campuses. Nevertheless, the city is slated for new IT SEZ supply of around 3.3 million sq ft by 2020. Most of the upcoming SEZ developments in Pune are located in Kharadi (58%) and Hinjewadi (42%). Besides, there are several SEZ projects with development potential of about 6.0 million sq ft that are stalled as developers do not want to build on a speculative basis.
Chennai:
Chennai has about 19.0 million sq ft of operational SEZs and contributes to 12% share in total IT SEZ stock in India. These SEZs are spread across four key micromarkets namely Old Mahabalipuram Road (OMR) pre-toll, OMR post-toll, Mount Poonamalle High (MPH) Road and the Grand Southern Trunk (GST) Road. SEZs in Chennai are witnessing consistent traction, contributing to more than 35% of total office leasing annually, since 2016.
Prominent developers such as Embassy, DLF, Brigade, Green Grid Group (IG3) and Xander are planning to add more than 8.0 million sq ft (0.8 million sq m) of new supply in the next three years primarily in southern precincts of the city dominated by OMR post-toll (63%).
Mumbai:
Among the key cities in India, Mumbai is relatively a passive SEZ market with only two operational IT SEZs in the city. The total SEZ stock in Mumbai is about 7.3 million sq ft and these operational SEZs are located in Powai and Airoli micromarkets. The city is likely to see an addition of 1.8 million sq ft of new supply in Airoli by 2019.
Kolkata:
Kolkata, the only major city in the eastern part of the country has observed a slow SEZ space leasing trend over the years primarily due to state government's apprehension in developing SEZs. The total SEZ stock in Kolkata is about 4.0 million sq ft and all of the operational SEZs are situated in the Rajarhat micromarket. Kolkata has an additional under construction supply of 2.7 million sq ft of supply in Rajarhat by 2020.
A few developersare also readyfor built-to-suit optionsin their SEZland located at Rajarhat. The market trend also reveals that technology companies like TCS, Infosys, and Wipro are interested in making their own captive campuses.