If one would like to see a property market where the potential of the region is juxtaposed to its performance on ground, Bahdurgarh would be a case study in modern context.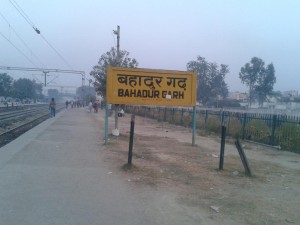 Call it delay of planned infrastructure projects, slowdown blues, reluctance of investors, big-ticket projects being launched much before affordable housing could take off, or all of these reasons taken together, but Bahadurgarh has definitely disappointed those urban planners who visualized it as next big thing in the stretchable Delhi-NCR region.
There is no denying that due to the availability of the land parcels and low investment, Bahadurgarh has been attracting a great deal of attention of developers for quite some time.
However, equally true is the fact that the attraction quotient is borne out of the fact that other promising destinations like Bhiwadi, Manesar, Kundali and many other erstwhile promising locations have not lived up to the expectations for affordable living solutions and hence the developers gambled to attract investors to new destinations with mid segment and lifestyle housing options in this market.
The critics therefore point out that despite of proposed connectivity & infrastructure projects, Bahadurgarh is yet to evolve as a self-sustaining economy. And hence there has been apprehension that property boom in this part of the world might lead to turn Bahadurgarh into investors' den. However, the investors who have already burnt their fingers in other glorified locations of Delhi-NCR have thus far shied away from this market.
Analysts are still bullish over the long-term prospects of this market. Santhosh Kumar, CEO – Operations & International Director, JLL India maintains that Bhadurgarh enjoys superlative connectivity with Delhi and Gurgaon via NH-10 and is also well-connected via the Kundli-Manesar-Palwal Expressway.
The National Highway-10 passes through various parts of Haryana. With the extension of metro line to Bahadurgarh, the area is set to receive a significant upgrade in its real estate profile. The 11.182 km long Metro line to Bahadurgarh is being constructed at a cost of Rs 1991 crore and will reach completion in 2016.
"Once the Metro line is operational, Bahadurgarh will be the fourth city in the NCR to be connected to all parts of Delhi via Metro Rail Service. With the rapid real estate development evident on either side of Bahadurgarh Bypass, the locality is set to become one of the most sought after real estate destination. Fast improving infrastructure and excellent connectivity with established centres of Delhi and Gurgaon are the biggest selling points. Considering all the growth drivers that are scheduled for the next couple of years, Bahadurgarh definitely numbers among the more promising real estate markets in the NCR," says Kumar.
The developers active in this market have their own reasons to feel this is the future location, if not still habitation ready. Brotin Banerjee, MD & CEO of Tata Housing asserts the city is also fast acquiring the status of a knowledge hub due to the presence of large number of government and private colleges and institutions.
The Bahadurgarh bypass corridor will also see major industrial and residential development in the next few years. Moreover, the area is also abundant in natural resources and hence problems like shortage of water and electricity will not pose a challenge. With these developments, the area is becoming the next big destination for housing in Delhi NCR and will continue to attract lot of investments.
"Bahadurgarh already enjoy both physical and social infrastructure with good quality schools, colleges and hospitals in the vicinity. The location provides excellent connectivity to both Delhi and Gurgaon. While we have received an overwhelming response from both investors and end users, we believe end users will start moving in once the metros is operational connecting Bahadurgarh to Delhi," says Banerjee.
There is no denying that Bahadurgarh holds tremendous potential in terms of its location and planned infrastructure projects, most notably the Kundali Manesar Palwal (KMP) Expressway and Metro Rail service, the fourth town in Delhi-NCR to have it, but it has thus far failed to attract the middle class end users.
The apprehension has it that the fate of Bahadurgarh might turn out to be that of Bhiwadi or Kundali that once picked up and appreciated too fast only to be left as 'once promising' locations.
By: Ravi Sinha