Bottom Line: As the Government of India has shown its intention to link Aadhar Number to the property transactions, a lot of heated arguments are there in the public domain.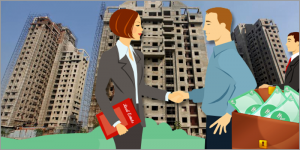 While a section of analysts have hailed the proposed move as game changer, there are others who have questioned its intent, chances of success as well as the constitutional validity of such a move.
To understand whether the linking of Aadhar Number with the property owned will actually lead to a transparent property market, we need to look at some of the basic questions:
Whether there is a sync between the reported price of property (circle rate) and the market rate?

How linking of Aadhar with property will curb the use of black money which is directly related with benami transactions?

How far is biometric system a foolproof mechanism?

How could Aadhar achieve what PAN Number could not?

Beyond making the deals transparent, how could government intrude into transactions between two individuals in the secondary market?

With Aadhar linking deterring the investors, won't it cripple the realty transactions further?

Whether confidentiality of data would be a major concern? 
The government seems to be determined to link the property transactions with Aadhar Number with the pretext that the linking of Aadhaar to property will ensure that all parties to the deal are present in their individual capacity. The possibility of using fake identities is virtually ruled out.
Further, the illegal practice of persons having multiple PAN cards and fake passports will also end. It is even argued that when biometrics is already taken in Passports and Foreign Visas, its applicability to property transactions is a logical step forward.
It is true that PAN Number was not a foolproof mechanism as there was a severe problem of multiple PAN numbers per person. This was despite Section 139A of the Income Tax Act, 1961 stating that no person shall have more than one PAN card. Because PAN numbers are not linked with biometrics, one person would have multiple PAN cards, thereby keeping multiple identities.
Aadhaar, being linked with biometrics, will be unique to each person. Therefore, each person will be individually identifiable in a property transaction and the practice of using benami entities may end.
However, many homebuyers fear that Aadhar biometrics would also pose a serious concern in absence of technology backing it holistically. Rajeev Goswami, a homebuyer in Noida says with the skin infection his finger prints could not match while mobile number getting linked with the Aadhar. How could it be different with property?
"I am suffering with Palm Psoriasis which was not the case when I got my Aadhar Number registered a few years back. Now if I go for property registration today, my skin condition would be a deterrent. Even if I get it done with my present condition, I am not sure what will happen tomorrow if I wish to resale my house and my skin condition by then improves or worsens. It is definitely not the fool proof system and would cause problems for average homebuyers," says Goswami.
Legal realities of property ownership 

Government wants to monitor large value transactions like real estate through Aadhar linking

The larger concern of homebuyers is about safety measures to avoid leakages and tampering with the relevant data

Right to property is a constitutional right protected under Article 300A of the Constitution of India.

Aadhar linking can only check benami transactions to some extent, but is no panacea for clean & transparent eco system without curbing black money and digitsation of land

With Aadhar linking, while the government will know about your transactions, it cannot interfere with your ownership rights in any manner 
A section of critics even point out that it is not the benami property which is the real challenge for the economy. The real challenge is the black money in the sector that really affects the economy. The genesis of this black money is the mismatch between the reported price (and circle rate) and the actual market price. The government should first streamline its own structural flaws before squeezing the black money out of the sector.
Aditya Pratap, Advocate-on-Record with Bombay High Court says that on a broader note, the government should amend the UIDAI Act to incorporate the new measures. The UIDAI Act in its current forms make Aadhaar mandatory only for availing government subsidies and benefits. A person buying property is doing so in a private capacity. Since he is paying money to the exchequer by way of stamp duty, he cannot be said to avail of government subsidies and benefits.
"To unilaterally impose Aadhaar may amount to going ultra vires the UIDAI Aadhaar Act, 2016. Hence the action of the government in imposing Aadhaar on every aspect of life is, prima facie, beyond the scope of the Act and hence illegal. Further, Section 3 of the UIDAI Act gives any resident of India the right to obtain an Aadhaar number. It does not make Aadhaar compulsory. Therefore, by making Aadhaar compulsory through various means, the government's actions may be hit by the doctrine of colourable legislation, which states that what you cannot do directly, you cannot do indirectly," says Aditya. 
The bigger issue in real estate market is not who owns the property but how much black money is being routed into the sector. Even under the Registration Act of 1908, property related transactions are always in the public domain. Section 57 of the Registration Act, 1908 clearly states that any person can inspect the books of registration by paying nominal fees. They can also take certified copies of extracts.
Therefore, whether Aadhaar linkage is there or not, property transactions have to be in the public domain. Aadhaar linkage will only prevent usage of fake identities, thereby bringing the true parties on record in the deal. 
By: Ravi Sinha