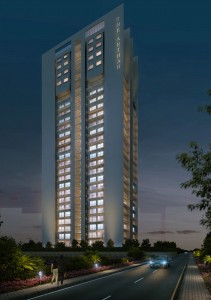 Track2Realty: Thapar Builders have launched their new residential project, Arthah, the first 26-storey residential complex in Vaishali at Ghaziabad. Arthah has been designed by architectural firm, Morphogenesis and it is close to the Vaishali Metro Station.
Arthah is the first-ever residential venture of Thapar Builders who have previously built commercial projects for business giants like LIC, Tata AIG, Indiabulls, Reebok, McDonalds, Park Balluchi, besides having prominent lawyers and chartered accounts as tenants.
Arthah claims to set a new benchmark of comfort and style in the area. It has been created with a focus on environmental-friendly and energy-saving concepts. The apartments have been designed in line with Vaastu principles to ensure optimum ventilation and natural light in every apartment.
Gautam Thapar, Director, Thapar Developers says, "Arthah has been defined in Hinduism as one of the four main goals of human existence, known as Purusharthas. We have designed the project on this very principle that echoes material wealth, prosperity without greed, a high and pure living as one of the main purposes to be pursued by any individual.  With this residential complex, we aspire to enable the residents to achieve this elevated style of living for their families in a space that exudes luxury combined with grace, style and sensitivity towards one's environs."
The 103-metres tall building is the highest residential tower in Vaishali and is among the top ten tallest buildings in the National Capital Region (NCR). The building hosts eighty-four luxury homes and forty- eight studio apartments. There are a total of a hundred and thirty two luxury residences.
The apartments are built on a three-sided open plot, giving each apartment a road-facing view as well as a garden view. There is approximately 3,300 square metres open space for residents. The building ground coverage is close to 16% of the plot area.