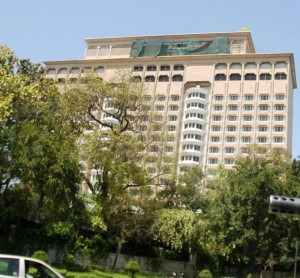 Track2Realty-Agencies: The landmark of central Delhi and a premium property & hospitality asset, the Taj Mahal Hotel, remains with the Tata for another year till the property goes under the hammer.
Earlier this year, the Indian Hotels Company Limited (IHCL), the company which operates the Taj chain of luxury hotels, has sought an extension of the Collaboration Agreement and License Deed for its property.
After almost a two-hour meeting here on Thursday, Sep 27, the New Delhi Municipal Council (NDMC) decided to give the Tata Group's, Indian Hotels Company, an extension. It also decided to conduct an open auction within a year.
The Taj Group will get the first right of refusal, but will have to match the highest bidder.
Karan Singh Tanwar (BJP), Council Member, said, "The Council members passed this by majority but not unanimously. I had protested and said that the Council should conduct the auction within two months." He added that the extended period was in favour of the Taj Group and even the provision of first rights of refusal was not part of the original terms and condition.
The extension to Tatas to run the property for a year though will help NDMC as it will not lose revenues in the interim period of finding a new operator for the hotel.
The Taj Group has been running the luxury hotel for 33 years and had got a one-year extension last year. The property is owned by NDMC.
The hotel, situated on Mansingh Road in New Delhi area, is being operated under an agreement between IHCL and NDMC. The Tata-owned IHCL had entered into a 33-year lease on a revenue share model for using the property in 1978.
This premium property has been attracting attention of some of the other eminent players such as Oberoi, ITC and Sahara, besides a host of other international major given the strategic location right in the heart of Lutyens Delhi.
The year could see an otherwise perceived as a conservative Group, the Tatas getting aggressive, to retain the property when put on auction, especially since its clear now that they will get the first right of refusal.
According to sources, Taj Hotels will pay 17.25 per cent of its gross revenues as fees to NDMC for this extended period. Earlier, it was paying 10.5 per cent of its gross revenues for the 33-year-old lease period.
NDMC had appointed Ernst & Young to advise the Council on its future course of action. A legal opinion was also sought and Additional Solicitor General Rakesh Kumar Khanna had said that the Council should go for an open auction for maximisation of revenues.