Track2Realty Investment Magnet Report 2015 picks up 100 best housing projects across India.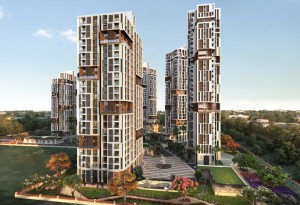 Location: Rajarhat New Town, Kolkata
Project type: 2, 3 & 4 BHK Apartments
Price: Rs. 65 Lakh-2.24 Crore
Project execution lifecycle: May 2014-August 2018
Rajarhat New Town might not have picked up yet to the extent it was expected, but there are certain projects like Tata Avenida that promise to elevate the location profile in future. The reason being that the project seems to be customised for the specific target group after proper market research & feedback.
The project is spread across 13 acres and has 700-plus residences surrounded by lush greens that have been designed keeping in mind the tastes and aesthetics of urban elites in general and the young IT professionals of the neighbourhood in particular.
Designed by the architect firm Edifice, Avenida houses sleek 29-storied towers to balance a sweeping curvilinear boulevard. The project has drawn inspiration from the colonial urban history of Kolkata and resembles the hues and architectural charm of the city.
The apartments at Avenida are equipped with the right combination of ultra modern amenities with a touch of class. Also, part of the project are spaces for art and music, a library and gallery, spa and lifestyle space, a café and a 25,000 sq ft clubhouse with a swimming pool.
Physical infrastructure of the region is quite appreciable and social infrastructure and recreation facilities like schools, hospitals, restaurants and high-end shopping centres are there in the vicinity.
The project is 2 minutes away from the IT/commercial hub of Kolkata, Dum Dum Metro Railway Station is 8.1 kms away, Netaji Subhash Chandra Bose International Airport 5.5 kms and it is 10 minutes driving distance to the swanky new air terminal.
Track2Realty Rating: B
Location & Aspiration: 6/10
Physical Infrastructure: 8/10
Social Infrastructure: 7/10
Appreciation Potential: 6/10
Competitive Advantage: 7/10
Rental Potential: 6/10
Launch2Sales Ratio: 7/10
Construction Quality/Timelines: 7/10
Livability Index: 7/10
ROI Cycle: 5/10