Bottom Line: The developer promises amodel that will revolutionise the real estate segment with high-quality first homes optimized to meet the needs of new-age customers at price of a Hatchback.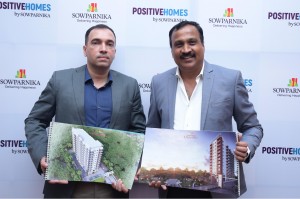 Sowparnika Projects & Infrastructure introduces 'Positive Homes' a unique proposition designed and developed based on new age customers demand. Positive Homes comes with uncompromising features and fixtures and price that is unheard of, all-inclusive price of around INR 10 lakhs for a Studio. 
The over 3 Lakhs sq ft of 1stPositive Homes series is expected to be completed in record time of two years. The developer claims it to be a result of Sowparnika's innovative model developed through experience gained over 15 years from projects across Karnataka, Kerala and Tamil Nadu. This is being perfected and put into practice in Bangalore, through its 'Positive Homes' series.
The stringent standards it follows, 360-degree in-house process, Vertical Integration and efficient construction methods have helped Sowparnika optimize its resources to meet the demands of the new-age customers at an enviable price point.
The city experiences influx of around 8 lakh people every year and most of them are the 1stjob seekers, first time entrepreneurs and even job shifters crowd. A study suggests that buying home is the first in the wish list of 80% of the 1stjob seekers, entrepreneurs and even the floating population and that is a huge opportunity.
Sowparnika wants to capitalise this opportunity in building luxury homes which suits their aspirational lifestyle at an enviable pricing which they will not feel the pain to pay without compromising their lifestyle.
Sowparnika is geared to crack the conundrum of this tough market, and has been working to make luxury housing within reach of everyone.
"Our mission is to create homes for all, homes which are in best locations, accessible easily and that to homes with minimal cost of ownership (Less repairs and maintenance). Homes that are sturdy, equipped with best fixtures and with efficient space design. With positive locations, Positive Designs, Positive Vastu, Positive Specifications and above all Positive Pricing, we are introducing our 'Positive Homes'in Bengaluru which are the perfect homes keeping in mind the aspirations of the new-age customers. The starting price of our flat is Rs 10 lakhs for which the EMI will be same as the rent of a Studio," saidRamji Subramaniam, Managing Director, Sowparnika Projects & Infrastructure, while speaking about Positive Homes entry into the city. 
Keeping the aspirations and needs of the new-age customers in mind, the 'Positive Homes'project claims to be a perfect choice in terms of location, pricing, ambience, specifications and design.
This model is destined to ensure high absorption rates. Sowparnika's 'Positive Homes' is all set to debut in Bengaluru as Sowparnika Indraprastha– Soukya Road, off Whitefield and Sowparnika Unnathi, Attibele Junction on May 26th, 2018. The model has been successfully tested and proven in Thiruvananthapuram and is now being replicated in Bengaluru after the successful stint.
"This model is a success because of the way Sowparnika functions. Our architects optimise space. Using 360-degree construction helps in cutting overheads. The model has worked well for us and the benefit of the same has been passed on to our customer in terms of cost. We also believe in the traditional method of mass-construction which cuts the wastage of raw materials. We are also able to full proof this model with Resource optimisation and volume buy. In this age of cut-throat competition, one needs to come up with innovative, out-of-the-box solutions to sustain in the competitive market," adds Ramji Subramaniam.
The innovative business model of Sowparnika has helped us complete our projects within the stipulated time frame, thus cutting the cost of servicing the loans.
"Because of our track record of on-time delivery, most of our past customers have come forward and have shown interest in booking our new project 'Positive Homes'. We have achieved the punctuality tag because of our relationship with vendors and partners. Our vendors have confidence in us which is why we face no issues in procuring raw materials. Therefore, there is no room for project delays," said Raja Mukherjee, CMO, Sowparnika Projects and Infrastructure.
The salient features of 'Positive Homes' include Vaastu compliance and has seen the use of brands like Asian Paints, American Standard Bathroom Fittings, Polycab Wires, Schneider Electrical Fittings, Somany Tiles, Johnson Lifts, Futura Kitchen Sinks partnering us to provide quality lifestyle that resonate a positive vibe.
TheCompany's vision is to be one of the top 10 preferred brands in the Housing & Infrastructure arena, by Delivering Happiness and Value for a Lifetime. Their mission is to become one among the top ten housing & infrastructure companies of South India, to achieve INR 1,000 crore turnover and a successful IPO by 2022, provide high-quality value homes through continuous innovations, improvements and timely delivery, create a culture of consistent growth and offer a transparent work environment that enhances employee excellence.
Some of the projects of Sowparnika in Bengaluru include Flamenco (Sarjapur), Columns (Whitefield), Tharangini (Sarjapur), Purple Rose (Hoskote), Sanvi Phase 2 (Whitefield), Swastika 2 (Sarjapur) and Pranathi (Kumbalgodu).