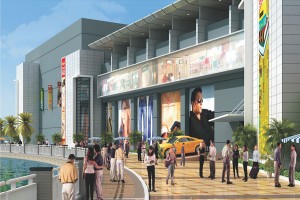 Sobha Limited has launched its first commercial Project 'Sobha City Mall' at Puzhakkal in Thrissur, Kerala. Situated at the heart of 'Sobha City'- the first and the largest integrated township in the State, 'Sobha City Mall' will offer best-in-class retail and entertainment experience for the customers.
Sprawled over five acres, 'Sobha City Mall' has a built up area of approximately 4,50,000sq. ft., comprising of three floors of shopping space along with a basement for car parking. This is designed to offer an array of retail, entertainment and recreation options with a 6 screen multiplex, restaurants, food court and a gaming arcade. Further, the Mall is suitably located on the Thrissur- Guruvayoor State highway, making it effortlessly accessible from Kochi, Calicut and Palakkad and other neighbouring districts.
Speaking on the occasion, Ravi Menon, Chairman, Sobha Limited, said, "Thrissur has immense potentialities as a centre of trade and for being a banking hub. It is one of the most well- known markets for gold in India with thriving trade in textile. Having a number of engineering and medical institutions, it has come to be known as a centre of learning with a large floating population. The Sobha City Township spread over 55 acres is a unique sustainable integrated habitat where 'Sobha City Mall' will ably fulfil the retail, the entertainment and aspirational demands of the people of Thrissur and its vicinity. In addition, it will also provide about 2000 direct and indirect job opportunities to the local people."
Further, he added that the launch of 'Sobha City Mall' signifies Sobha's foray into the commercial segment (retail space leasing) in India. And that in the last 20 years Sobha has built a premium reputation for quality, aesthetics and timely delivery in the residential and contractual space. He said that Sobha will continue to maintain high standards in its commercial segment as well. "Thrissur has a vibrant atmosphere for organised retailing and we hope to scale up our operations in this space in the coming years," added Mr. Menon.
The 'Sobha City Mall' will have over a 100 acclaimed brands – Lifestyle, Pantaloons, Van Heusen, Allen Solly, Peter England, Wills, Wrangler, Hidesign, Crocodile, Arrow, Louis Philippe, Lee Cooper, John Players and Subway to name just a few. Apart from these Marks & Spencer and Apple will also have exclusive outlets here.
On the entertainment front, the mall houses Inox cinemas- the first multiplex in Thrissur, with 6 unique theatres having a capacity to accommodate around 1400 people at a time. The 550-seater food court consists of 15 counters of Indian and international brands of various cuisines.  Moreover, the 'Sobha City Mall' comes with a spacious parking facility that can accommodate around 700 vehicles.
The mall design is kept shopper- friendly with single spine concept and a central atrium. The central spine has a lot of skylights which fill the interior spaces with ample natural light. The entire mall is protected & secured with CCTV surveillance and has a 4G Wi-Fi system at 65 mbps speed.
The 'Sobha City' township – in which the mall is located is spread over 55 acres. It comprises 720 apartments of which 432 are 3BHK, 288 are 4BHK, 48 villas and 4 exclusive bungalows. 432 apartments, 28 villas and the clubhouse have been handed over to the occupants.
A total of 1.18 million sq. ft. residential development has been handed over to the customers within the agreed handing over period. It is a unique development in Thrissur and one of the best examples of sustainable design.
The township development is uniquely designed on central place theory and has a man-made lake of 6.5 acres which functionally is a rain water harvesting tank, fulfilling the water requirement of the entire development.  It acts as a focal point around which the whole development is planned.
This man-made lake is one of its kind and the largest in the state collecting rain water from the entire township and retains it for various domestic and other uses. The 'Sobha City Mall' is strategically located by the lake to allow visitors to enjoy its breath-taking view. The lake deck acts as a vibrant space enhancing the overall shopping experience.
It is notable that traders and business people in the State of Kerala sell goods worth Rs. 1200 crore a day. The State accounts for 22% of total non-resident Indian (NRI) remittance to India; especially Chavakkad in Thrissur district has one of the highest numbers of NRIs. Additionally, Thrissur is the fourth largest city and the third largest urban agglomeration in Kerala. Furthermore, Thrissur has steadily emerged as the commercial hub for retail, real estate, Ayurveda and banking & financial services. Today, Thrissur City is also referred to as the Golden City of India as it manufactures 70% of plain gold jewellery in Kerala.
Real estate has always been a promising sector in Thrissur due to factors such as land availability, image of a clean and green city, upcoming educational institutions and tourism. In addition, Thrissur has medical colleges, engineering colleges and has a floating population as it is the nearest city to the Guruvayoor temple, which is one of the most important pilgrim centres in South India and is visited by millions of devotees every year.