Bottom Line: Amidst the trial and error with various concepts by the Indian real estate, smart home is one of the few concepts that promise to work in the Indian market.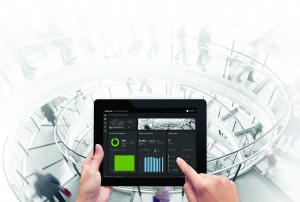 Though the understanding of the smart quotient is relatively low and technology enabled homes are being over-sold as smart homes, the buyers' smartness is equally important to make this user friendly concept succeed in India. Failing this, it will be yet another over-used and abused term which will have a short shelf life as a marketing tool.
Smart Home is a concept which is gaining acceptance with the Indian consumers these days as many residential developers are incorporating this concept in their luxury projects. Essentially, a smart home integrates state of the art technology in the electrical devices that enhances the experience as well as makes life easier. With a busy lifestyle, the affluent consumers nowadays demand integrated houses which can be controlled remotely.
Home networking and monitoring systems are a must in a smart home. The systems manage the link between systems and devices such as lighting, air conditioners, phones, security cameras, audio-video systems, computers and refrigerators.
But wait! If you think that smart home only means technologically enabled apartments then probably you are not a smart buyer who can cross check the claims of developers vis-à-vis the smart quotient of the house. Smart home is an over-used and abused term in the absence of clearly defined metrics to evaluate. Today, even touch buttons against normal switches qualify as element of automated homes, which clearly does not give any ease to the user and cannot be defined as an element of smart homes. The extent of long term comfort and ease should be the relative benchmarks for categorising homes as smart homes.
As a matter of fact, smart homes are not only technology enabled but also customised to the needs and requirements of the buyers. Of late, there has been so fierce competition in this segment that some of the developers are increasingly raising the bar. Right from the concept of energy efficient and environmentally sustainable buildings to basophilic architecture, the developers are connecting both state of the art technologies and eco-friendly features in their projects.
Smart homes USPs
3 tier security system
Automatic split air conditioning
Automatic geyser control
Automatic burglar alarm
Motion sensor lighting
Standalone gas detection
Cellphone controlled appliances
Complete temperature control
Video door phone
Panic button
Switch controlled motorized channels for window curtains
100% power backup
Though technology forms an integral part in making the home smart, a home can be designed in its structure and planning to make it smart too. Minimum wastage of space in designing the layout of a flat, ease of moving inside the house, planning for provisions for utilities like piped gas in an area where the authorities supplying gas have not created the infrastructure at present, conduits laid out which gives flexibility to user for creating plug points as per his/her convenience, safety features keeping in mind toddler to elderly at home etc.
Technology does add to the ease and is glamorous enough to woo a buyer on the face of it even though it being temporary, a well laid out design of a house will have an eternal charm. The developers in this space must make a conscious effort on designing efficient unit plans which give the buyers an advantage of higher usable carpet and minimum wastage.
The world class training facilities, amenities, quality of services and infrastructure enhance the smart quotient of the homes while taking it beyond technology. Also, having facilities like separate water treatment and sewage treatment plants make the structure economically and environmentally viable and efficient thereby making it a smarter building for its users.
However, the awareness for such projects is still very low and concepts like the projects being LEED-certified by the Indian Green Building Council are being extensively marketed as smart quotient. Some of the essential features of the smart homes nowadays are 3 tier security system, automatic split air conditioning, automatic geyser control, automatic burglar alarm, motion sensor lighting, standalone gas detection, cellphone controlled appliances, complete temperature control, video door phone, panic button, switch controlled motorized channels for window curtains, 100 per cent power backup among others.
Manju Yagnik, Vice Chairperson, Nahar Group maintains that technology is playing an integral role in all spheres of life today. Real estate being the latest where technology is been used extensively in order to create automated homes or popularly known as smart homes. The trend of smart homes began about a decade ago due to changing lifestyle and increasing income and opportunities to travel abroad. This trend was then supported by the boom in technology and Internet that took place during the same time.
"The key components that make a home smart are the security system in a home, mood lighting, modular kitchen, climate and entertainment system. The security system in automated homes can include a close circuit camera surveillance system and a video door phone. Lighting in an automated home includes everything from an entertainment set up that works on a remote control and sensor based LED lights that switch off automatically. The climate in a home can also be controlled through a mobile device connected to the air conditioning system in the home. Similarly, the curtains, doors and gates of a home can be connected to mobile and operated automatically," says Yagnik.
Rohit Gera, Managing Director, Gera Developments makes an interesting point when he says that smart home features are not limited to just residential projects nowadays but also commercial properties are powered by Greentelligence. It is a combination of features that conserve and protect the environment along with the use of technology and intelligent features to create a high performance development. These features are important in order to capture the high-end market and are not only convenient but also save energy and water. The ultimate aim of a smart home is to empower its residents with a sense of safety and control all at the touch of a simple button.
"Smart Homes in today's terminology is used in context of making living in a home more comfortable using technology add-on features, though in essence it is a much wider concept. Contemporarily it means using electronic gadgets to make living and doing daily chores in a home effortless. The key components of smart home include home automation systems, integration of mobile phone; Ipad with home automation, security systems like intrusion sensors, etc. It involves connecting the devices and appliances in your home so they can communicate with each other and with you," says Gera.
Amit Kulkarni, Director, Varasiddhi Infrastructure has a caveat here when he says everyday there are new inventions and new products are being launched globally but the Indian developers should adopt the devices which are useful for Indian context. According to him, currently all the possible Smart features are being used in Indian market.
"Certain developers do use this terms for mere use of door video phone etc., however majority of developers are inclined towards complete smart home systems and are delivering the same. It is not overused term and has become necessity. Smart home comprises of automated homes where your security aspect, lighting, air conditioning is controlled by integrated system. One can see from outside his house what is happening in his/her house or building premises. One can control air conditioner, geyser from his cell phone or laptop seating anywhere in the world," says Kulkarni.
Smart home is a phenomenon that has taken place in the last one decade.  Today, there are tie ups by Indian developers with global firms engaged in landscaping, designing or architects. Also, exchange of knowledge between Indian real estate players and global consultant and experts has been taking place in the recent times.
Indian developers who have travelled extensively have begun incorporating international standards in Indian smart homes. With this the Indian developers have already begun implementing the learnings from the global market. Developers are using international designs in Indian markets on a wider scale. However, there is more scope for improvement by reducing the consumption of energy in smart homes and making them more user-friendly.
In the future, smart homes will be completely automated with automated control of electricity/equipment's, edutainment features, communication features and smart appliances  which will contribute to the ease and convenience a smart home permits, and remote access to these features through telephone or Internet which will make it even more convenient.
With competition in the segment increasing the developers focus is increasingly shifting to state of the art technology to give it an extra edge in the market along with a blend of green technology. Moreover, projects will be designed in such a way that every structure and living unit allows generous daylight and natural ventilation which will definitely help home owners to save on their electricity bills by manually adjusting home settings to reduce energy use when most expensive.
The next generation smart homes promises to be equipped with gadgets which take the smart quotient a level above by keeping track of the consumable items at home like groceries and intelligently talk to nearby grocery mart and replenish the stock. Though this definitely attracts buyers and is a great feature, but one should look at maintenance of these smart homes and long term usability.
Homes should be smart till the extent it has long term benefits and not a temporary gimmicky feature with technology which changes every second day. Most importantly, smart buyers are needed to increasingly push the bar of smart quotient in homes and not allow it to be just used as a marketing gimmick.