News Point: At a time when the need-based housing is a brand differentiator, makes better business viability and is perceived to be among the best practices, serviced residences could not scale up to its potential.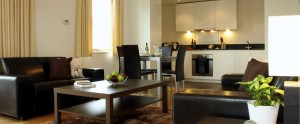 While the Indian real estate is increasingly exploring the new avenues to identify and cater to short supplied segment in order to stand out as a brand and beat the slowdown, the quest has by and large been confined to senior housing and child-centric housing. Serviced residences that have been a hit in the US and many other European countries since 1950s have not been as successful in India as in many other countries having corporate dominance in the major cities.
Prima facie, it seems the initial taste of failure due to poor conceptualization and operation with the serviced apartments has made the developers quite wary with this space. The potential nevertheless is huge and serviced residences are not only short supplied in this part of the world. Also, there are multiple demand drivers to ensure its success and viability as a business.
Facts speak for themselves. As per the Report of the "Working Group on Tourism" for the 12th Five year Plan (2012-17) set up by the Planning Commission, for a projected annual growth of 12 per cent in Foreign Tourist Arrivals, the requirement of additional hotel rooms under classified category in 2016 over 2010 is estimated to be 1,90,108. Hospitality industry estimates there is a shortfall of 150,000 rooms in the 5-star category only.
Quick bytes
Serviced apartments could not translate potential into performance due to poor conceptualisation & operations
Long gestation period a big deterrent in a market where sales model is prevalent
Global hospitality chains eyeing Indian market with asset-light model where developers provide the infrastructure
In absence of organized serviced apartments some large corporate groups creating their own infrastructure
Some companies, such as Infosys at its Bangalore campus, have therefore invested in their own hotel style multi-room serviced residences, considering the acute shortfall of hotel rooms in the city. In their cost & benefit analysis, serviced apartments in the major Indian cities (either owned or hired) offer accommodation at less than half of rates with sprawling spaces.
Doesn't it sound like a big business opportunity? Some of the market analysts maintain that the housing market in India has been about quick turnaround with sales model. The question is whether there is enough incentive for developers to get into serviced residences and wait for long gestation period. JNB Group and Bridgestreet Global Hospitality, the leading solution for international serviced apartments, which has recently tied up with three Indian developers to bring 300 serviced residences maintain that there is no gestation period as serviced apartment concept has been in India for few years now and is a well known concept in the corporate world.
Taran Kaur, Director, JNB Management believes it is a win-win situation for developers as well as the buyer. The Developer gets the price he is aiming for and the buyer is happy buying such a profitable property since they get returns much higher than the non-branded serviced apartment.
"The market segmentation for this sector is almost entirely corporate, who utilise serviced apartments for their managerial staff and long-stay expatriates. Key demand drivers for serviced apartments are IT/ITeS, biotechnology, services sector, BFSI and medical tourism. Even while the concept of serviced apartments is well understood, the actual number of serviced apartments is fewer than the actual market potential in India," says Taran.
The global hospitality chains are nevertheless making a beeline to tie-up with the Indian developers despite of slowdown. Is it because the global hospitality chains have lesser risks in India with asset-light model, as against the developers who have major stakes with creating the infrastructure? Industry analysts point out that asset-light model can deliver a better return on assets, lower profit volatility, greater flexibility, and higher scale-driven cost savings than asset-heavy models.
T J Barring, President, JNB Group believes the infrastructure projects also involve a large number of different stakeholders entering the project life cycle at different stages with different roles, responsibilities, risk-management capabilities and risk-bearing capacities, and often conflicting interests. While the complexity of these projects requires division of roles and responsibilities among highly specialized players (such as contractors and operators), this leads to significant interface risks among the various stakeholders that materialize throughout the life cycle of the project, and these must be anticipated and managed from the outset.
"Because infrastructure projects have become and will continue to become significantly larger and more complex, losses due to the cost of undermanaged risks will continue to increase. This will be exacerbated by an ongoing shortage of talent and experience — not only are projects more complex, but there are also more of them, which will create demand for more effective and more systematic approaches and solutions," says Barring.
Arvind Jain, Managing Director, Pride Group admits that the serviced apartments concept has found a lot of acceptance and success in the metros and larger Tier II cities, where normal hotel accommodation may be unfavourably priced for longer stays. If a corporate's executive movement is too erratic for a company guesthouse to make sense, serviced apartments are the obvious solution. The concept is going to see a lot of growth in India's business-oriented cities, particularly in and around the CBD and SBD areas. Cities like Pune, Bangalore, Mumbai, Delhi, Hyderabad and Chennai already have a very entrenched serviced apartment culture.
"The business model of acquiring normal residential flats, fitting them out as serviced apartments and engaging the services of professional agencies to operate them is also on the rise. However, developers using the serviced apartments route as an alternative to the residential sales model is not at all common due to the considerable complexities involved," says Jain.
Kishor Pate, CMD, Amit Enterprises Housing says when it comes to selling residential flats versus operating serviced apartments, we are not talking about a simple change of business orientation. In the first place, a building in a city, like say Mumbai, developed for serviced apartments usually gets a FSI of 4 while a building for purely residential use is allotted a FSI of 1.33. The entire building is then charged for water, electricity and maintenance on a commercial rather than residential basis.
"Generally, residential property investment in India is done for capital appreciation rather than rental income, since capital appreciation can be to the tune of 10-12 per cent per annum and rental yield is typically in the range 3-4 per cent per annum. If one invests in a unit in a serviced apartment building, the annual returns can be to the tune of 10-15 per cent. However, this needs to be set off against the outgoings for commercial usage of utilities as well as the applicable taxation for running a business," says Pate.
In nutshell, getting into serviced apartments as opposed to selling normal apartments calls for a major course correction in one's business model. Not all developers would be willing to consider it or indeed are equipped for it. The demand nevertheless far exceeds the supply and since the business falls into need-based segment of real estate, its co-relation with best practices is a subject of academic debate in a market notorious for deliberate demand & supply mismatch.
By: Ravi Snha