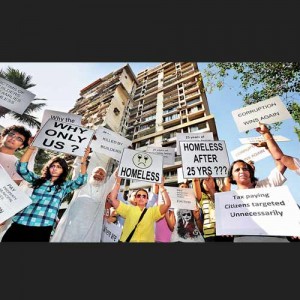 Track2Realty: In a reprieve for 140 families of Campa Cola Compound at Worli spending sleepless nights over the sword of demolitions hanging over their head, the Supreme Court on Wednesday, May 1, posted a special leave petition by a group of residents for hearing on Thursday.
The petitioners moved the Supreme Court against a Bombay High order dismissing their plea seeking stay on the 48-hour notice served by BMC to demolish the 140 flats.
Senior advocate Fali Nariman moved the apex court. The Bench that heard the Campa Cola residents' case had passed its verdict on February 27, 2013 directing BMC to demolish the apartments.
BMC on its part served a notice to the residents to vacate the premises within a short time of 48 hours as the civic body planned to carry on demolitions Monday onward. Subsequently, the BMC action was put off till tomorrow for inadequate ability of police protection.
With the Supreme Court's decision to hear the residents' petition tomorrow, advocates representing them have sent letters to BMC and the concerned assistant engineer in charge of building proposal, Parel, Mumbai  at G/South Ward drawing their attention to the latest developments. The advocates have also requested the authorities not to resort to any coercive action against the residents as the petition is slated to be heard at 2 PM tomorrow.
In a last ditch effort to save their homes, the residents have appealed to all top authorities including the Maharashtra Government and BMC to take a realistic view of the crisis and save the families from going homeless over night.
The housing society has appealed to the Government to regularize the 35 floors in question so that residents do not lose their biggest investments – their homes. They are also exploring options for amalgamation of their plot with an adjoining plot, which is part of slum rehabilitation project.
"We have spent our hard earned money on our flats and we have been living here for well over 25 years paying all municipal taxes," said a senior citizen wondering as to where will he go as his house faces BMC's hammers on Monday.
This unprecedented move is the biggest demolition undertaken in the city by the BMC and threatens to bring hundreds of people, including many senior citizens, infants and young children, on the streets. The 35 floors in question house over 900 residents in 140 flats spread across seven buildings in the society. Many of these residents have been living in the society for over 25 years and will have nowhere to go as they do not own a second home in the city.
"We are being traumatized for no fault of ours. We have regularly been paying property taxes, registration fees and cooperative society fees, yet we are being targeted in this manner. We sincerely hope that better sense prevails and justice is done," said one of the residents.