News Point: The Rashid Centre for the Determined Ones has announced that PNC Menon, Founder and Chairman of the Sobha Group, has recently joined as a member of its Board of Directors.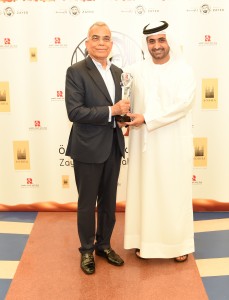 PNC Menon joins at Rashid Centre other prominent officials and business leaders in Dubai, including Sheikh Ahmed bin Saeed Al Maktoum, President of the Dubai Civil Aviation Authority and CEO and chairman of the Emirates Group.
Sheikh Juma bin Maktoum Al Maktoum, Managing Director at Rashid Centre, welcomed the appointment of Menon to the Board of Directors. He said: "Mr. PNC Menon is one of the well-known local entrepreneurs and a real estate tycoon. As founder of the Sobha Group, he has overseen its business expansion over the years and developed the company as one of the leading real estate developers in the country. Mr. Menon joining us will undoubtedly contribute to the vision of the Rashid Center for our stakeholders. We will profoundly benefit from his extensive management experience and he will help develop the Centre's operational system," Sheikh Juma underlined.
Rashid Centre has always been keen to enhance the Centre's presence in the UAE and the region. Over the past years, the Center's Board of Directors has enriched the work plans we have adopted in the management of the Center, which has positively reflected the nature of the services provided to the stakeholders. This has contributed to having the Centre being held in high esteem and its services expanded to over 300 students coming from various nationalities.
On his appointment, PNC Menon said that joining the Board of Directors of the Rashid Center is an important highlight of his career. "Rashid Centre is one of the most important centres in the field of caring for the Children of Determination. Rashid Centre rightfully deserves our attention, and undoubtedly joining the Board is a conscious step for contributing to the welfare of the special children and a way of giving back to the community," he said.
He added: "Over the years, I have visited the Centre many times, and every time I have been inspired by the level of development that the Centre has achieved. This is because of the selfless efforts of its management, as well as its employees, who work as one team."
"I hope that my joining the board of directors, Rashid Centre will be able to contribute more than before to the promotion of the welfare of the young People of Determination. I am delighted to join hands with Rashid Centre in this noble endeavor," he added