Bottom Line: Panvel is one of the most affordable property markets of Mumbai Metropolitan Region and yet the locality is shaping up as a lifestyle zone.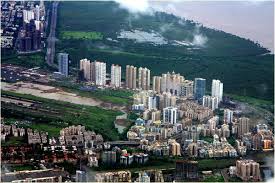 "When I bought an apartment in Panvel seven years back, it was more of an investment in one of the affordable destinations in and around Mumbai. But by the time I retired and settled over there last year, it is no more the same Panvel. Though it is one of the most affordable destinations, it does not bear the look & feel of an affordable destination," says Yashwant Dahiya, a retired bank employee.
The outlook of this investor in Panvel is not out of the context. The property rates in this micro market is range bound between INR 3800 per sq feet to INR 6500 per sq feet, with average capital values being around INR 5000 per sq feet.
The price point may give impression of a property market on the outskirts that is just meant to be for those who can't afford more than roof over the head. However, a closer look of the locality would suggest that Panvel is one of those destinations that could be showcased as a model destination where the affordability has not compromised with the aspirational living of the budget constraint buyers.
As a matter of fact, the social infrastructure of the place is much better than most of the affordable housing destinations across the country. With a number of hangout zones, multiplexes, amusement park, quality schools and healthcare centers, Panvel is today one of the most sought after location of homebuyers.
"Panvel is also known for its nightlife and a market that was initially seen as a destination for retired people is today attracting good number of youngsters and new age homebuyers. Once the proposed IT and education hubs are created, the area would give a tough competition to many upscale micro markets in and around Mumbai Metropolitan Region (MMR)," believes Raju Kamble, a local property agent.
Pnavel USPs 

Price point of Panvel is attractive at around INR 3800-6500 per sq feet

Panvel is closest destination from the upcoming Navi Mumbai International Airport

Panvel connects seamlessly with both Mumbai and Pune through Mumbai-Pune Expressway

Social infrastructure & amenities at par with costliest property markets 
The facelift of the locality is also reflecting in the property launches over here. A market that was primarily an affordable housing market with price point below INR 4000 per sq feet till only a few years back, has in recent times seen upscale launches with world-class amenities and the price point is INR 6000 per sq feet and above.
Surrounded by mountains and scenic greenery, the livability quotient of Panvel is quite high. The locality is a planned development and has been shaped by the City and Industrial Development Corporation (CIDCO). The area has been clearly demarcated into 44 sectors.
The area is an investment magnet from the standpoint of future promises. Panvel would be extremely benefitted (both in terms of livability & appreciation) once the Navi Mumbai Airport becomes operational in the neighbourhood.
A metro line has also been proposed for the region, which will connect Vashi to Panvel. Mumbai Railway Vikas Corporation (MRVC) has also planned an elevated train corridor that will connect Panvel to CST. It would reduce travel time between Panvel and CST from nearly one and half hours to 50 minutes.
CIDCO has plans for developing 13 schools, four professional colleges, one degree college, 32 hospitals, 34 religious and spiritual centres and 77 social welfare centres including hostels, indoor sports facilities and community centres in and around Panvel. 
By: Ravi Sinha