Bottom Line: Bangalore has the highest office space consumption per household that indicates its high demand as attractive business destination.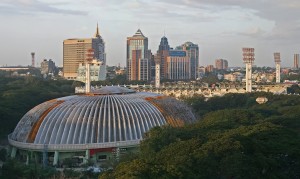 One of the fundamental reasons why Bangalore has been the prime demand driver of residential real estate is that the city has a thriving economic activity. It is, as a matter of fact, the leading city in terms of the absorption of office space and that is fuelling the demand for the housing. However, it would be necessary to understand the dynamics of business & economy of the city to understand what makes Bangalore such an attractive business destination.
An analysis by Track2Realty vis-à-vis the volume of office space consumption per household – not only in India but also internationally in London, Singapore, New York, Tokyo etc concludes that there is equilibrium when the office space consumption is around 60-65 sq feet per household. In India it is rather surprising that the ratio per household even in a city like Mumbai is 25 sq feet. Kolkata has a dismal only 14-15 sq feet office space per household. In Delhi-NCR it is again 20-25 sq feet per household.
Bangalore is the only face-saver in India where the absorption is 50 sq feet office space per household which means the volume of office space and houses being supplied have been in equilibrium. That is the reason why Bangalore is a realistic market.
In London despite of so much population pressure it still has 50-55 sq feet per household. Singapore has 60-65 sq feet per household; New York has 160 sq feet per household. Now since Bangalore maintains that equilibrium it is so attractive to the end users. Investors won't be attracted unless they are very long-term player. 
A JLLI report also points to the fact that Bangalore has helped India debut on the 'City Momentum Index' (CMI) Top 20 list this year– an annual survey carried out by Jones Lang LaSalle globally. Reinforcing the city's status of being one of India's premier technology centres, Bangalore figures at No. 12 in the Top 20 technology-rich cities globally. The economic as well as real estate momentum has gained pace as tech-industry majors line up to enter the market, or expand, here.
This also raises a question as to whether Bangalore is slowly shaping up as the next financial nerve centre. Ashish Puravankara, Managing Director, Puravankara Projects believes the companies are also realising the cost of doing business in Bangalore. The average rental cost of office space per sq feet in Bangalore is about 45 rupees and that works well for the companies. Then from the customers' point of view, the average cost of housing in Bangalore is 5,500 rupees and that works well for their workforce. So, it is all supporting each other and it is not that one factor alone is driving the market.
"If the prices have become unaffordable due to high demand in the city, people would have started looking at Chennai. I am not sure about the question of whether Bangalore will be the next financial capital but this city has tremendous economic activity. The reason why companies are setting up offices here is cosmopolitan culture, great weather and access to educated workforce. So, all this is adding on to the employment and that employment is creating the housing demand. I know very many people who have moved from Delhi or Mumbai for work; they have no connection or roots here," says Purvankara. 
With the share of per household office space consumption being highest in Bangalore, the question is whether the developers in the city have been beneficiary of this by default or they have been part of making the eco system conducive. 
Joe Verghese, Managing Director, Colliers International thinks it all came together and the developers have been lucky also and have also played very valuable role.
"I don't want to undermine the value of their trust quotient. It is a fact that investor today trusts these guys more than any other developer in any other part of the country. The reason why they trust is that these guys have been more professional to keep their word. I don't see too many disputes between the developer and investor or between the fellow developers in Bangalore market," says Verghese.
It can be conveniently vouchsafed that even beyond the issue of cost of doing business and the ease of doing business, Bangalore has the potential to attract the business houses better than many other cities. One reason is weather and the other is safety.
For example, four large companies in Gurgaon are today planning to shift to Bangalore post the earthquake tremors in Delhi-NCR. They are large MNCs with 3-4 million sq foot facility in Gurgaon. The kind of list of compliances that they have, including safety, they have started working on moving to Bangalore.
Thus, while office market is a true indicator of the resilience of Bangalore real estate, there are several underlying factors supporting that. Collectively, they make Bangalore shape up as arguably the best business destination in the country.