Bottom Line: Contrary to the general perception that slowdown in the economy will give momentum to more affordable housing and dent the luxury housing market, the experience with luxury housing has been better than expected.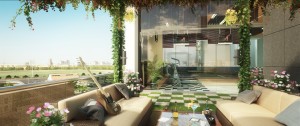 Raj Mehta bought a 2BHK apartment in Pali Hills around 10 years back when he shifted to Mumbai from Ahmedabad. He recalls the mismatch between promise and delivery of the product was something that he hated the most after having his money invested. Now that he is buying a super luxury apartment in Worli he should have reasons to be more concerned since the stakes are much higher.
He, however, is more relaxed after his search of the dream luxe living is over. Reason: this garment exporter has realised that the property market is more realistic in luxury segment than even in affordable housing that he bought earlier.
An outside view on the Indian real estate market may get confused with the fact that mismatch in delivery and performance is lesser in luxury projects than even affordable housing. Isn't it a fact that buyers in low income housing are more price conscious and more concerned to check & cross check than those nouveau riche who have enough money to splurge?
Well, that may be a fact but in reality the property market across the country is witness to the fact that when it comes to luxury property the realism is at each and every level, right from the launch to the project completion.
While inventory overhang is an issue with most of other segment of housing, in luxury there is no sharp demand and supply mismatch. As a result, even in the gloomy real estate market luxury projects are doing well, lending credence to the perception that market is more conducive for luxury projects.
Even in the wake of worst economic cycle, as per rough estimates luxury projects worth nearly $2 billion (over Rs 10,000 crore) were launched during the year 2012 and nearly as much in the year 2013 as well.
Sales of luxury homes across big cities such as Mumbai, Bangalore, Gurgaon, Chennai and Pune have been moving up along with 6-20% year-on-year price rise in this segment, reaffirming the upward movement.
Property analysts are not surprised. They believe since the stakes are so high in this segment of projects that there is of course more research before the project launch.
Moreover, most of the buyers in this segment are like Raj Mehta who are not buying a super luxury apartment or villa as their first property and hence are very much aware of the fine line that separates their early days' need from today's want of aspiration and affluence. Added to this, such projects are not meant for anybody and everybody, so the project has to be as per their taste.
A leading property consultant says, "Luxury real estate usually does well during recession or sluggish environment as we are seeing even now. In a highly uncertain environment, the super-rich clientele prefers to put their money into these hard assets than any intangible service or instruments."
What makes luxury projects even more attractive is the fact that this segment of projects to an extent are much more recession proof compared to mid-income or low-income housing. This is due to the fact that luxury housing is purchased by highly paid executives of corporate world, successful entrepreneurs, business tycoons etc.
Their financial appetite is not affected much by economic slowdown like in case of middle-class home buyers. Of course, the project differentiator has to be distinct enough to attract the prospective buyers.
For instance, when the Omkar Realtors & Developers launched their super luxury project, Omkar 1973 in Worli they decided not to oversell it and instead go for a sales pavilion that encourages experiential marketing.
The CMD of the company, Babulal Varma categorically says that it is better to invest in product packaging than marketing packaging to make the luxury projects more realistic. According to him, the changing demographics of Mumbai and rising aspirations has made it necessary for the developers to create a 'wow' factor without overusing the marketing jargons to push off the customers.
"We are realistic to the extent that we are not overselling the project. In any case, buyers in this segment are so taste conscious and affluence driven that you can not over promise to them. And hence, even our sales team here is very informal with no dress code. After all, we want the customers to come and experience where the sales person is more of a friend and relationship manager than a hardcore sales person in a mad rush to push buyers to close the deal," says Varma.
The reason for this demand in luxury is changing demographics and rising aspirations. Luxury homes are similar to plush hotels and are exclusive as they have special features based on their location, structure and functionality. The main aspect of a luxury home is its location as most of them are built away from the hustle and bustle of the city. The ideal location more often is a secluded area within the heart of the city.
Apparently, most cities are witnessing the growth of super luxury homes, which have additional facilities and extravagances compared to luxury homes. Also most realtors are developing high-end shopping malls that cater to luxury brand retailers. A large number of home buyers are today demanding luxury housing with an array of amenities.
The demand for luxury housing can also be attributed to the increasing rate of High Networth individuals (HNI) and the rapid pace of urbanisation. India tops the list in the growth rate of the number of HNIs. The realty sector of India accounts for about 40 per cent of their investment portfolio.
NRIs are also looking at luxury homes as an option. Basically these homes cater to high-end investors and consumers. And there are the villas by the beach, on the river front, and in hill stations, all of which are big draws for the ultra-rich.
Next: Demand-supply mismatch in luxury housing?