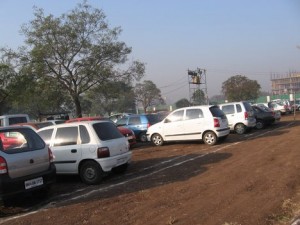 With Indian cities gasping for parking space to keep pace with the soaring car population, Urban Development minister Kamal Nath wants to ensure that all new urban construction activity is accompanied with adequate parking facilities for vehicles.
"You can go underground or over-ground (with multi-storeyed parking lots), but I don't want to have any new construction in the country without parking space," Nath told ET.
"Twenty years ago, maybe you didn't have the technology in India to make underground parking lots easily. But that is no longer the case," Nath said. "New building rules must include parking facilities," he said.
The Town and Country Planning Organisation under the urban development ministry is in charge of framing building bye-laws that lay down standards for design and construction of buildings.
These 'model building bye-laws' serve as a guide for states and urban municipal authorities to adopt in their respective local regulations for new construction.
Real estate developers agree with Nath, but are worried about states going overboard in implementing norms for parking space.
"There should be more than adequate parking in all construction projects, depending on their usage," said Pankaj Bajaj, Managing Director of Eldeco group and president of the Confederation of Real Estate Developers' Associations of India (CREDAI)'s Delhi-NCR chapter.
But creating too much parking space could also be a problem, builders point out. In Punjab and Noida, where recently changed building norms prescribe very high parking facilities, CREDAI has approached the government to relax the norms.
"Parking space must be optimal. In Punjab, many projects have basement parking lots that remain unused," said Bajaj. "Apart from turning to be a maintenance hassle, unused underground parking lots can also pose a law and order problem as they could be used by unscrupulous elements," he added.