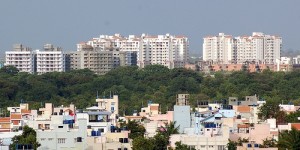 I was recently asked about the role IT has played and will continue to play in the demand for high-end housing in Bangalore. What comes immediately to mind is the fact that the definition of premium housing itself has undergone a lot of changes in the past, and that it will continue to do so in accordance with changes in the economy.
For instance, the sizes of premium apartments in earlier times ranged between 1600-1800 sq.ft. in emerging corridors like Outer Ring Road and Whitefield. Villas were sized at 1800-2200 sq.ft. Then the definition of 'premium' changed – apartment sizes became 2000-2500 sq.ft and villas 3000-3500 sq.ft., with an accent on location. The most recent definition of premium houses in these corridors now calls for 3000-6000 sq.ft in apartments and 4000-11000 sq.ft in villa projects.
In any case, the movement of premium housing was always been good in Bangalore, with traditionally healthy sales in most projects. However, market movement has slowed down as the target audience for such projects has reduced. Nevertheless, developers with big brand names and sufficient capital can still launch such projects and wait until they are sold out. Examples of such projects in the current context would include Total Environment, Windmill Of Your Mind, Prestige White Meadows, Adharsh Palm Retreat Condominiums, etc. Interestingly, villas at similar or even higher ticket-sizes are getting sold faster than premium apartments.
Information Technology is, beyond doubt, the sole factor for the development of South Bangalore, Whitefield and ORR. The prime reason for end users or investors to invest in these corridors is IT, with all its promises and prospects. The high-end catchment in South Bangalore – Bannergatta Road up to Accenture, Koramangala and Outer Ring Road near Silk Board. Varthur Road, Whitefield Main Road and ITPL Road are ideal for premium projects. The complete stretch of the Outer Ring Road from Silk Board to Marathahalli can also accommodate high-end projects.
Meanwhile, the IT industry scenario in Bangalore looks buoyant once again. In fact, 2011 is expected to be a landmark year for technical personnel hiring as the market's visibility improves. This, in turn, will boost the expansion plans of companies riding on the positive business sentiments. Overall, there are robust growth forecasts for the IT industry, with increased expansion and consolidation bound to translate into more absorption of commercial space.
And naturally, revival in the IT industry will drive the residential market, riding on greater buoyancy in consumer confidence and increased spending power owing to anticipated salary hikes.
The author, Karun Varma, is Managing Director – Bangalore & Kochi, Jones Lang LaSalle India