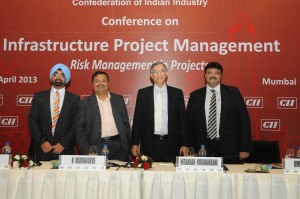 Track2Realty: The greatest opportunity and challenge to India's growth is infrastructure and the greatest challenge to the growth of infrastructure is risks – anticipated and unforeseen – that is part of any project. Risk and its effective mitigation were discussed at Confederation of Indian Industry's (CII) & CBRE's flagship event the 2nd Edition of the Conference on Infrastructure Project Management with the theme 'Risk Management in Projects'. CBRE is the Knowledge Partner for the Conference on Thursday, April 25.
Niranjan Hiranandani, Managing Director, Hiranandani Constructions put the conference into perspective when he said in his keynote address, "Risks are of two types. Those we can anticipate and those which project management people can provide for like shortage of labour, increase in taxes, inflation, increase in cost of raw material, etc. But good infrastructure project management is not about these anticipated exigencies, it is about the risks that you cannot foresee like accidents, riots, epidemic in your labour force etc. How do you take into account something which you have not anticipated? The way you deal with these unforeseen risks determines the success of a project. As a good project manager, you may not anticipate the problem, but you have to attend to it with equal forthrightness as you would attend to an anticipated problem."
The construction industry contributes 8% of the overall GDP of the nation and accounts for 35 million jobs in the country.
Hiranandani said that pace, speed of construction and timelines cause the biggest problems for Indian infrastructure but it is marching ahead nonetheless. "Project management people have to aspire to do projects that seem impossible because the world is doing the same. You cannot be content with what you have done. You cannot be just better than your competitors but you have to be better than the best in the world. You have to aspire for it and only then will you reach there. And you will have to take pride in what you do. Yes there will be risks, but it is up to you to execute that future for yourself and for your children," said Hiranandani.
Gurjot Bhatia, Senior Executive Director – Project management Group, CBRE South Asia said, "A good doctor is not one who knows medicine, but the one who diagnoses the problem effectively and timely. A good project manager or company does the same: identify the problem and look at its mitigating factors. When it comes to infrastructure you must consider these four points: firstly be willing to identify risks consistently; then to analyze them comprehensively and in a wholesome manner; thirdly communicate them to your stakeholders so it does not become bigger later and everyone can break their heads solving it and lastly and above all else have accountability."
Bhatia added that there is huge growth across the region, but it is a growth that is associated with challenges and if we do not look forward to mitigating them, it can lead to impediments to this growth. This is especially true with projects growing more and more complex with long lasting socio-economic impact for the country.
"Being an integral part of project management; risk management determines the success of any project. It helps minimize the impact of project threats, ensures timely delivery and quality of construction. Learning from one's experiences while executing projects is a key for any organization, which might not happen in some cases as project teams move from project to project very quickly. To ensure efficiencies over time and development of best practices, it is essential to capture lessons learned on your projects," said  Tushar Kulkarni, Associate Director, Vector Projects.
Krishnanand Mavinkurve, Member, CII SHE Award Jury Panel and Vice President & Dy HSE Head, Essar Projects Limited said, "Construction projects covering the development of commercial, social and public infrastructure have become very complex in delivery yet there is an increasing demand for delivering them risk free. Risk is something that cannot be ignored. It can and has to be managed, minimized, shared, transferred or accepted. In project management, the challenge is not to explore risk for a single project but to predict it consistently and ensure that every project has the same level and depth of risk analysis."