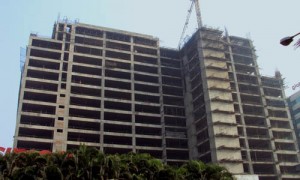 Mumbai-based Godrej Pro­perties (GPL), the real estate development arm of the Godrej Group, has launched a premium residential project Godr­ej Platinum at Hebbal, Bengaluru on Airport road. This marks the firm's third project in Bangalore.
Godrej Platinum offers 3 BHK and 4 BHK apartments and penthouses, with sizes ranging from 2,914 sq ft to 6,320 sq ft. The base price is fixed at Rs.6,490 per sq ft.
The project has a club house, which comprises a gymnasium, steam and sauna, a temperature-controlled swimming pool, squash court, indoor games, billiards and a yoga room. In addition, Godrej Platinum will include facilities su­ch as a dedicated crèche space, sp­ecial service apartments for gue­sts, dedicated dormitories for servants, drivers with attached toilets and a convenience store.
The company has applied to India Green Building Council (IGBC) for gold certification of the project. Various features are incorporated in the project to minimise energy requirements and conserve water, the company said. Some of the eco-friendly features include solar panels, rain water harvesting system, glazed windows, central water heating and electric car charging facility in the parking lot.
Godrej Platinum is adjacent to Godrej Woodsman Estate and Go­drej Crest and has the advantage of being strategically located at He­bbal, the fast-developing residential corridor in Bengaluru city. It is directly accessible from the international airport and offers views of the Hebbal Lake. Major hospitals, schools, malls and offices are situated close to the project.
Milind Korde, MD, Godrej Pro­perties, said, "This is our third residential project on Airport Road in Bengaluru after the successful launch of Godrej Woo­dsman Est­ate and Godrej Crest."