News Point: Delayed possession and false promises land Amrapali Group in serious trouble, as homebuyers cry foul, celebrities backing off and political connections deserting.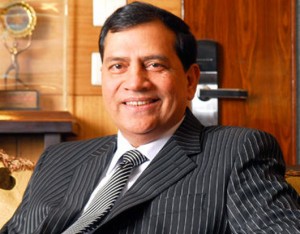 After taking the homebuyers for a ride long enough, the Amrapali Group seems to have ran out of luck with the homebuyers taking to social media to mobilise support, the brand ambassador Mahender Singh Dhoni exiting as face saver and the political support to the builder deserting.
Amrapali Group, after much-publicised "Mission Possession" has only been diverting the attention of the buyers till the residents of Amrapali's Saphhire project in Noida lost their patience and went viral on Twitter. They also tagged the brand ambassador Mahender Singh Dhoni in their tweets asking the cricketer to dis-associate himself from the builder.
Residents are complaining about the pending civil and electrical works in the project. The company said it would complete the same in next three months.
Amrapali Group CMD Dr Anil Sharma said, "Sometimes there are so many unforeseen reasons. There are so many force majeure, which are beyond the control of a developer. So, during those periods construction is stopped for two years, three years, four years, five years. Those period can't be contracted. There are two losses, one is time loss, another is finance loss. We are not burdening that finance loss to our esteemed customers, but time loss we can't make up. Ultimately, time loss has to be extended."
As the homebuyers were welcoming the Dhoni's rebuttal to Amrapali, another cricketer Harbhajan Singh tweeted: "Well done @msdhoni for dropping #Amarpali builders' brand ambassadorship..they didn't gave us VILLAS they announce after 2011 worldcup win".
"At least they should give them houses who paid..may be announcing a villa for us .. was a publicity stunt," he said in another tweet.
Reacting to Harbhajan's complaints on social media, Amrapali CMD issued a press statement, "We offered these villas to World Cup winning team as to honour their efforts, for that we did not charge anything. Amrapali Group never denied to handover those villas, nor now."
"In this duration, cricketers or their representatives did not ask about the status of their villas and also there were some relevant process and formalities need to be done from their end.
"Whenever they will ask us, we will share the required details of their villas with them. I would also like to clarify that the project is in final stage where villas were promised," Sharma said.
However, it is not just a case of one or two projects of Amrapali Group getting delayed. The homebuyers allege most of their projects are delayed and they are just unresponsive to the buyers.
Over 4,000 buyers of the Group's Golf Homes project are also the sufferers after the developer delayed the possession by about 15 months and allegedly stalling the construction work.
As if the ire of homebuyers and the celebrity cricketers was not enough, sensing the public mood even the political patronage of Amrapali Group has deserted. Anil Sharma, who contested Lok Sabha Elections on JD(U) ticket in 2014 found his party distancing itself from Dr. Sharma. The party's General Secretary, K C Tyagi, said, "Anil Sharma for the last Lok Sabha Elections was on the ticket of JD(U), but after 15 days he was an independent candidate."
Tyagi added, "As a member of the Real Estate Committee, I am on record to say that they (builders) must be prosecuted. I am with the buyers of Amrapali Golf Villas and stern action must be taken against him. Homebuyers must go to the court and they must present their case to the Parliamentarians. From the 25th, Parliament session will start and I am hopeful that entire Parliament, after passing the Real Estate Bill, will stand by the consumers."
Once a powerful man as an influential builder with connections in cricket to film and politics, it is not just fall from grace for Anil Sharma, but could be termed as self-inflicted disaster. It is a learning curve for the builders who think they are too powerful to take the homebuyers for a ride.
By: Ravi Sinha