Bottom Line: A location that has tremendous potential, delays & legal issues are dampening the spirit of Dwarka Expressway homebuyers.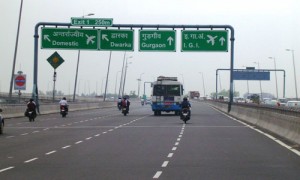 When Priyadarshini Mittal had bought an apartment in one of the newly launched projects of Dwarka Expressway in 2009, he was ridiculed by the friends and well wishers. After all, this Gurgaon-based bank employee had invested his lifetime savings at a place where the future was uncertain and legal issues threatening to logjam the development of the region.
The price point was probably the only attraction for this salaried person who could not afford in any other region in and around Gurgaon.
However, much water has flown in the last five years and today even his critics are flocking to the same location at a much higher price point. The reason is simple: Dwarka Expressway has rewarded the first movers in the region almost three times.
The Northern Peripheral Road (NPR), also known as Dwarka Expressway, is an 18-km stretch of road that is being developed under the public private partnership (PPP) model. This stretch will connect Dwarka Phase II and Palam Vihar to National Highway 8 near Kherki Dhaula and Pass Pataudi Road. This is a highly lucrative project that has been taken up by the Haryana Urban Development Authority (HUDA). 
The expressway promises to decongest the current traffic flow on the Delhi-Gurgaon Expressway. From a home buyers' perspective the express appreciation and unlimited potential is nevertheless juxtaposed to delays and legal issues; though most of the legal issues have already been solved.
Property analysts tracking the market in this part of the world wonder how the region has appreciated despite of the pending litigation which has considerably delayed the projects and has also delayed the construction of physical infrastructure such as roads, power and sewage disposal facilities.
Calling it one of the property hotspots of Delhi-NCR, property consultant DTZ said in an earlier report that housing prices have jumped nearly three-fold on Dwarka Expressway in Gurgaon during last five years. In its report 'Investment Hotspots in Delhi NCR' it says that average residential capital value on Dwarka Expressway has risen from INR 2,426 per sq feet to INR 7,000 per sq ft now but slow pace of construction of highway and litigation issues have become a major hurdle for growth of this corridor.
DTZ also pointed out that with approval of Land Pooling policy by Delhi Development Authority (DDA) which has unlocked substantial land for both housing and commercial use in Delhi, the real estate growth on Dwarka Expressway is expected to take a hit. The consultant at the same time admits that Dwarka Expressway has an edge over other upcoming real estate destinations such as Dharuhera, Bhiwadi, Yamuna Expressway and Noida-Greater Noida Expressway.
Dwarka Expressway is expected to receive second highest number of housing units (about 24,160) between 2013 and 2018. In terms of price index in recent times Dwarka Expressway has been witnessing a range bound up and down movement of around INR. 200.
The price per sq. ft. was at INR 5913 in Oct – Dec 2013 quarter and then price depreciated to INR 6014 per sq. ft. in the quarter of Jan-Mar 2014. The average price today stands at around INR 5000 per sq feet.  
The local property agents maintain that Dwarka Expressway has ample potential for real estate developers and mid-segment homebuyers and offers the possibility for proper planned development. The development of this stretch will open up avenues for planned urban development and will also reduce the travel time between Delhi and Haryana. Both the developers from across the country as well as the buyers have found out a happy hunting ground close to the aspiration city of Gurgaon.
"The nearest bus stand to the expressway is the Gurgaon Bus Stand which is located about 5 km from Sector 102. The Gurgaon Railway Station is the railway station located closest to Dwarka Expressway and is about 9 kms away. Indira Gandhi International Airport is situated about 4km from Sector 111, located in close proximity to the expressway. Although there is no public transport running in this area at the moment, once the expressway is completed, the transport infrastructure will be developed rapidly," says a property consultant.
Critics point out that if infrastructure developments don't happen soon Dwarka Expressway may soon see a price bubble. However, R K Arora, CMD of Supertech asserts there are no signs of any bubble. According to him, challenges are there and infrastructure development to this area is happening rapidly. The sector roads of the area would be 90 metres in Dwarka Phase II and 60 meters in new sectors along the Dwarka expressway, relieving hassles of traffic congestion. Dwarka Expressway is recognized for its affordable rates and that is the reason why professionals from Gurgaon are buying houses in this market not for investment but for end-use purposes.
"The development of the Dwarka Expressway will prove to be a boon for the real estate sector and facilitate an overall development of the Gurgaon region in the long run. Before investing and developing nowadays, developers are taking necessary due diligence and precautions to avoid litigation which in turn is beneficial to both investors and customers. Most of the developers are initiating projects only after checking land policy for farmers, Master Plan of area, environment approvals, etc. to avoid the stalling of project and delay in possession of flats to the customers," says Arora.
Dwarka Expressway is expected to emulate the same growth pattern as premium locations in Gurgaon such as Golf Course Extension Road and NH-8 due to its close proximity to the international airport, Delhi Aerocity and the upcoming diplomatic enclave at Dwarka. It is not just the residential developments but the speed corridor is slated to be a hub for even commercial properties. The expressway will join 16 new residential colonies nearby apart from the commercial corridors and the Harsaru dry port.  
The commercial market is already flourishing in the vicinities of Dwarka Expressway. A large chunk of land parcel has been reserved for the expansion of the commercial market. Shopping complexes and malls are also growing steadily.
Raheja Business Floors, Raheja Innovation Mall and VSR 114 Avenue are some of the major upcoming commercial projects in this sector. The proposed widening of Golf Course Road and the construction of an underpass will enhance further connectivity and make the commercial market more attractive. The sale prices for commercial office space range from Rs 6,500 to Rs 12,000 per sq. ft.
Hospitals, schools, shopping complexes, malls and other recreational facilities have been in the pipeline and will take shape once the expressway is open to the public. After completion, many projects alongside the road promises to change the urban landscape in this part of the world.
Some of this projects are Gurgaon Global City, Gurgaon International Finance Tec-City, Gurgaon SEZ Land, Gurgaon Sport City, Gurgaon Fashion Street (world largest fashion street), Gurgaon Tourism Project and Gurgaon Sin Palace (on the line of Las Vegas) etc.
It will also provide faster access to the airport for people commuting from Gurgaon, Manesar and beyond. There are already more than 33,000 houses that are under construction along this highway. Due to the emergence of an increasing number of MNCs operating out of Gurgaon along with the limited availability of mid-segment residences in Gurgaon and Delhi, Dwarka Expressway is evolving as a smart alternative for both investors and end users.
Dwarka Expressway at a glance

The Northern Peripheral Road (NPR) is popularly known as Dwarka Expressway

It is an 18-km stretch of road that is being developed under the public private partnership (PPP) model

This stretch will connect Dwarka Phase II and Palam Vihar to National Highway 8 near Kherki Dhaula and Pass Pataudi Road

This is a highly lucrative project that has been taken up by the Haryana Urban Development Authority (HUDA)

Dwarka Expressway is expected to receive second highest number of housing units (about 24,160) between 2013 and 2018

Dwarka Expressway: Hits & Misses 

Dwarka Expressway promises to decongest the current traffic flow on the Delhi-Gurgaon Expressway

Slow pace of construction of physical infrastructure such as roads, power and sewage disposal facilities

Litigation affected the fast growth of the location 

Connectivity

The nearest bus stand to the expressway is the Gurgaon Bus Stand which is located about 5 km from Sector 102

The Gurgaon Railway Station is the railway station located closest to Dwarka Expressway and is about 9 kms away

Indira Gandhi International Airport is situated about 4km from Sector 111, located in close proximity to the expressway