Bottom Line: Blockchain will allow real estate to be traded in a faster and more cost-efficient way, finds a Colliers Research.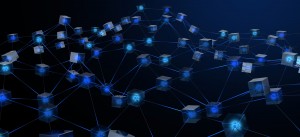 Full adoption of blockchain technology in Indian real estate may appear a remote possibility, however, low transparency provides an incentive for adoption of blockchain rather than an obstacle; and we see several near-term applications for the technology.
These include digitisation of land title, recording of transactions, multiple listing services and fractional ownership of real estate assets.Other sophisticated services such as smart contracting, notary services and due diligence should follow over the longer term.
In India, the use of blockchain technology is still at a nascent stage of development, but some progress has been made recently in the real estate sector, which mostly relies on manual records, and thus transparency is relatively low.
Blockchain technology makes it practically impossible to alter or reverse any information once it is added to the blockchain system. The use of the technology will legitimate the government-mandated record of real estate transactions and improve the overall transparency level in the system.  
"Despite the roadblocks, the blockchain disruption is a long-awaited reform that the real estate industry arguable requires worldwide. Its inherent characteristics of being faster, tamper-proof and transparent are the pulling forces which entice not only the institutional investors and government institutions, but also retail investors", says Joe Verghese, Managing Director at Colliers International India". 
Here are a few areas where blockchain can make a significant contribution for Indian real estate sector: 
Digitisation of land title: 
Digitisation of land title can only be done through a piecemeal adoption approach. Blockchain could be introduced to the lands belonging to the government and various authorities such as railways, defence and ports in phase one. Subsequently, it could be implemented on mortgaged land and private land. As blockchain-secured land records should be less risky, they may command a premium over time and so may command higher investor interest. 
Fractional ownership services:
In the traditional Central Business District (CBD) areas of large cities, most of the buildings are sold on a strata-title basis and have multiple small owners. However, since there is no central data or authority to control the ownership, maintenance of these buildings is becoming increasingly difficult. As per Colliers Research, companies such as PropertyShare and RealX are ecommerce based tech-enabled platforms that offers fractional ownership in a much more transparent manner and claim to be based on blockchain technology system.
Internationally, there are more evolved versions of the fractional ownership services provided by companies such as Atlant which facilitates tokenisation, listing and trading of the assets on its platform. 
Multiple Listing Services (MLS):
In the past few years, multiple websites provide listing facilities which capture essential details about the property, agent information and contact details of the owners. The data in the listing websites are often not updated, decentralised and non-accessible which dilutes the service utility while making a well-informed purchase decision. As per Colliers International, the introduction of the blockchain in the real estate sector will rectify the issue of unverified data entries. It offers a solution in the form of shared database services, tremendously improving the accuracy of listing services. 
Smart identities and universal database:
The Smart identities powered by blockchain technology entrust each user with a universal digital code, which, in turn is stowed in a universal database. This universal database holds details of all involved stakeholders including the land title history, developers' asset delivery track record and even the customers' credit history. As it provides customers all the required data at one place, it ensures a trusted transaction. 
Due diligence:
Once the universal database is in place, due diligence can be facilitated by using the same platform. For instance, notary services can be facilitated using verified digital signatures, proof of existence can be processed by tokenising the assets on blockchain database, and financial verification can be done by peer to peer transactions which ensures full transparency. 
Smart Contracts:
If the smart contracts are utilised in the real estate sector, the agreements that are executed during a transaction will be automatically guaranteed by the efficiency of blockchain mechanism without any human intervention. The same verifications will be undertaken to check the legitimacy of the transaction.
No contract can be concluded, if pre-determined terms do not match. These smart agreements are executed automatically once the pre-set requirements are met. The terms of the smart contract are transparent to everyone and reduces the chances of future litigation. 
"At the moment, the fate of blockchain technology depends on the wider acceptance by innovation-friendly and future-ready real estate firms and government authorities. The impact of blockchain can only be fully achieved when the allied industries adopt it entirely in their day to day operations. We suggest the industry stakeholders be ready to adopt and apply blockchain tools in their processes. As the technology in hand is not a low-cost solution or an easy alteration in the existing ways, blockchain adoption will time to fully realise in the real-time world" says Surabhi Arora, Senior Associate Director, Research at Colliers International India. 
According the Colliers Research, the true blockchain-led revolution to come in the business world, if it goes hand in glove with next age technologies such as the Internet of Things (IoT) and Artificial Intelligence (AI) and will streamline the entire real-estate life cycle. We anticipate that it will undergo many changes and adjustments as the market and stakeholders mature over time.