By: Ravi Sinha
Track2Realty Exclusive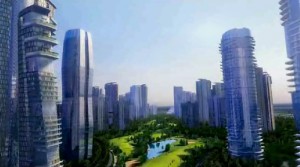 Realty sector may appear to be bullish and project that downside is over with rosy forecast ahead, yet the decline in fortune is far from being over. As a matter of fact, the learning in the last four years has made most of the leading players to restructure their project portfolio and shed the flab. In this cautious optimism, while the leading players have refocused on their core expertise area and selling land bank, others are restructuring their team strength. As a result, realty sector that was once seen as a high paying job is today facing most of the retrenchment.
With sales nose diving, debt piling up and share prices way below the listed price, real estate companies have started trimming workforce. A leading realty company told Track2Realty requesting anonymity that with no major headway on fresh projects and debt piling up as sales falter, the heat is mainly on the marketing and sales teams.
"There have been some major lay-offs in the sales and marketing team but overall there is apprehension within the company that axe may fall on other departments very soon," said an employee of a Mumbai-based realty company.
Indian developers are beset by a faltering economy, weak home sales in key cities, and high interest rates, prompting them to scale back or put on hold projects planned during the boom years of 2005-2007. The accumulated debt of Indian realty companies is estimated to be around Rs. 50,000 crore. The combined debt of six listed companies only stood at R35,425 crore in the March 2012 quarter. Several real estate companies had approached banks for a restructuring package, in the wake of the economic slowdown, post the Lehman crisis as they were unable to pay their loans.
Many of the leading companies are selling their land bank at discounted prices to turn the tide. For instance, the market leader DLF that plans to expand across India with footprint now in around 28 cities, now seems to be reviewing its strategy. In some cities its planned projects remain plots of land on which the company is in no hurry to build. In some cities it plans to sell the land parcel.
For instance, in 2007 DLF paid about 7 billion rupees for a plot in Mumbai to build 5 million square feet of luxury homes in a city where its only other presence is a minority stake in a project with Hubtown. Now the company is trying to sell the Mumbai land for about 30 billion rupees to help pay down debt.
With loans of about Rs. 22,500 with average interest rate of 12.5 per cent, the company is left with little choice. From a peak in early 2008, DLF shares are down 82 percent, valuing it at $6.5 billion.