Bottom Line: It may sound like a strange paradox but it is true that luxury housing may seem to be over supplied in the country yet it is the segment that is actually not enough in supply vis-à-vis the demand.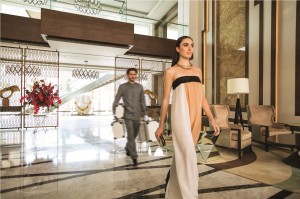 Whether the market is obsessed with luxury or there are inherent reasons for this appetite. A ground zero study suggests this is purely a demand supply situation. It has nothing to do with subjectivity or obsession.
Demand for luxury features in real estate products arises from the ever changing needs and aspirations of the growing of the middle and upper income strata of Indian society.
As home buyers rise up the economic ladder and get more exposed to the lifestyles of the rich in other countries, they demand similar services here in India as well. This phenomenon then becomes a 'brand driver' for developers who possess the skills and resources to cater to this segment.
Analysts also maintain developers are offering luxury housing options because people are looking out for more choice apart from basic necessities. The rise in disposable income, increased aspirations, lifestyle changes etc are the factors behind increasing luxury living.
The term 'luxury' is being used very liberally nowadays, but the buyers in this segment are so discerning and demanding that a seasoned developer can not afford to fool around.
You can not have some décor around a low cost project and call it affordable luxury. This segment of housing is more competitive than any other segment. Moreover, since luxury is about overall ambience and not just a costly & fancy apartment, it has to have connection with the location.
A location with no thriving economic activity and prosperous habitation can not afford to have luxury living. And it is here that Gurgaon scores over certain other markets as Gurgaon is not just aspirational destination, but catering to those aspirations with a holistic live, work & play ambience that is the basic ingredient of luxury living.
The segment is based on high margin concept and is therefore being preferred by the real estate developers. Neeraj Bansal, Partner, Real Estate & Construction believes with the recent price increase in urban cities normal projects are also now been classified as luxury projects. Every developer has their definition of luxury depending on the city & micro market they are operating in.
"If we take example of Noida Extension a 3-4 BHK flat with air-conditioning & society having swimming pool & club is being projected as luxury. In contrast to micro market of Golf Course Road in Gurgaon where a custom fitted apartment with centrally air-conditioned and proximity to golf course is projected as luxury apartment. In absence of any clear cut definition of luxury apartments, any project having additional features over nearby projects in a micro market are projected as luxury project," says Neeraj.
Moreover, affordable luxury in real estate is similar to price positioning in many other product categories e.g. cars in the INR 10 to 14 lakh bracket are considered as the start or the 'affordable' end of the luxury segment.
These are products that offer customers many performances, safety and comfort features normally associated with more expensive vehicles or brands. Many Japanese and Korean cars offer features similar to European brands but at a much lower price band. Same is the case with real estate. Here, a developer may offer some luxury features in project as a product differentiator.
The question still stands — is Indian realty luxury obsessed? The answer partly lies in the question itself. Are businesses run on obsession or strategy philosophy? Secondly, for a person living on a street a slum is a luxury and someone who is living in a three bedroom apartment a penthouse is a luxury. Luxury is a feeling we sense but everyone has his or her view on it though the meaning remains the same. Luxury could be a matter of location, quality of product or type of product.
The verdict is that luxury living is in demand these days in India. They are considered indulgences, but are nonetheless affordable to the class of consumers who buy it.
People are looking for luxury housing without compromising on quality/amenities. Spurred by greater influx of end-user demand and an increasing upwardly-mobile segment, luxury and ultra luxury housing projects, with prices ranging between INR 1 crore and INR 27 crores are coming up more and more.