As Puravankara emerges one of the brand performers of Indian real estate, Ravi Sinha meets Ashish Puravankara, Managing Director, Puravankara Ltd who has evolved as one of the best business leaders in the Indian real estate sector.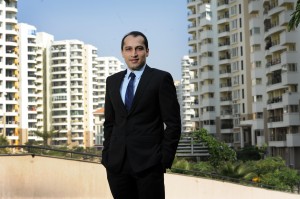 "When I first saw Ashish Puravankara on the eve of company's IPO in 2007, I was not impressed, to be honest. Having known to Ravi Puravankara, I felt Ashish is another scion who is more of a brat than business leader to take over the reins from his father. But over the next four to five years, I was proved wrong. Ashish has in his DNA the same kind of business acumen as his father. What probably makes me feel that brand Puravankara is in the safe hands is the fact that Ashish has the uncanny vision that could foresee the future beyond the existing market curve," says a financial analyst who does not want to be quoted.
This financial analyst is not alone who has changed his mind. After all, Ashish Puravankara is among the rare breed of second generation real estate entrepreneurs in India who could take forward the brand legacy. In a business where most of the business collapse has been due to the reckless or over-ambitious second generation, Ashish stands out shining.
Those who know Puravankara family are not surprised. After all, he grew up in a home where every dinner discussion was about business and opportunities, which would invariably veer towards brick, mortar and realty. He was mentored by a passionate and focused visionary father whose passion and perseverance made Ashish understand what it takes to build vibrant communities and enriching lives by offering families their dream of buying a home.
Top 5 business mantra  

Invest in understanding the customers

Deliver the right product within the promised time

Keep commitment of the brand to ensures success

Always carry integrity & trust with vision and determination

Focus should be on corporate governance, transparency, superior quality of projects and timely delivery 

Stepping stones 
"My entrepreneurial skills are a part of my heritage and I went through intensive specialized training. I used to always discuss real estate with my father when I was growing up. He has worked tirelessly to reach the heights that we see today. When it comes to carrying forward the legacy of Puravankara, it is indeed a decision that I took willingly and I am extremely happy that I did so," admits Ashish.
Ashish is passionate with work and yet he believes in prioritizing his day to ensure he can give his best at work, and also spend quality time with family. He enjoys travelling with family and connecting with friends over the weekend.  Keeping fit is a top priority and always on his to do list as he is a sports and fitness enthusiast – a game of tennis or a good run is his passion. Did he ever feel like work culture & demands of this business would compromise his personal life/freedom?
"I do love my work, however at the same time I love my personal space as well. I believe that every individual should have a life outside work and this plays an integral part in living a wholesome life. Mixing work and my personal life is a big no-no for me. So, there is no question of my personal space being compromised by work or business," he shares.
Thankfully, he never had to struggle with the first generation to change the brand ethos of the company. He always had an absolutely wonderful perception of brand Puravankara, and for him the name resonates 'Aspirational Luxury' and the subsidiary Provident Brand is about the 'Premium Affordable' space.
It's my choice 

Key contribution: Commitment towards corporate governance, implementation of best business practices and pursuing the highest level of transparency

Brand philosophy: Emphasis is on putting people at the heart of everything we do and I call it "You Philosophy" 

Key contribution: Recognising the need for affordable housing way back in 2006

Market differentiator: Theme-based projects with aesthetic landscaping 
Turning point
Having done his bachelors and masters in business, stepping into the real estate space was a brand new experience. The journey has nevertheless been challenging for him and it did take a while to get comfortable with the nuances of the business. But it was the Purva Heights project which taught him about real estate. Working onsite gave him a grass root understanding of everything from launch to hand over. It was the listing of Puravankara as a successful brand in the midst of a troubled market which he considers as a turning point.
"After my initial stint with Purva Heights project I moved to Chennai where I was given the responsibility of setting up operations; having the sole responsibility gave me a well-rounded, grass root understanding of everything from launch to hand over. This followed with the successful positioning of Puravankara as a potential developer in the midst of a troubled market. I think this has been a turning point in my professional life," he feels.
Ashish strongly believes in strong corporate governance, highest levels of integrity and transparency. He could visualize the need for affordable housing in the country way back in 2006. With this foresight, Puravankara set up 'Provident Housing' to cater to the aspiring mid income segment, having successfully delivered several projects across cities over the years. Puravankara's innovatively conceptualized luxury theme-based projects have set a benchmark of creating homes around lifestyles, with world class landscaping and amenities.
"The launch of Provident Housing has been a pioneering step in the affordable space segment, as Puravankara was the first listed player to make the move in that direction. The success of Provident has inspired us to continue to be Thought Leaders in the industry, and revolutionize similar initiatives. We were instrumental in identifying the opportunities for Puravankara Limited and have also, implemented the best construction practices by the acquisition of new technology materials – focusing on technology as means to achieve quality in construction," says Ashish.
Open letter to stakeholders  

Having achieved an impressive scale of growth, Puravankara is now well positioned to seize the vast opportunity and challenges in the real estate sector. Going forward, the only way a company can grow as a brand is by delivering good quality products on time. Our flagship brand Puravankara symbolizes 'Luxury I can afford' and the Provident Brand is seen as a leader in the Premium Affordable space. We have steadfastly developed these brands over the last 42 years
Innovation quotient
Ashish can be credited to make Puravankara the first developers to bring in FDI and capital investments through international sources to India via Keppel Land. Transparent prices and discounts at various levels through book building is his USP. Puravankara has been the first to use aluminium wall formwork, known as MIVAN technology. Puravankara has adopted MIVAN technology for super structure works and engineered doors for some of the projects resulting in seamless development and delivery of a quality product. Among the first movers to use the Precast Technology he also conceptualized working on a project to sell provident online completely in the next few years.
"Puravankara is a brand which stands for quality homes with the highest levels of integrity and transparency. Our strong USP's are our theme-based projects which are characterized by the landscape and amenities which are of international standards. This has created a niche for the brand. In addition, our rich legacy, experience in execution for over 40 years and innovative approach in crafting living, have earned us the title of The Pioneers of Community Living", he says.
A restless professional in him is constantly innovating and exceeding the milestones. He feels proud that company's flagship project Purva Palm Beach has outmatched company's previous signature project Purva Venezia. Purva Palm Beach project features a tropical beach resort which hosts a lagoon on approximately four acres, replicating the sights and sounds of the sea in Bangalore. These homes bring in the landscape of a beach and tropical backwaters to the doorstep. Similarly, another flagship Provident Sunworth has outmatched previous signature Purva Wellworth development which is a host to an integrated lifestyle district with 50+ amenities.
He has been instrumental in setting-up a "Centre of Excellence – Technical" which is focused towards helping the company to achieve product and delivery excellence. This team is constantly working on innovation, R&D, new construction technology, value engineering and global best practices in construction to ensure that we constantly deliver a high quality product to our customers.
"Apart from the above, we have brought in fresh thought and perspective to the business by driving a high performance culture, incorporating new age digital marketing initiatives and partnering with e-commerce platforms to bring in innovation. These strategic partnerships have enhanced customer experience, increased the sales performance of the Group and also set a precedent in the sector," he adds.
Under his leadership, Puravankara has grown from strength to strength – having successfully completed many residential and two commercial projects. Currently, Puravankara has 24 million square feet of projects under development. The company has now laid out a detailed five-year plan to achieve annual sales of over 13.3 million square feet by 2020.
With the ever growing Internet penetration and accessibility of Internet through smartphones, Puravankara has been one of the early adopters of the online strategy in the sector to reach out to the prospective customers, through a robust website and a significant presence on relative sites. While the focus is on growing the e-commerce vertical substantially, the approach is not to ignore investing in the on ground in person experience for the customers.
Comparing brand reputation of the sector and own company  

We have emerged amongst the Top 5 developers in the country. Puravankara has pioneered several efforts and set benchmarks in the real estate sector. The Group is perceived as a Thought Leader with its expertise in the field, as a trusted source which inspires people with innovative ideas, turns ideas into reality and demonstrates ways to replicate success 
Business lessons learnt
Ashish believes evolving oneself and encouraging the team to evolve with new technologies over time has been crucial. Now the aspiration is to transform Puravankara into a performance-driven organization focused on delivery, quality and transparency. He has a vision to evolve into a lean and strong organization, by leveraging on expertise in the areas of land acquisition, design and innovation, sanctions and marketing. The plan is to outsource construction and focus on bringing in more efficiency, thereby ensuring timely deliveries. 
"From the very beginning I have put my heart and soul for the development and growth of Puravankara. There has been instances when with the changing times, it was important to evolve and embrace myself with new technologies to stay ahead of the curve. This includes initiatives in both construction methodology and consumers marketing that are making waves in this digital age.
After all, this young leader has been given mantle of a corporate real estate entity with sound fundamentals. The challenge for him is to take it to fast forward mode. In the year 1989, before he came on the board Puravankara was one of the first Indian real estate developers to set up an office in Dubai. Today, it has a presence in Saudi Arabia and Sri Lanka as well.
The company also has the distinction of being the first developer to get FDI in the Indian real estate sector through a joint venture with Singapore-based Keppel Land Ltd, the property arm of the 54 per cent government-owned conglomerate, Keppel Corporation.
Today a lot of developers are focusing on affordable housing with many projects being launched across cities. Puravankara pioneered affordable housing way back in 2006. Ashish has been able to implement these large projects in different micro markets in the South India. The Provident Projects have been planned to deliver more than 5000 – 6000 homes in each project. Under the able leadership of Ashish, there are specialized and dedicated teams that are working relentlessly towards the success of these projects.
Young outlook in sync with old brand philosophy? 

There was absolutely no need to change the brand philosophy; I have only built on the vision and the principles of the company and my father, Ravi Puravankara.We always look at the larger picture; our common vision and goals help us to stay focused on delivery and building an institution 
Future calling
Puravankara has now scaled up to India's 4th most admired real estate brand, as per Track2Realty Brand X Report 2016-17. But the young blood is still not satisfied. In order to achieve aggressive growth targets over the next five years, the company under his leadership is in the process of reorienting resources with concrete measures focused around human capital management, project management and advances in construction technology. The vision is to usher better workflow systems, profitability and management of customer expectations.
"The strategy will be anchored around the 5 cities of presence (namely Bangalore, Chennai, Hyderabad, Pune & Mumbai) through two compelling brand propositions (Puravankara for Luxury & Provident for Premium Affordable). While the Group shall continue to retain the independent identity of these two brands, we will re-structure the internal employee teams to create a unified "Shared Services" employee architecture," says Ashish.
To charter the next phase of growth, the business leader is getting the organization ready by implementing an "Organization Transformation exercise, "Vision 2020". This growth strategy has been devised to bring in a sustained value creation for all the stakeholders. In order to increase company's efficiencies and provide world-class customer services, he is evaluating the internal process flow and developing a robust system which will ensure faster delivery mechanisms.
The merging of key functions like sales, marketing, customer relationship management and technical would reduce costs, increase productivity and drive synergies across both brands. Well, in a market reeling under the slowdown and the developers wondering more with 'till when' there is a business leader whose vision is ahead of the market curve to focus on 'how to'. That definitely indicates Ashish Puravankara is determined to fight out the odds and take the brand to the next level.