Bottom Line: Bhiwadi as a destination is more than affordable housing market today.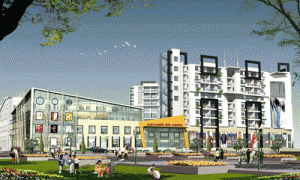 "Let me put it straight! I had moved to Bhiwadi because I could not afford to buy in more upscale neighbouring markets of Gurgaon or even Manesar. It was not a choice but my budget constraint that brought me into Bhiwadi five years back. But looking back I think it was one of the best decisions of my life, not just from investment standpoint but overall in terms of living a peaceful and quality life," says Joginder Rawat, a retired bank employee.
Rawat is not alone who earlier carried this impression that Bhiwadi is the poor cousin of Gurgaon-Manesar. However, it is also true that today he is not alone to think that the impression back then was myopic vision. As a matter of fact, Bhiwadi has today grown beyond the magnet of affordable destination. Today, Bhiwadi is no more seen as a poor cousin of Gurgaon-Manesar.
Bhiwadi, of course, was conceptualised as an affordable destination for blue-collared workforce who could not afford to buy in Gurgaon or Manesar. With the shift of industries it seemed to be quite natural evolution of the market. But with the increasing economic activity in the region and expat workforce prefering to not only work here but also stay in this till recently sleepy town, it completely change the outlook of the market.
Today, Bhiwadi is still by far among the most affordable markets of extended NCR region. In terms of the quality of life while it still gives the comforts of a Tier II city, infrastructure, amenities and access to business destination is very much metropolitan. Since it is within a radius of 100 kms from three key business deatinations of NCR, Delhi, Gurgaon and Faridabad, and good connectivity makes travelling far easier, the expat profesionals are increasingly shifting to this market.
The property prices in the region are hence reflective of this change. Facts speak for themselves. In 2012, that property that was sellig at Rs. 1900 to 2000 per square feet has today appreciated to Rs. 2900 to Rs,. 3100 per square feet. The property analysts point out that such an appreciation is extremely good keeping in mind the slowdown in the last five years across the adjoining markets.
Bhiwadi USPs

Bhiwadi most affordable market of extended Delhi-NCR

Prices are one-fifth of neighbouring Gurgaon

Price appreciation from 2012 to 2016 is 50%

Affordability not the only USP, oincreasing economic activity changing market outlook
Once the market picks up the momentum, added with the proposed infrastructure projects completed, a sizeable price appreciation in the range of 60 to 70 per cent can not be ruled out. According to Master Plan of Greater Bhiwadi 2013, the Greater Bhiwadi Complex comprising Bhiwadi, Tapukara, and Khushkhera has been outlined as the priority areas for the overall spatial development.
Ashiana Housing has been among the first to spot the potential of the town and move into Bhiwadi market. Its Joint Managing Director, Ankur Gupta agrees that when the promises of major infrastructure like roads, transportation, water, sewage facilities and education facilities are provided, the real growth of Bhiwadi is inevitable. Retail and commercial projects like Village Center, Angan Plaza are already there and many more landmark developments are also coming up.
"Good number of healthcare facilities, including private clinics and hospitals, nursing homes and government hospitals are located here. Shopping complexes and malls are also coming up fast. Top-notch recreation facilities like Treehouse, Classic Golf Course, Wet & Wild Resort, Country Club Resort and Heritage Village are in proximity too," says Gupta.
Obviously all these facilities have elevated the market positioning of Bhiwadi in the last few years. It may still carry the tag and price point of affordability but the pace of growth suggests it will no longer be a market with only the USP of affordability.
From an investment point of view, it is one of the safest markets of the extended NCR, since there has been no land acquisition issues in this market. More importantly, the prices have appreciated in the wake of even the overall slowdown. Due to the lower cost of doing buisness per square feet, the corporate sector is also increasingly spreading out in Bhiwadi.
If the growth projection is any indication, Bhiwadi may turn out to be a case study in how a Tier II city can be channelized as the investment magnet. It has already come out of the perception of being only an affordable destination for the habitation of budget-constraint buyers.