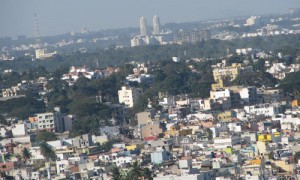 Realty fund manager Azure Capital Advisors will start raising around Rs.200 crore to invest in residential projects in the southern and western parts of the country from next week.
This will be the second round of fund-raising for the Bangalore-headquartered entity's maiden fund, 'India Realty Fund I'. Initially, Azure had plans to raise a fund with total corpus of Rs.350 crore, plus an overallotment option of Rs.150 crore, but investor apathy towards first-time funds led it to go for the first closure at Rs.50 crore last year.
The fund manager also has plans to launch a $150 million to $200 million (Rs.980 crore) offshore fund early next year to invest in residential and warehousing projects in the country, according to K Madhusudan, its co-Chief Investment Officer.
With the new fund-raising, Azure joins the domestic fund managers such as Kotak, ASK, ICICI Venture, which are raising domestic funds to invest in the realty projects. Due to turmoil in the global markets and restrictions on offshore funds, most fund managers now prefer to raise domestic funds.
But, raising new funds is not going to be easy, given the current environment when property sales have stagnated in places such as the National Capital Region and Mumbai.
Shapoorji Pallonji, which launched its $500-million realty fund this April, has got commitments worth $120 million and may go for the first close at $300 million, according to sources.