Call it contrasting match of the two extreme ends or just the confusing mate living together, but affordable luxury has gained ground in Indian realty, finds Track2Realty.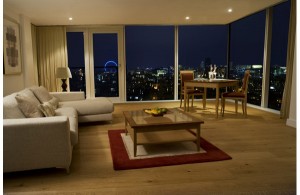 "Hey you better be clear in mind. You want to go for a luxury apartment or an affordable flat? You cannot get both and are actually getting confused with the two." Well, most of the Indians would have the same reaction if asked about affordable luxury. Worse even, most of the Indians would rather dismiss it as a marketing gimmick of the developers. However, a few discerning home buyers who are keeping a close track of the emerging trends and concepts in the Indian real estate are today exposed to the fact that affordable luxury too is an emerging reality in the property market.
What was a norm in the tier-II and III cities where the land prices were less, expectations moderate and luxury quotient a way of attracting the residents to switch from plotted developments to apartment culture has today emerged as a project differentiator and USP in many of the periphery locations of the metro cities. Satellite living is thus getting redefined in many of the cities across the country and the buyers are not complaining to travel an extra hour or so if they are compensated with quality living and lifestyle driven homes in exchange.
Explaining the concept Surabhi Arora, Associate Director, Research with Colliers International says that luxury at most times represents one's ability to use excessive space or an otherwise scarce or expensive resource. Investing in luxury is usually driven by emotional appeal of social esteem. With increasing purchasing power, the concept of luxury is constantly evolving in Indian markets.  She believes the quest for luxury is scaling down the value chain nowadays.
"The demand of luxury projects has been gradually shifting from the social elite to the middle class signifying the huge potential of affordable luxury concept in Indian. To cater this demand developers are coming up with affordable luxury projects which target this growing middle class with increased spending power," says Arora.
A Harikesh, Senior Vice President, Marketing and Sales, Tata Housing agrees that with the rapid urbanisation and disposable income, the demand for middle income housing is growing rapidly and is all set to expand in the years to come in India. Citing the Cushman & Wakefield report that claims the total new housing demand across India will be nearly 12 million units by 2016, he reminds that the top 8 cities will constitute about 23 percent out of the total demand.
"The growth drivers of this segment are majorly the Millennials. The Millennials are popularly known as Gen Y or Gen Next. This set of consumers is better educated, more tech-savvy and adaptable. They refuse to blindly conform to traditional standards and time honored institutions. With regards to home buying, the Indian Millennials especially newlyweds are forming the modern India as families have double incomes, which is another compelling factor in pushing the purchasing power of this generation. Furthermore, this generation firmly believes in luxury amenities and aspires for a higher standard of living and is therefore creating further demand for affordable luxury," says Harikesh.
The Cushman & Wakefield report also says that of the total demand in top 8 cities, Middle Income Group (MIG) and Higher Income Group (HIG) categories will constitute majority of the demand at 2.5 million units. Furthermore, the NRI population are also driving this demand for affordable luxury properties in India. According to a survey by Sumansa Exhibitions, the organisers of the Indian Property Show in Dubai, 52.57 per cent of NRIs are looking at settling down in India and want to acquire homes in the mid segment range of Rs. 26-75 lakhs.
Surjit Singh, Marketing President of RNA Corp finds affordable luxury as a bridge between the standard product and the aspiration to the next level, which could be classified as affordable luxury. He asserts that the product is certainly improving in terms of quality, offering and the service.
"To elaborate today developers are focusing on quality aspects of the project, the offering in totality–internal, external and infrastructure and the service. Differentiators are being created along these parameters which may be classified beyond the standard. As far as feasibility of affordable luxury is concerned, the feasibility of any project is a combination of many factors, namely locality, location, project specifics, apartment size & the developers' credentials," says Singh.
Rajesh Turakhia, Director, Pashmina Developer endorses the concept of affordable luxury real estate market in India as emerging dynamic segment. He feels with the growing demand for lifestyle living, the new buyers are looking for recreational facilities within their apartment complex. Although there is a rise in the disposable income, a generic mindset is to gain more at a lesser price point. The demand potential for this segment is untapped and massive leading several big brands to enter this segment aggressively.
"Today affordable luxury, is not restricted to only lifestyle living, it extends beyond that to efficiency in planning, minimal wastage of space, and well planned and well fitted apartments coupled with modern amenities. Luxury is no longer associated with large spaces and has translated into a project that offers good planning and set of amenities. If an individual is able to achieve these aspects within the current prevailing market rates or even lower, the project can be termed as an affordable luxurious project," says Turakhia.
Independent market watchers maintain that India's housing market is struggling with the dual challenge of slow sales and missing project differentiator. And hence, the quest on part of the developers is to respond to the needs and requirements of the end consumers. It is not uncommon nowadays to see the developers conceptualise a theme with every new project which then gets expanded at every stage of development. It factors in the choice of site architects, planning the project layout, internal planning of the building, construction, and finishing. This approach makes for some of the finest real estate developments.
Moreover, the consumers nowadays are well informed about Indian and global tastes, technologically sound and much flexible in their approach. As the young professionals and well travelled buyers have a very clear idea of what they want, the fringe benefits such as parking space, modular kitchens, swimming pool, gyms, theatre and central air-conditioning is tagged as a necessity; something which was seen as luxury till very recently. This set of home buyers is looking to purchase the dream home which not only reflects the financial but also the social standing of the individual.
The mid segment consumers with global exposure and evolved tastes are today opting for affordable projects with premium facilities. Hence, the real estate developers are coming up with various properties which cater to this segment of buyers. Nevertheless, this segment is still in its nascent stage and will take some time to emerge as a standalone segment within the sector and in the collective consciousness of the buyers. For an outside view, it may continue to baffle for some more time with two seemingly contrasting concepts of affordable and luxury.