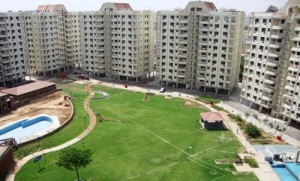 Track2Realty Exclusive: Seen as the poor cousin of Gurgaon-Manesar till only recently, Bhiwadi is fast emerging as the property hot spot and the price appreciation in this sleepy town not long ago has actually been steadfast in the last four-five years.
With economic activity on the upswing and expatriates preferring to stay over here, added to the skyrocketing of property prices for the workforce of Gurgaon-Manesar, Bhiwadi has actually performed better than many glorified micro markets on the map of real estate.
Enhancing its appeal as a serious real estate market, Bhiwadi's property has seen a steep escalation in sales and rental values. Facts speak for themselves. In 2007, the property that was Rs.1700 per sq ft has today appreciated to Rs. 3000 sq ft.
Bhiwadi has seen 20 to 30 per cent appreciation in last 2-3 years on an average and this appreciation is expected to go high in coming years. Property analysts believe the expected price appreciation in the next couple of years is somewhere in the range of 60-70 per cent which actually would be a case study in today's otherwise stagnant property market.
Due to its smooth connectivity to the capital and moreover, with all of its surrounding industrial settlements, Bhiwadi has received mega push for realty to flourish. According to Master Plan of Greater Bhiwadi 2013, the Greater Bhiwadi Complex comprising Bhiwadi, Tapukara, and Khushkhera has been outlined as the priority areas for the overall spatial development.
Ankur Gupta, JMD, Ashiana Housing says these areas have been promised to receive major infrastructure like roads, transportation, water, sewage facilities and education facilities. Retail and commercial projects like Village Center, Angan Plaza are already there and many more Landmark developments are also coming up.
Good number of healthcare facilities, including private clinics and hospitals, nursing homes and government hospitals are located here. Shopping complexes and malls are also coming up fast. Top-notch recreation facilities like Treehouse, Classic Golf Course, Wet & Wild Resort, Country Club Resort and Heritage Village are in proximity too.
The question is has the economic activity kept desired pace to sustain the projected growth and the life style. Critics feel in the absence of stead fast pace of economic activity the market may end up being another investors' haven.
"I don't believe that economic activity is not happening with desired pace. In fact, given the fast pace of development in Bhiwadi, Ashiana is coming up with a whole Township in Thara which will be christened as Ashiana Town. These are the developments which will give a boost to the city. Besides, being strong industrial, retail and hospitality hub, Bhiwadi's real estate is truly propelled by multiple drivers," says Gupta.
It is true that Bhiwadi carries the tag of affordable destination since land price in this micro market is still on a lower side as compared to Gurgaon and this is the reason why property in Bhiwadi is available at approx. one tenth the price of Gurgaon. However, due to its location, Bhiwadi has been pulling out buyers from NCR, Gurgaon, Manesar to name a few.
Besides, more employment opportunities have seen people preferring to stay in Bhiwadi than commute to work. Also, a large number of floating population from nearby cities is still high, which needs to be catered to. Also the rise of nuclear families have seen emergence of more demand for dwelling units in the region.
This also raises a fundamental question whether the absence of large developers in Bhiwadi has kept the market less speculative and free of investors' parking?
Surender Goyal, AVP, Omaxe asserts it is a misnomer that absence of larger developers in Bhiwadi is the reason why property prices are reasonable. According to him, projects in Bhiwadi are reasonably priced and increase in demand has seen a premium of approx. 200 per cent in last six years. The authority has been proactive in ensuring that the town has all the necessities like schools, hospitals etc. All of it is because of the fact that industries have been there for a long time now.
"In order to make Bhiwadi further attractive for investment, including large amount FDI, the government has proposed several measures in and around the region – like  among the seven NIMZ along the Delhi-Mumbai Industrial Corridor (DMIC), one is at Khushkhera-Bhiwadi-Neemrana belt, which is already approved, two new airports — in Neemrana and Jodhpur, the operational Dharuhera-Bhiwadi bypass road, bullet train from Delhi to Neemrana etc are some of the proposals that are bound to take Bhiwadi on the World Map," says Goyal.
However, on ground work needs to be speeded up further to ensure a balance between growth, population increase and urbanization takes Bhiwadi on the top of the realty pyramid. It is affordable at the moment, and no longer seen as the poor cousin of Gurgaon-Manesar. If the growth projection is any indication, Bhiwadi may turn out to be a case study in how a tier-II city can be channelized as the investment magnet.