News Point: In a dynamic discussion on India's global competitiveness in the real estate sector, eight eminent panelists at Track2Realty & Housing.com roundtable deliberated upon the global competitiveness of the Indian real estate.  
Track2Realty & Housing.com Roundtable 2019, conducted on June 19, 2019, has expressed concerns that while India seems to be an attractive property market, a lot needs to be done to make it more globally competitive.
Eight eminent panelists attended the roundtable – Amit Modi, Director, ABA Corp and VP, CREDAI Western UP; Anand Narayanan, COO, Purvankara Ltd; Gagan Randev, National Director, Capital Markets and Investment Services at Colliers International India; Jagadish Nangineni, Regional Director, Delhi-NCR, Sobha Ltd; Nikhil Hawelia, MD, Hawelia Group; Nimish Gupta FRICS- MD, South Asia – RICS; Prasoon Chauhan, CEO, ATS Homekraft; Sanjay Srivastava, Business Head, Mahindra World City Jaipur and Director, ORIGINS Ahmedabad.
The discussion was moderated by Ravi Sinha, CEO & Managing Editor, Track2Realty and Jhumur Ghosh, Editor-in-Chief, Housing.com News.
Jhumur Ghosh welcomed the panelists, following which Ravi Sinha questioned the global competitiveness of Indian real estate in the wake of thousands of abandoned projects waiting for the funds, the debt-equity ratio imbalance, lending issues, pre-launches without RERA sanctions, and the developers' defending the indefensible.
Optimistic Overtones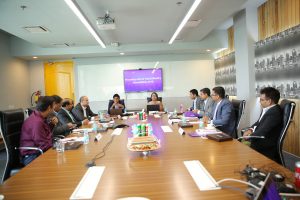 Anand Narayanan says, "There are pains and gains in all kinds of industries. In terms of scale, India is only second to China. To matter globally, you need size and this market has it. Look at how our construction technology – tall buildings, diverse, audacious designs – people are thinking big and people have the technology expertise to deliver those projects. In terms of scale and technology, this market has it. To sustain it, we need long-term capital, just like infrastructure. If cost of capital comes down, we can make substantial progress."
Jagadish Nangineni points out that growing at the rate of 6% in the next 10 years, means adding close to USD 1.4-1.5 trillion. "This is equivalent to the GDP we have added in the first 50 plus years since independence. That is a lot of wealth being created. A majority of this growth, fortunately or unfortunately, oriented towards urban growth and inequality is increasing. So, it calls for discretionary spending. I do not see that the size of the market and the opportunity for players to capture, are issues. Coming to delivery, we have projects both, in Dubai and India, and we offer the same product quality. Since the opportunity exists, long-term players can make use of the upcoming growth," says Nangineni.
Nikhil Hawelia believes, "Liquidity and planning of the government in Northern India, is different from that in south India. In the north, we suffered due to some misconceptions regarding government's policies and its implications. We have to take that into consideration, when we talk about north India."
The NCR market has been a different reality altogether, agrees Prasoon Chauhan. "After RERA and GST, a lot of professionalism has come into the sector and the centre. If you have to talk about becoming competitive globally, there are some points to consider. If you look at the Homekraft model, we do not buy land, it is an asset mode. We are surviving on long-term equity. We have different instruments to create it. Developers should not be in the business of buying and selling land. We are also focussed on sales. You need to have a different model to grow and be globally competitive," he explains.
Amit Modi asserts that we can compete with anybody in the world but the only thing, is we have different pockets – North India being one, south India another. "These pockets have different challenges. Skilled manpower or professionals is a challenge in north India. It also depends on the individual developer, how he perceives his project and how he can compete at the given price bracket, in the world market," he elaborates.
Sanjay Srivastava maintains, "If you look at it, there will be some macro-economic changes and there are regulatory changes. Industry players should focus on customer-centricity. In that case, irrespective of the segment – be it product quality, sales or final delivery, you can be competitive."
Nimish Gupta FRICS- MD, south Asia – RICS puts forwards some numbers, "We rank 58th in terms of global competitiveness and 77th in ease of doing business. We have fallen by eight places in terms of global competitiveness, even though there are other factors like diversity, technology and AI that have gone into this fall. When you talk about global competitiveness, professionalism has been a factor. Reforms might have had the right intent, with everything been put into place but implementation was an issue."
The Grey Zones
Trade fairness in each of the states is also a factor says Gupta. Terrorism also remains a concern from the macro-perspective. Another factor that impacts this industry, is contract enforcement.
"We rank 168th out of 180 countries, in terms of contract enforcement and the average length of arbitration in India is 1,400 days, as opposed to 11.6 months in Singapore. So, while real estate players want to come to India, multi-national construction companies want to move out of India because contract enforcement is poor. Another aspect is the diversity where we need significant improvement. We do not have enough women leaders and even this impacts our global competitiveness index. Inequality between urban, semi-urban and rural sector and its scale also matters. We need to address and bring development in the rural sector as well, to help improve our global competitiveness," he elaborates.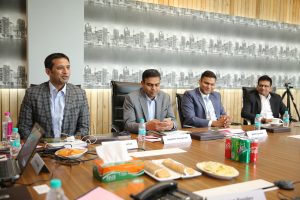 Gagan Randev brings another pertinent issue to the table, "You could categorise the industry into two sects – the more reputed players from the south would be more disciplined, less adventurous and would focus on what they were supposed to do. Contrast that to the situation in Noida, where a developer could buy land by paying only 10% and take 10 years to pay off the rest. So, many took on more than they could chew, got into issues like manpower, escalating costs and other challenges. In the last three years, RERA and GST were game-changers and in a country of our size and complexity, to be able to implement them, has been phenomenal."
"Developers went through pain, through challenges and denial but they got to implementing it. Now, when the industry had to reap the benefits, the IL&FS and the NBFC crisis happened. Things have been challenging in the last year. There is a paucity of funds. This is one part of the peculiar problem. In terms of global competitiveness and the cost of ownership of a home, India's case is unlike Singapore, UK or even the US," Randev explains, adding that rental yields must go up and home loan rates should go down.
Quality issue addressed?
Narayanan insists that there has been tremendous progress, in terms of quality. "Five years ago, we never measured number of customers who take possession after first inspection. If that rate is high, the gap between perception and promise, is narrow. We have around 60-62% delivery on the first attempt. We are also measuring customer satisfaction. The last mile, from delivery to quality, needs to come from the use of alternative materials, in terms of the kind of materials we use. Developers need to show consumers the benefits of these. Some amount of work also needs to be done, on the time taken to deliver," he adds. 
Narayanan points out that if there is a delay, a consumer will get more finicky and will take a magnifying glass, to see if he was delivered what was promised to him.
Hawelia, however, adds that the market reality of North India is different and buyers are waiting for homes and have forgotten about quality, only to realise it later. This happens for first-time home buyers.
Modi concurs, saying that the south Indian market is mature and the reality may be different. If the developer has had to change something because of market need, it should be communicated, he maintains.
Randev feels that 15% of the complaints are also because most buyers expect a spike in property prices when they sell their homes and the same may not be happening. Prices may be stagnant or may be going through a correction.
Gupta says that post RERA, one can see complaints going up, because of the liquidity crisis. Moreover, with RERA giving buyers a platform to complain, they will. They are aware of their rights and obligations. The ecosystem should promote all stakeholders, he adds.
Buyers' Concerns Galore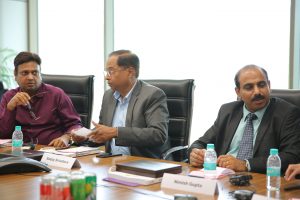 What ails Indian real estate, in the realm of project competitiveness, practices, financial maturity and policy? As a majority of projects face consumer backlash, the important discussions revolved around buyers expectations, as opposed to what is offered to them, the price points at which they are being offered, as well as issues concerning manpower, skill, product management capability, lack of high quality contractors, trust deficit, etc.
Ghosh questioned the ethos and ethics that have toppled the entire concept of seeing 'customer as king'. "When customer-centricity takes a backseat, the sector and especially such developers who have defaulted suffer from the backlash too," she cautioned.
"For a long time, there was an information blackout as well, with developers not intending to reveal information that could empower homebuyers. The industry has to take responsibility for this information gap. RERA surely has put some power in the homebuyer's hand that was, till the recent past, unheard of," she added.
Speaking about the global buyer Hawelia says, "The quality of a home buyer in a global market is different. A first-time home buyer is not the same. He doesn't exactly know what he needs from the buyer. The satisfaction level of a mature buyer is higher."
Srivastava says that the industry should be looking at four things: "a) cultivating a customer-centric organisations; b) infusing global and strategic thinking and at the same time being nimble in execution to set the standards, c) relentless focus on execution excellence and; d) responsibility towards creating a world-class organisation."
Sinha concludes that the debate clearly pronounced that the time had come, for the sector to differentiate between the boys and the men but the boys were far greater in number to corner the men and, of course, the media. The Indian property market is still not seen as a very safe bet and the problem was as much with the product, as the practices, ROI and the lifestyle that a global buyer aspires for, he adds. 
Track2Realty is an independent media group managed by a consortium of journalists. Starting as the first e-newspaper in the Indian real estate sector in 2011, the group has today evolved as a think-tank on the sector with specialized research reports and rating & ranking. We are editorially independent and free from commercial bias and/or influenced by investors or shareholders. Our editorial team has no clash of interest in practicing high quality journalism that is free, frank & fearless.  

Now you can subscribe our YouTube Channel @  https://bit.ly/2tDugGl