News Point: India Sotheby's International Realty has tied up with Sunteck Realty to exclusively market its ultra-prestigious residential complex in Bandra-Kurla Complex (BKC).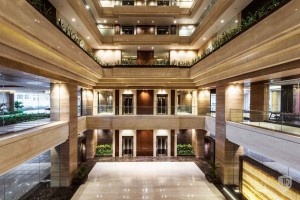 The projects – Signature Island, Signia Isles and Signia Pearl are home to some of the biggest names in Bollywood and C-level executives of leading banks, corporates and global conglomerates.
These projects surround themselves with the most enviable neighborhood. Mumbai's finest hotels, recreation concepts, wellness centre, schools & upcoming premium shopping spaces encircle it.
With hotels like Trident and Sofitel gracing the front, the Signature Island is surrounded by American Consulate on one side and top schools like American School of Bombay & Dhirubhai Ambani International School, making it the most preferred address in Mumbai today.
This exclusive marketing tie-up with Sotheby's International Realty will give Sunteck global access to market the projects across 72 countries on all its platforms. 
Signature Island is Sunteck's flagship project located in the Central Business District (BKC) of Mumbai. Designed by the renowned architects at Talati Panthaky Associates ensures efficiency, great design and a well-planned layout.
Signature Island comprises of 64 bespoke duplex apartments with a private deck dedicated to each apartment. This is the only residential building in India with 2 open to sky atriums & 11 high-speed elevators along with a double height grand entrance lobby.
Every apartment has a column less structure, which gives its customers an option of developing a living space of their own choice. The building is 'ready for fit-outs' and salutes the concept of Definitive Living.
The project houses luxurious amenities like virtual golf, squash court, temperature-controlled swimming pool, gymnasium, kids play area along with large landscaped gardens. The features of spaciousness along with exclusivity, privacy, location advantages and facilities provided makes the trio one of a kind projects in Mumbai.
Signia Isles provides lavish 4 & 5 bed residences and Signia Pearl provides Venetian styled homes. These projects have been winning awards every year for luxury and excellence, clearly endorsing its acclaimed position.
Speaking of the tie-up, Amit Goyal, CEO, India Sotheby's International Realty, said, "We are thrilled to get on board a prestigious project such as the Sunteck's BKC residences. Situated in the heart of the business district with close proximity to the airports, this is by far the most sought after residential development in Mumbai today."
Managing Director of Sunteck Realty, Kamal Khetan said,"Connectivity, Convenience and ultra-luxurious lifestyle makes these projects a high profile address for some of the most prominent names in the Indian industry."  He adds: "We are delighted to be working with India Sotheby's International Realty. This will open more avenues and such outstanding qualities will have a unique appeal to a global market of buyers."